New Image, Video and Web Tools: Adobe Spark Helps You Create Stunning Visual Content
You know how critically important visual content is to your social media marketing plans. What if there was a place on the web, with seamless mobile integration, where you could create stunning visual content? Adobe Spark's new "three-in-one desktop dashboard," and three companion mobile apps, allow you to turn your ideas into compelling social graphics, animated videos, and web stories! Did I mention? All apps are FREE!!
I've been a raving fan of Adobe's fantastic POST app for creating gorgeous visual content since the app launched earlier this year (and I got to beta test it last year). It is by far the most robust, stable, dynamic, creative image editing app. Now, you can use the app on both mobile (iOS) and desktop! Wow!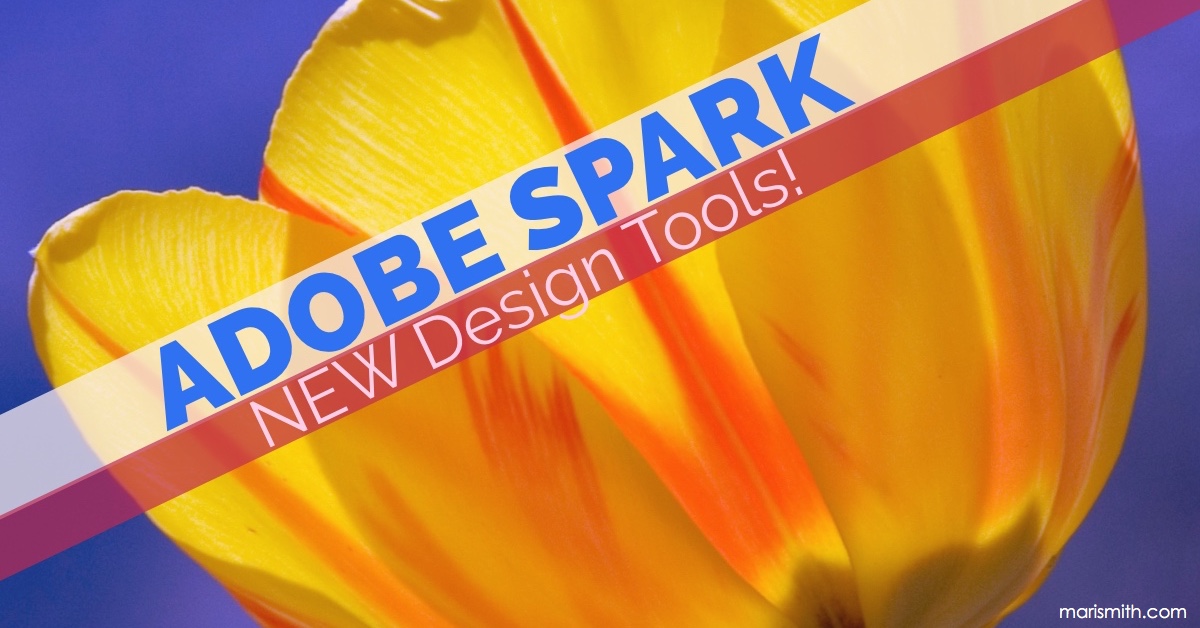 Every image I create gets saved, no matter where I am in the process. I can easily pick up where I left off and finish. Or come back to edit a new version. I have not seen any other mobile image editing app as stable as Post. It has never ever once crashed on me, which is more than I can say for other image editing apps! And, you know what it's like when you start to create a masterpiece, then get distracted, right? Ha! #squirrel! Seriously, this one feature alone makes Post a keeper.
Create stunning, professional images in minutes 
Now known as ADOBE SPARK POST, the app is available on iOS and now on desktop as part of the Spark suite. Another fabulous feature is the ability to quickly resize your images for each social channel. These features are all FREE! This is the desktop version below… but you can just as easily do the resizing on iPhone or iPad. Again, LOVE that!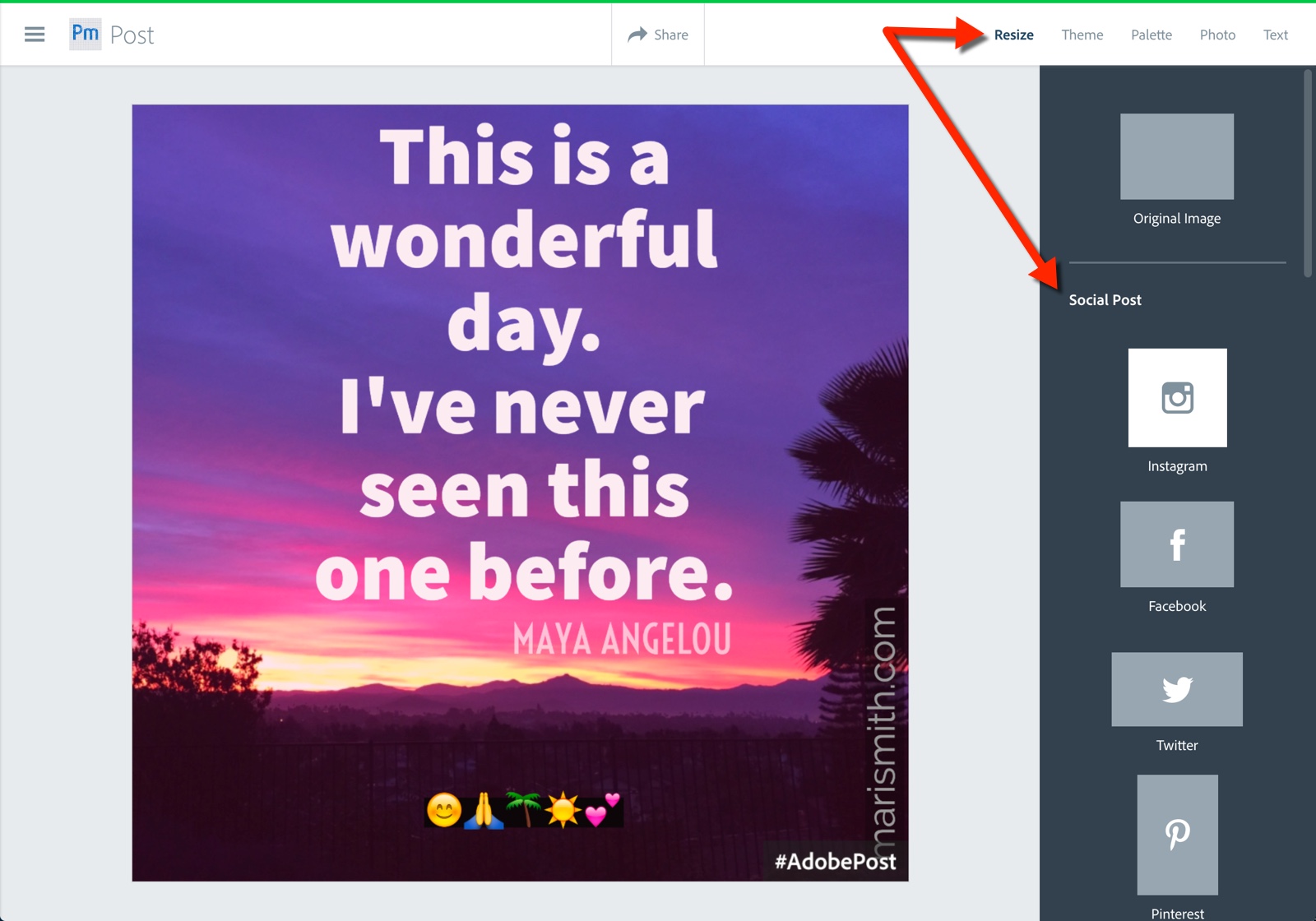 Add animation
Spark Post now also has an awesome animation feature, which I rather love!! For the 1200 x 628px Facebook thumbnail link preview, I created this using the Spark Post mobile app. And, when you add animation, you have the option to save as a Video, Live Photo (now supported on Facebook, btw), or a still Image (which I used for the default share on Facebook image). Again, more free features – yay!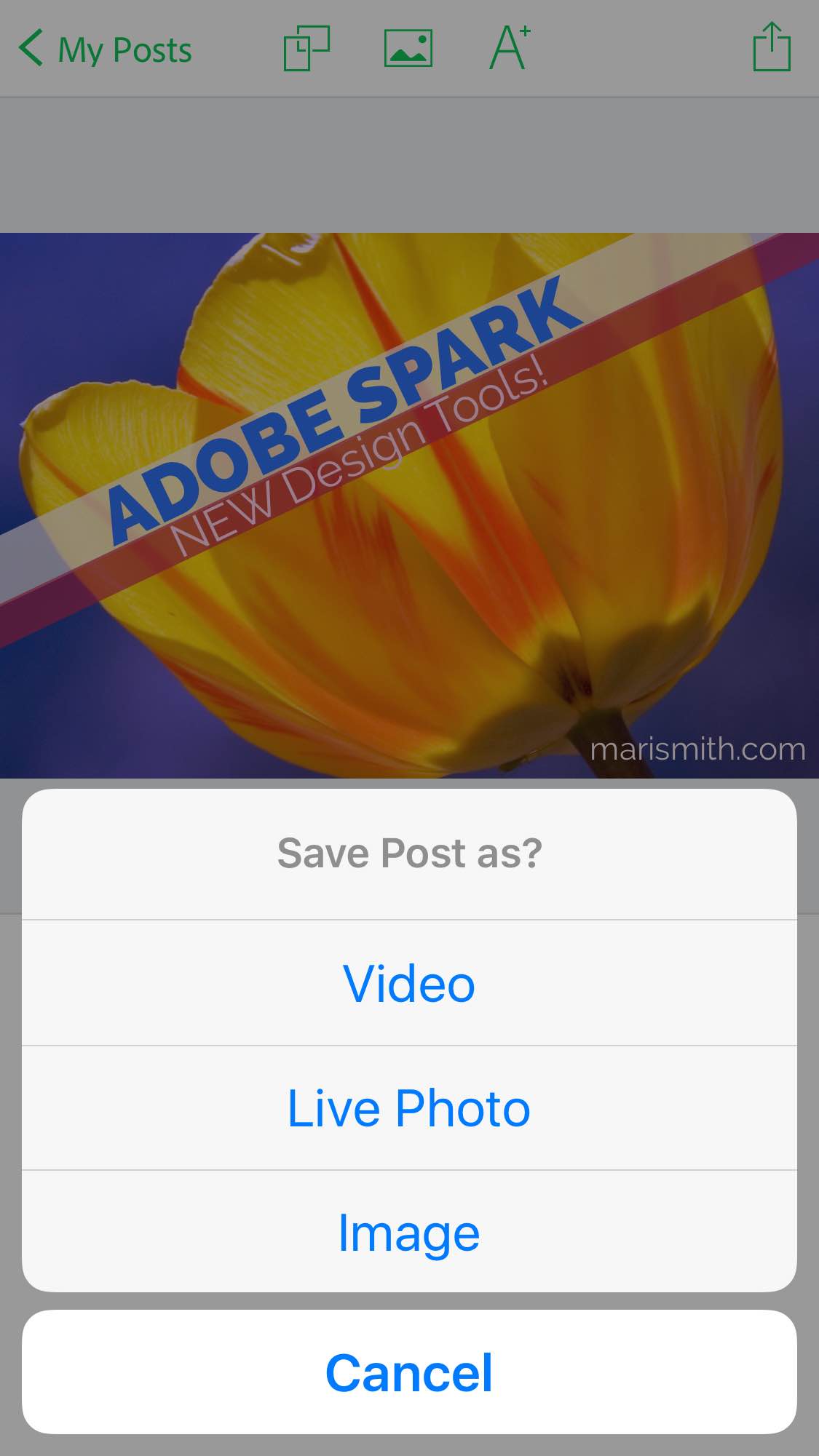 Easily create awesome, simple VIDEOS – great for Facebook and Instagram
Adobe also has a fabulous video creation app, previously called Adobe Voice. Now known as ADOBE SPARK VIDEO. It's a super easy platform to use: upload your own images, or choose from royalty free library. Add music (yours or Adobe's selection). Even add your own voice narration. And voila, a simple video — perfect for sharing on Facebook, Instagram and Twitter. And especially perfect for turning into Facebook and Instagram video ads!
Here's a fun video I created using ADOBE SPARK VIDEO (previously Adobe Voice):
And, just for fun, here's another example – created by one of my Inner Circle members, Lori Lee Barr. What a fun and engaging way to tell a story. 🙂
Create visually stunning web PAGES
Plus, you may have previously been familiar with Adobe's web page creation tool called Slate. Now known as ADOBE SPARK PAGE. Wow, this is yet another fantastic Adobe tool — with instant responsive design, and super simple editing tool not unlike Medium or Facebook Notes.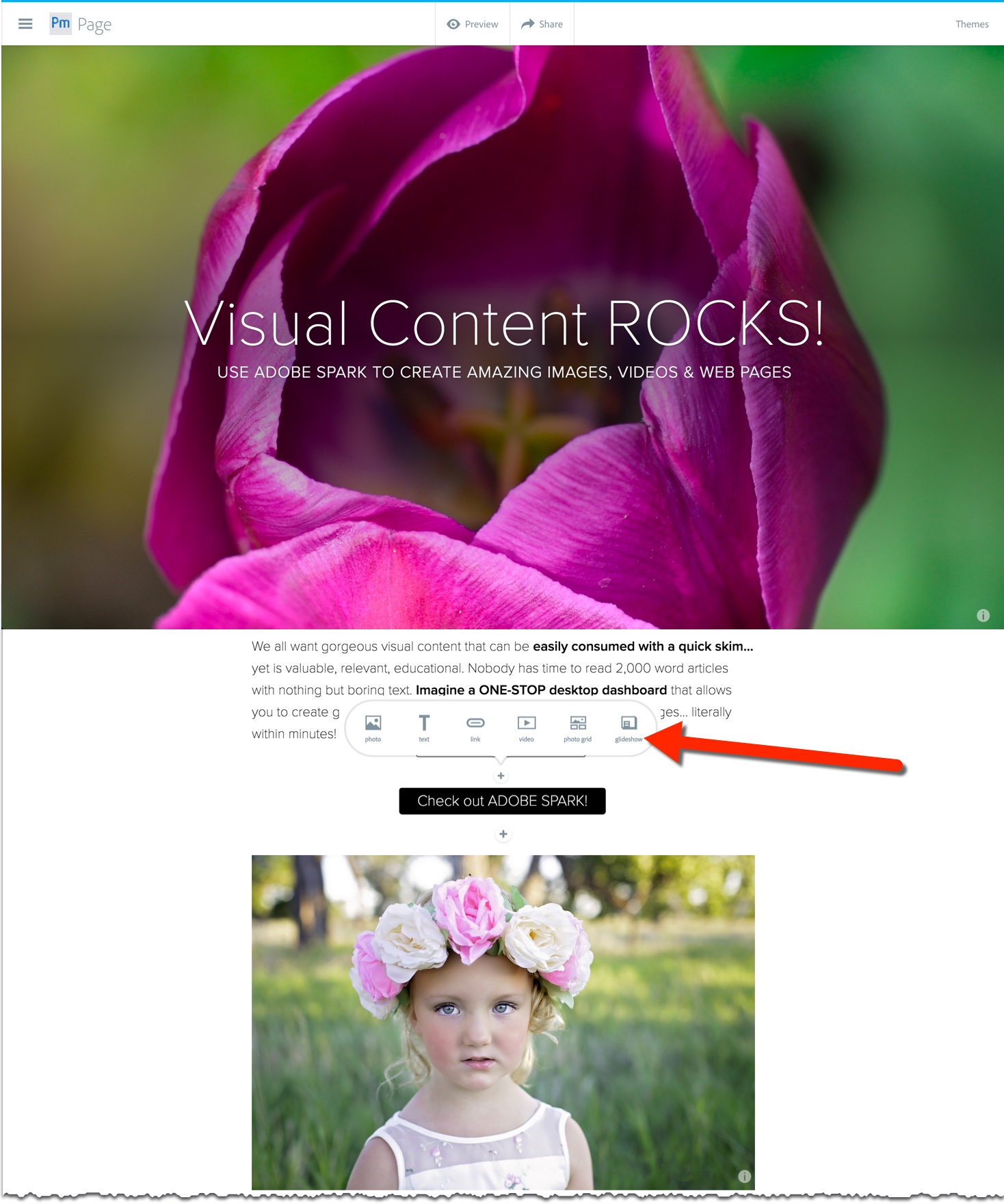 Guess what? The SPARK PAGE tool also comes with an embed code option. 🙂 Here is the clickable example page I made in the screenshot above – Spark Page is much easier to use than WordPress or even Medium! Click below to see in all its glory – opens in a new window.

NEW Adobe Spark one-stop dashboard
Adobe just launched a ONE-STOP dashboard on desktop called Adobe Spark that combines all three products and allows you to create stunning images, fabulous videos, and gorgeous visual pages. ALL three apps are also available on iOS — make gorgeous content on your iPhone or iPad and access/edit on desktop. Or vice versa. Love that. After all, nobody ever uses just desktop or just mobile these days, right? We want BOTH. It's a both/and world, and that's exactly what ADOBE SPARK now offers. Yay, happy dance!
Visual content made easy!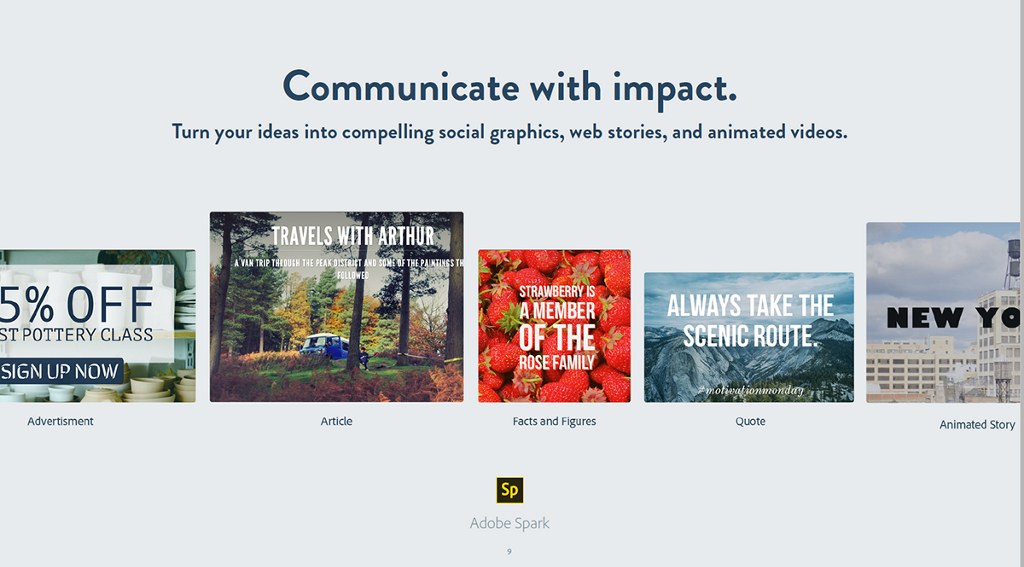 Go take this fabulous suite of visual content apps for a test drive!
Adobe Spark FAQ
Are there plans to make Spark available on Android devices?
For the launch of Adobe Spark, the initial focus is to deliver an integrated web and iOS mobile app experience. The web app in particular was critical to ensure universal access across laptops, desktops, and Chromebooks. Adobe is fully committed to delivering products and meeting customer's needs over time across major platforms, including Android.
What happens to my existing Post/Slate/Voice projects?
All existing Adobe Post, Page, and Voice projects will continue to be available and will seamlessly sync across the three mobile apps and Adobe Spark web app.
How does the integration with Creative Cloud work?
Adobe Spark makes it easy for users to access their Creative Cloud files and Lightroom photos in the Adobe web and mobile apps. Adobe plans to continue to build more touch points to create a seamless experience across all of Creative Cloud.
Who is Adobe Spark designed for?
Designed for everyday communications, Adobe Spark empowers anyone – from solo entrepreneurs and small businesses, to bloggers and non-profits, to social marketers and knowledge workers, and students and educators – to create stunning, visual content that engages audiences across multiple social platforms and looks great on any device.
What sets Spark apart from offerings like Prezi, Canva and Storehouse?
Spark is the only integrated web and mobile solution to easily create and share impactful visual stories. Adobe is leveraging its same technology that's available in the professional creative apps like Photoshop CC and Illustrator CC.
DISCLOSURE: Adobe has engaged Mari Smith as brand ambassador.