Video Tools for The Camera Shy, Facebook Ad Landing Pages & More: The Social Scoop 4/17/17
It's almost time for Facebook's annual F8 Developer Conference taking place on April 18th and 19th in San Jose, California with 4,000 attendees.
You can register to watch the F8 keynotes streaming live online here. Plus, this year, Facebook introduced live in-person meetups around the world (I believe all RSVPs are closed now, but good to know for next time!)
What To Expect At Facebook's F8 Developer Conference
Expected announcements at Facebook's F8 include:
Camera Effects Platform & Places Graph for Facebook and Instagram – developers will soon be able to build even more new things (and ads) to go around your face. 😉
Messenger chat bots for group conversations.
M Personal Assistant features. Last year, Facebook acquired Wit.ai, for creating text or voice-based interfaces, among other things. Facebook's personal assistant "M" is the ideal place to test new voice control features, similar to Amazon's Alexa.
Augmented Reality + Virtual Reality. There are eight different VR-related sessions at this year's F8, which represents almost 20% of all the breakout sessions!
Plus, new ways to speed up the removal of violent content and the removal or flagging of fake news.
This Week's Top 3 Articles
1. 5 Video Storytelling Tools For Camera Shy Entrepreneurs via Forbes.com
Don't let your lack of video creation skills hold you back a minute longer. You can still create compelling stories without being on camera using any of the five tools detailed in this article. (Even though I love doing on-camera live broadcasts myself, I actually use all five of these tools regularly!) Check this out: in 2017, online video will account for 74% of all web traffic. And, 500 million people are watching Facebook videos every day. 
2. 10 Crucial Elements of Facebook Ads Landing Pages via AdEspresso.com
When it comes to effective Facebook ads, getting people to take action and click through to your website is only half the challenge. Your landing page needs to feel seamlessly congruent with your ad; and, its needs to be compelling and easy for visitors to take the exact action you want them to take. If your ad campaign has the average click-through rate of 8% (which is on the high side!), but only 12% of those people convert on your landing page, the real conversion rate of your campaign is 0.96%. This is one of the best articles I've read on improving ad landing pages!
3. These 17 Social Media Power Players Agree On 1 Thing (And It's a Must-Have For Your Business) via Inc.com
We all have different ideas of what the future will bring. While we don't know exactly what's next, there's one thing we can count on as an important piece of the puzzle: the consumer. Read on to see what the future of marketing looks like, and how brands should prepare in order to thrive. I was honored to contribute to this article; check out my advice at #15! 
New Facebook Features
Now you can easily add Facebook's own fun emojis to any post on your personal timeline, business Page, group or shared post! Easy one-click insert – love it. See this emoji demo video on my Facebook Page. 😉
Plus, Facebook is testing a new way for Pages to link to groups. Take a look here.
NEW: Summit On Content Marketing
P.S. Check out this excellent virtual summit, packed with educational content: the Summit On Content Marketing is designed to help businesses develop a successful content strategy, increase buyer engagement, grow your audience and improve the quality and quantity of your leads. Enjoy talks, interviews and seminars from more than 100 of the brightest minds in content marketing from around the world, including Neil Patel, Rand Fishkin, David Meerman Scott, my long time friends Melonie Dodaro, Brian Carter, Dennis Yu and many more, including a fabulous lineup of international speakers that may be new to you, but certainly not new to marketing!! Learn more here.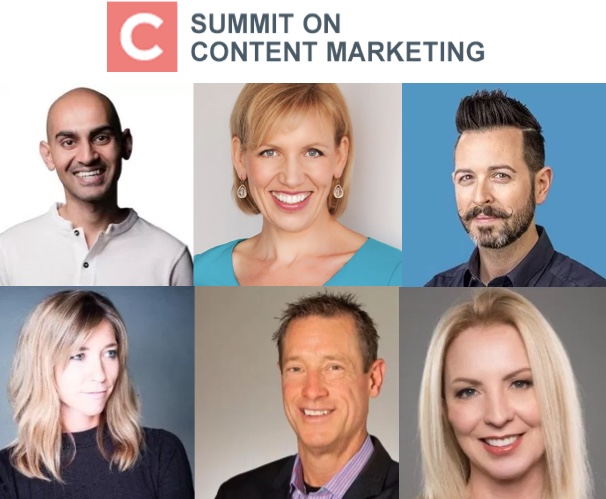 Cheers!
Mari