Twitter: My Living Breathing Search Engine!
Okay, I'm so excited I just have to write this blog post to share my excitement about one of the many uses of Twitter.
Recently I had a nasty meltdown in MS Word 07. See, when my trusty desktop burned out on me last fall, I was forced to pony up for a hot new laptop. (Opted for the HP Pavilion Entertainment PC with 17.5″ screen from Costco. Btw, I can hardly believe all laptops come with glossy screens these days – what's with that? Very hard on the eyes. I found myself a fab mattifying screen at NuShield).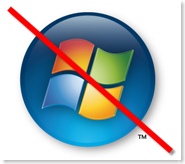 Of course, the darn thing came pre-installed with Vista even though my PC repair guy warned me that I shouldn't use Vista for another couple years 'til all the beasties (Scottish for bugs) were squished out. And then when I went to get MS Office, I had to get all new 07.
So far, so good. I haven't had too many problems… that is until this weirdest thing with Word. Suddenly my mouse went wonky. I couldn't scroll, select text, double click, open docs from inside Outlook. Yet, Outlook worked fine.
I tried shoving the CD in and selecting repair. I rebooted up the wazoo. All to no avail. I'm in the midst of completing my whopping 200+ page Facebook for Professionals e-book, which forms part of my complete multi-media system, and I just cannot be without all features in Word!
So, this morning (duh, why didn't I think of this before suffering for days on end?!) – I popped out this tweet to my chirpy buds:

Within minutes – BOOM! I had a slew of replies from my trusty tweeters with a half-dozen suggestions, links, and fixes. My enthusiasm and gratitude bubbles over and I tweet back:

Kudos especially goes to Jason Van Orden for directing me to these instructions which did the trick. Aaah, peace in Word land again, thank goodness.

This is just one of scads of fabulous uses of Twitter.
I loved what one of my fave marketing gurus, Seth Godin, said about Twitter recently: it's in the steady drip, drip, dripping of messages that we can build trust.
She's [Sarah] consistent. She shows up. She has built a body of work over time, taking her time, that leads to trust.
Publishing your ideas… in books, or on a blog, or in little twits on Twitter… and doing it with patience, over time, is the best way I can think of to lay a foundation for whatever it is you hope to do next.
If you're still unsure about Twitter – just jump in anyway! Set up an account and start to follow some people you know already. (Follow me here). After a couple weeks, you'll start to get a holistic sense of your community and each member in it. And you'll find you have a desire to give and receive support, in many forms.
What are some of your favorite uses of Twitter?