Twitter Buzz! Quick Tips for Business Peeps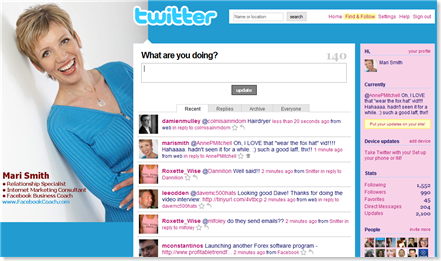 At the request of many of my buds and clients, I've put together a few Twitter tips for beginners to get on the fast track with this wildly popular site!
Twitter is a "micro blogging" platform.
To me, that means you can post your thoughts, feelings, ideas, actions, and observations all mixed up with some promotional tidbits too! You can also instantly begin a dialog with current and new friends and business contacts.
What are you doing?
At first, the "What are you doing" in 140 characters or less is like whaaaaaat? Who'd want to know I'm walking my dog, eating a sandwich, or taking out the trash? LOL Just kidding!
And, when you join Twitter, it might seem like a massive cacophony of random fractions of conversations. Well, it is. 🙂 (In fact, check out my YouTube video of REAL birds tweeting – this is what Twitter can "sound" like!) You might also think how (and why!) you should carve out time in your tight schedule for yet another internet "toy."
Nonetheless, I suggest you get set up with a Twitter account, give it a whirl for about two weeks and watch what happens!
To follow or not to follow?
On Twitter, you basically follow people and they follow you. There's a whole debate about whether you should follow peeps back who follow you… or not. It's a personal choice.
I know the whole concept of following and being followed kinda has a stalking ring to it. But no worries, it really is a fun and effective way to help develop your brand, raise your visibility, and create a powerful presence across multiple platforms (e.g. adding one of the Twitter apps to Facebook). I'm a raving fan of using Facebook and Twitter in tandem.
Not to mention, Twitter even acts like your living breathing search engine – anything you're researching or need the answer to, just pop a tweet out to your Twitter followers and you'll have an array of responses in no time.
Here are my suggested steps to get you on the fast track:
Edit your settings
You can customize the whole look and feel of your Twitter page, which I definitely recommend. When people want to find out more about you and check who's following them, you want a nice friendly and inviting page! I uploaded a background pic as well as tweaked the color of the background, sidebar, and links.
Just click on Settings at the top of your Twitter page. (Oh, if you're looking for a nifty free tool to "pick" the exact color you want, definitely check out Pixie by Nattyware).
Search for people you already know, to follow.
Use Tweetscan, or my favorite Summize [update: Summize was bought out by Twitter earlier this year for $15M!! You can still go to summize.com but it's mostly known as search.twitter.com now]. (Thumbs up to my bud Scott Bradley). With Summize in particular you can search for a person's name, keyword/topic, or Twitter username if you know it. (Advanced tip: you can even create an RSS Feed for a specific search query!)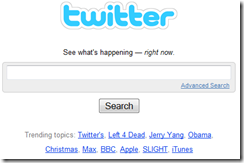 By the way, Twitter's own search function is challenging to use – I don't recommend it. You have to know the person's exact username.
Find new Twitter peeps to follow.
By searching for keyword(s) related to your industry, you could easily find many wonderful tweeps to follow who are already conversing about topics that interest you. And, following more people is the fastest way to get more followers.
Start tweeting!
Instead of answering the question, "What are you doing?," I think in terms of "How might this be of interest to my Twitter peeps?" "What has my attention right now that would add value to others?" "Would this nugget uplift someone's spirit today?" And, when you tweet URLs, Twitter shortens them with snipurl.com.
You might like to try any of the great Twitter clients – that is, an interface that allows you to tweet directly to Twitter.com without being on the website itself. Twhirl is a very popular choice as is Twitterific.
I'm a diehard web user – I just love to have the bigger screen to view, with my own attractive page surrounding my Twitterverse (Twitter Universe!) and be able to quickly click over to my peeps to see their Twitter page too and get their vibe.
And, of course, there's an entire community of mobile users – yes, you can tweet right from your cellphone! (I'm already living a totally mobile lifestyle and am always close by my laptop so don't do cell tweeting).
Send "tweets" to specific people.
Just put the @ sign in front of their exact Twitter username. Usernames are not case sensitive even though some Tweeps (peeps on Twitter) have set up their names that way. e.g. to send me a tweet in the public timeline, put @marismith at the very beginning of your message. (@MariSmith also comes to me).
Note: if you put someone's username anywhere other than the very beginning of your tweet, it will not show up under their Replies tab (see below). They can read the tweet though, by using one of the search tools I talked about above.
Respond to your Replies.
Assuming you're starting out with using the Twitter.com website, just click on the tab for Replies to see all your @you messages from your Twitter buddies. (I call us Twitteronians – having lived in Edinburgh for a long time, I was an Edinburghdonian. :D)

I like to respond to all my Replies. I do this to continue
to build what I call "virtual rapport" with my Twitter buds. Plus, as a win:win, their Twitter name gets pushed out into my public feed and so others may well see their name and end up following and connecting with them too.
Search for your own name.
To keep track of both missed @ messages and what others are saying about you (good reputation management), I recommend searching for your own name on a regular basis. Make sure you use different search terms, e.g. doing a search for @marismith will yield a different result than marismith or even mari smith.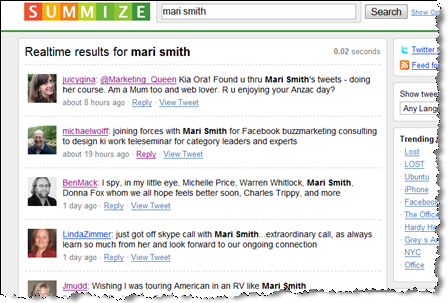 So there you have your crash course! Happy tweeting. And be sure to follow me if you're not already: http://twitter.com/marismith
Please do add your own tips, tricks, tools, widgets and gadgets that you love to use with Twitter!