New Resilience Book Skyrockets up the Amazon Charts!
My mentor coach, Mike R. Jay, has a hot new book out today! Upping the Downside: 64 Strategies for Creating Professional Resilience by Design. It's the perfect antidote to all the conversation about a recession.
I've been studying with Mike since October 2006 when a dear friend introduced me to him. I was immediately struck by Mike's unique developmental models.
I'd always been fascinated by assessments and am skilled with the DISC model. But I'd never come across such a unique and effective array of assessments blended with true coaching (as opposed to consulting, which most coaching is – that is, telling your clients what to do!) My life has never been the same since – I've gained profound self knowledge!
Plus, I participated in Mike's year-long Resilience Club and, as a result, I'm a contributing author in Upping the Downside – my chapter is on relationship resilience, of course!
I could go on and on, but here's the bottom line: when you buy a copy of Upping the Downside on Amazon.com today only – March 14 – you'll also get to participate on a series of live calls with Mike personally as he walks you through his resilience model. Plus, you get immediate access to an array of quality bonus gifts contributed by over 75 top experts and leaders.
I managed the campaign for Mike and gathered a Joint Venture team of well over 100 fellow professionals with email databases totaling 1.5 million. Here's the cool part: over 50% of the partners came as a direct result of my activities and relationships on Facebook and Twitter!
Watch the book climb the charts from over the past 12 hours. We're in the final countdown now!
Thursday, March 13, 2008 at 10:17PM PST

Friday, March 14, 2008 at 12:27AM PST

2:25AM PST

3:22AM PST

4:24AM PST

5:23AM PST
9:04AM PST
Not much movement for a few hours… then we're on the rise again!

10:16AM PST
Woo-hoo, broke into the 200's!!

11:52AM PST
…and now the 100's!!!
1:45PM PST
woohoo!! We made it into double digits!
3:27PM PST
We got to NUMBER ONE in at least one category: Movers & Shakers!! 🙂 We're the biggest gainer. Up 3.6million%! From a ranking of 2.2M to 61 (of course you know those are not book sales. Ranking is a whole different system based on secret algorithms only Amazon know!)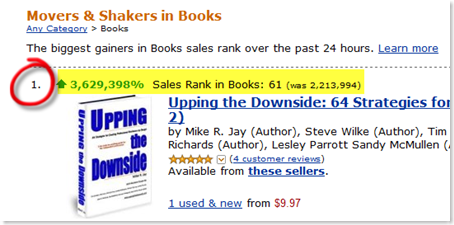 7:0PM PST
STILL climbing those charts!!! beating out some interesting other books…

#30 was as high as the book went. Pretty decent from a starting point of #2.2M the night before! See Mike's tracking too.