New Facebook Design – Thumbs Up Or Down?
Are you enjoying the new Facebook look, feel, and features? I'm hearing mixed reviews, and am not fully sold on all the changes myself yet. There are a few nifty features and some "whaaaat happened?" changes!
(If you are not yet seeing the new Facebook design – you should be able to trigger it with this link: http://new.facebook.com)
Here's an overview – tell me in the comments below if you agree/disagree.
Thumbs UP
News Feed Filters – this is a fantastic new feature! I'm giving it a thumbs WAY up. 😉 The "juice" in Facebook is in the News Feed and I'm delighted to see this additional way to interact with our stories! I'm hoping we'll see more and more improvements to the News Feed in particular.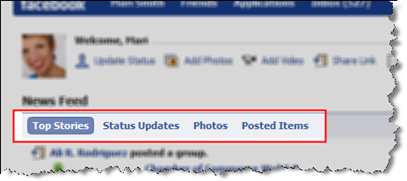 Commenting in News Feed – great add on for ease of quick comments and increased visibility. (Feels a smidge like FriendFeed, yes?!)
Commenting in Mini Feed – this feature was actually introduced a short while before the whole new design but I'm including here anyway. It rocks for the same reasons as above – quick comments and increased visiblity.

Plus, when you comment on say a Note or Posted Item from your Feeds that comment is also posting on the actual Note/Posted Item. You can also see other peoples' comments in your Feeds.

Mini bio under Profile Pic – just click the little pencil and you have a short space to "write something about yourself." Given your Info is now buried on its own tab, I recommend writing up a powerful soundbite that says what type of business you're in, what type of clients you help and the results you help them create.

Show more Friends and certain Friends – seeing I can no longer display an app like Top Friends, this nifty feature is a close stand-in. (Click the pencil on your Friends box).
Thumbs DOWN
Combo Mini Feed and Wall – my brain is having a hard time with this new mashup. I really liked my feed and wall separate!

Quick tip:

Click "Posts by [Your Name]" to just see your Mini Feed.
Click "Posts by Others" to just see your Wall.
Default is "All Posts" which is the combo deal.

Missing apps – well, they're not missing per se, but apps now appear on their own separate tab called Boxes (um, wouldn't "Apps" be more appropriate?).

I feel sorry for the developers on this new change – I'm thinking *most* people will not take time to click through all the tabs to interact with our profiles and apps. I loved being able to glance at someone's profile real quick on a single page, and being able to "get" the person in a single page sweep.

Wider screen – feels too spread out now.
Bunched up birthdays (and events) – I liked the list format better, much easier to read.
That's about it for now – I may have missed a few features.
What about you? Is the new Facebook working for you? What do you love about it? What is really not working for you? What would you love to see added and/or improved?
Cheers,
P.S. You may enjoy these video tutorials I have on YouTube and my Facebook Fan Page. (I'd love for you to become a fan of my fun fan page too – I'll be sharing lots of free content on my Page not shared elsewhere).
An overview of the new Home Page (Canvas Page).
Profile Assessment for one of my students, Tina Cook. I conducted the assessment from the standpoint of a newbie looking at Tina's profile as if they were a prospect interested in doing business with her.
Intro to the Mini Feed Comments feature. A great tool for creating more viral visibility.

UPDATE:
I just added this comment to the blog post at Mashable Like It Or Not, Here Comes The New Facebook …and I'm repeating here as an update to let you know I give the new Facebook Design TWO THUMBS UP!!!

~~~
As a professional who uses Facebook solely for business purposes, I'm a HUGE *raving* fan of the new Facebook design!
Yes, it took a little getting used to with the combo MiniFeed & Wall… and disappearing apps. (I can appreciate from a developers standpoint, the new app display is frustrating).
However, here's what I LOVE about the new design:
the ubiquitous commenting feature and ability to comment on the fly (*even* on ads!!),
the LIVE FEED (awesome feature for realtime action & connecting),
the feed filters – including by Friend Lists (I recommend keeping lists of your top key contacts for a quick check in to their activities in your News Feed!!),
the customizable less of/more of feed stories (much easier now to train FB exactly what you want in your Feed),
the mini bio under your profile pic,
ability to display 12 specific friends,
easier Status Update (that only posts when you click the button, not like before),
easy edit "pencil" for all sections of your profile,
easy app editing.
Okay, did I mention I LOVE the new FB design? And I reckon any biz user who doesn't like the new design (yet!) hasn't quite grasped the full power of the platform. Hopefully these tidbits I've shared help!!
My $0.05!!

Mari
@marismith