The #1 Mistake On Your Personal Facebook Profile
[UPDATE: December 17, 2011: Now that the Facebook Timeline has rolled out worldwide, the way you access your Employer field has changed. Under your Cover image, there are three possible ways to access your Work and Education details and all the other data that was previously under your "Info" tab. See screenshot below – 1) click anywhere in the shaded area, or 2) click the Update Info button, or 3) click About.

Once on the Work and Education Section, click the "Edit" button in the top right of that section. Then begin to type in your own fan page if you work for yourself, or the fan page of your employer. Then add your Position, City/Town and a Description. For the position, you could use standard wording like "CEO" or you can put anything you wish, e.g. I have "Passionate Social Media Leader." 🙂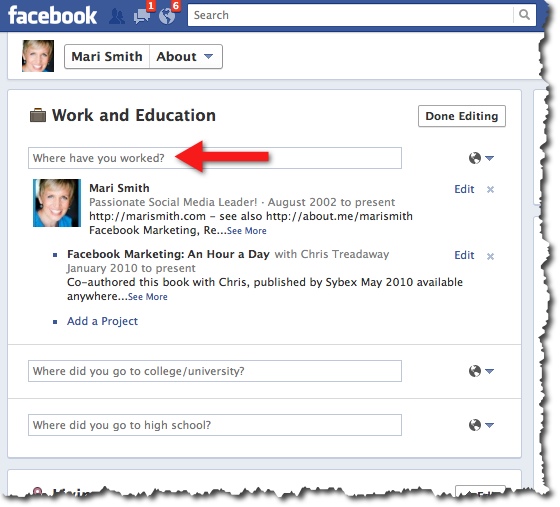 If you currently have more than one job, as far as I know, you can only hyperlink one company fan page on your Timeline. I haven't seen more than one employer linked in this section. However, it's certainly feasible to add more into that section and when visitors/friends click on your About section, they'll see the other jobs/positions. If you have difficulty in getting your main job to show as the featured one on your Timeline, you may need to delete the other jobs/employers and add the main one last.] End update.
Original post follows:
When Facebook upgraded personal profiles to the new design, most of the new features took effect without much effort on the user's part. If you don't like a certain photo in your five-photo strip at the top, just "x" it out to hide it from showing at the top. Tabs became links down the side, and we lost the most recent status update at the very top. (Oh, how I miss that feature as well as the wee mini-bio box!).
One of the most significant changes with the new profile design is the personal info at the top of your profile, right under your name. This section contains your job title, place of work, where you live, your birthday, education, hometown, languages, college/high school and a few other pertinent fields.
IMPORTANT NOTE: If you prefer not to share any of these areas, just leave those fields blank when you edit your profile information. As you can see in the screenshot below, I choose to only show my title, employer, city of residence and birthday. I figure less is more when it comes to personal info on Facebook! By the way, only you can see fields left blank as indicated by links inviting you to "Add your xxxx."
[Also, hot tip: be sure to change your date of birth to only show month and day – not the year – to add a layer of protection].

The #1 mistake? Your Employer link is a Community Page!
Go to your Facebook profile now and mouseover your Employer field – you'll see it's not linked to your fan page! When Facebook changed your profile to the new design, it automatically hyperlinked your EMPLOYER field to an auto-generated COMMUNITY PAGE!
(What is a Community Page? It's an auto-generated wiki style of page that, in some ways, "competes" with your official fan page… at least, it can be confusing for some people when they're trying to find you. For a full explanation of Community Pages and what you need to know, see this post.)
If you work for yourself and have your own Facebook Fan Page (or you're an employee and your employer has a fan page), I highly recommend that you change this Employer field to your Fan Page.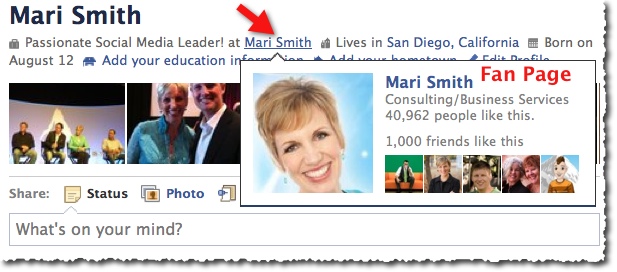 I've seen hundreds and hundreds of personal Facebook profiles where the user is clearly blissfully unaware that they are missing out on an opportunity to promote their Fan Page right at the top of their profiles. We have no idea how many people might be browsing our personal profiles, whether they are friends or not, and you may as well take the opportunity to promote your fan page.
How to add your Facebook Fan Page as your Employer:
The process is straightforward:
Click Edit Profile > then go to the Education and Work section.
Begin typing the name of your fan page in the Employer field.
If you see your fan page in the dropdown menu, select it.
Then fill out the remaining fields (Position, City/Town, Description and Time Period). If you also add in any business partners/colleagues, this will show on their profile too under the Employer section.
Click Add Job.
You can also add Project(s) to any position and add business partners/colleagues (again, this shows on their Employer section).
Voila!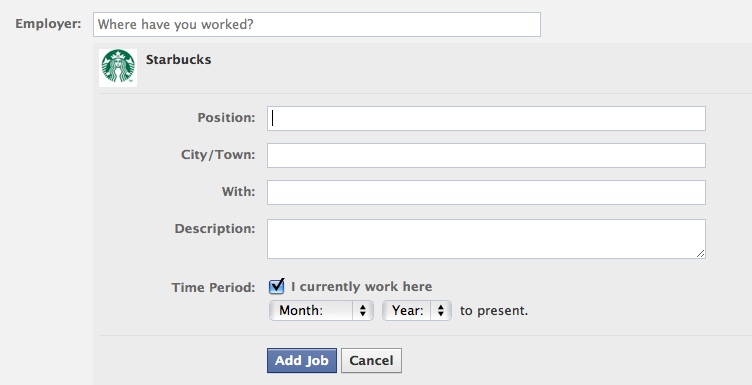 If you find that your fan page just does not want to show up in the Employer field, there is a Ninja workaround which takes a tad of tecchie knowledge. See this helpful tutorial.
That's it. I'm sure there are many other "mistakes" some Facebook users make on their personal profiles (besides having a personal profile in the name of a business which is a violation of Facebook's terms!). But, I feel this one mistake with the missed opportunity to promote your fan page is the most overlooked area.
Any questions, let me know in the comments below. Also, what other mistakes or tips for optimizing profiles do you know of? Feel free to share!
Recommended reading: