Largest Online Conference Helps You Master Facebook Marketing
The Facebook Success Summit 2010 is the web's largest online Facebook marketing conference. I'm honored and thrilled to team up with Mike Stelzner, founder of SocialMediaExaminer.com for the third time to bring you this particular summit – dedicated exclusively to helping you master Facebook Marketing for your business.
Over 1,800 businesses have already signed up, including Radisson Hotels, Microsoft, AAA, Cisco, Universal Studios Orlando, Ikea, California Travel & Tourism Commission, Philips, Kellogg, MetLife, CNN, HP, HealthNet, Ben & Jerry's, Mary Kay, Warner Bros. Entertainment, and hundreds of smaller businesses!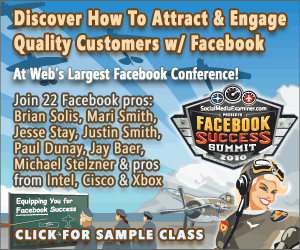 Twenty-two Facebook experts will reveal their proven success strategies at Facebook Success Summit 2010. The all-star lineup of presenters includes Brian Solis (author, Engage!), Justin Smith (InsideFacebook.com), Jesse Stay (author, I'm On Facebook, Now What?), Paul Dunay (author, Facebook Marketing for Dummies); experts from Intel, Microsoft Xbox, Cisco, the Washington Redskins and SAP; Darren Rowse (Author, Problogger), Jay Baer (Co-author, The Now Revolution), Michael Stelzner (founder, SocialMediaExaminer.com) and yours truly, Mari Smith (co-author, Facebook Marketing: An Hour a Day)–just to mention a few.
Some of the topics the sessions will cover:
The best ways to market your business with Facebook!
How to create a viable Facebook marketing strategy
Creative ways to grow a loyal Facebook following
How to understand and master ads, metrics and social plugins
How to integrate Facebook with your website, blog and other marketing programs and much more!
Go here to see all the sessions. Brian Solis will lead us off with the opening keynote on Tuesday, October 5th – then fifteen content-rich sessions follow paced out over four weeks. It's all done entirely via webinars.
At the last online summit, 95 percent of attendees said they'd recommend the event to a friend AND attend again!  That's some endorsement.
Here's a quick glance at the speaker line up – to view and follow everyone here on Twitter, go to this Twitter List.
@BrianSolis

@MariSmith

@JustinSmith

@Jesse

@JayBaer

@PaulDunay

@Ekaterina

@Problogger

@maryrenouf

@LaSandraBrill

@BrianEllefritz

@Shrip1220

@Mike_Stelzner

@ctreada

@rkrueger

@DaveKerpen

@RobBirgfeld

@JeffWidman

@NicksPizza

PersiaTatar

@CindyKing

@AmyPorterfield
Ten Reasons To Attend The Facebook Success Summit 2010
Check out these ten reasons I highly recommend you attend the Facebook Success Summit 2010:

The summit is entirely virtual – no need to travel and take days out of your busy schedule.
You get to learn from 22 of the world's leading experts on Facebook and social media marketing. In fact, six of the presenters have written a book on how to use Facebook!
The sessions are packed with practical content. No fluff. No pitching!
You can fast-track your Facebook marketing with sessions covering how to build a powerful Business Page, how to increase engagement, how to run effective ad campaigns, how to analyze your metrics, how to integrate Facebook into your own website, what to do with social plugins. even the future of Facebook.
All sessions are LIVE – these are not pre-recorded. You can interact with each presenter via polls and Q&A sessions.
There are 18 different sessions paced out over four weeks so you can take your time learning each area of Facebook.
Each session is recorded and you'll get access to the replays + transcripts for a full year. So, no worries if you're unable to attend all 18 sessions live!
There is over $400 in bonus materials, including 5 how-to video tutorials and a $50 free credit for Facebook ads.
Immediately you get your ticket, you'll be able to join the very dynamic, invite-only LinkedIn Group currently with well over 1,000 members networking and asking/answering excellent Facebook questions!
This is the largest Facebook summit of its kind; it's the first time such an array of experts have come together from a variety of niches to share their knowledge with you!
Here's where to get your ticket: http://www.socialmediaexaminer.com/fbsummit10/fb/. I look forward to meeting you on the webinars and in the LinkedIn group!
Meantime, if you have any questions or suggested topics, do leave your comments below.