Highlights of 2010 – A Magical And Full Year! [PICS]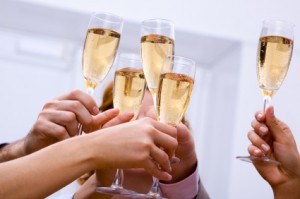 As one year ends and another begins, it's often all too easy to just jump right into what's new and focus on the future. Whilst proper planning for the future is certainly essential, I think it's equally important to reflect back on all that we created during the past twelve months, celebrate the wins, learn from the "mis-takes," and consciously create a bright New Year!
2010 was a magical year for me with many, many high points including traveling to likes of Barcelona, Spain to speak and train on social media marketing and launching my first book with a publisher.
My speaking schedule had gotten a tad out of hand in 2009 – some weekends I spoke at three events in three different cities! So, I made a pact with myself and my team that I'd accept only one major speaking engagement per month for 2010 and that worked out well. I'm on track for a similar path for 2011 with speaking engagements booked through August!
As I look back over my 2010 calendar and large collection of photos, here are just some of the highlights of each month:
January
31st: Attended The Grammys LIVE with a group of awesome entrepreneurs. We got all glammed up, walked the red carpet and enjoyed the after party too. By far, the highlight of the show was watching one of my favorite performers, Pink, do her magical trapeze number Glitter In The Air (still moves me to tears watching the video!!).
1st – 30th: Got in super shape via a 30-day rigorous bootcamp with my dear friend and personal trainer, Ashley Mahaffey!
February
11th: Met Seth Godin in person at Bryan Elliott's LinkedOC networking event with a mega turnout! Seth gave a memorable keynote about his book, Linchpin. [Seth is coming back to LinkedOC on March 2, 2011 – see you there!]
12th-14th: Presented at the National Speakers Association Winter Conference in Nashville, TN. Met the talented and adorable Steve Spangler (Ellen DeGeneres' "Science Guy").
March
12th – 14th: Attended my favorite spiritual retreat for the third time – Mastering Your Life; began a whole new connection with my older sister. 🙂
5th: Keynoted Total Networking Seattle – professional women's conference.
26th: Presented at T. Harv Eker's Guerrilla Business School with 1,000 attendees. (I first met Harv in 2003, attended many of his powerful training programs and was one of his SuccessTracs Coaches from '04-'06. It was such a treat to then be on his stage.)
April
8th – Presented at the Loveland Chamber of Commerce, Northern Colorado Social Media Social.
12th – 16th: First visit to Albuquerque, New Mexico – loved it! (Private mastermind retreat). Had to buy second suitcase for all my turquoise goodies!
16th – 17th: Presented at Peggy McColl's Ultimate Success Event at the lovely Château Cartier in Gatineau, Quebec, Canada (close to Ottawa).
May
28th: Spirit Walk Day with Esperanza Universal of the SOUL Institute then went on a 3.5 day "digital fast" for the first time… ever! No technology whatsoever, completely unplugged. It was a life changing experience that helped me see how enmeshed I'd become in being "ON" every waking moment. I'm still a work in progress, but have much more structure and discipline in place and have since gone on a couple more digital fasts! 😉
June
11th – 12th: Lead my two-day training event Social Marketing Mastery Immersion with attendees live and virtually from around the world!
21st – 23rd: Attended and spoke at SANG – Speakers and Authors Networking Group – for the third time! Met the legendary Harvey Mackay!
July
8th: Presented at Tribal Truth women's group in San Diego on "Taming the Ego in Social Media."
15th – 18th: Presented at eWomen Network 10th Annual Conference in Dallas, TX.
27th: Filmed first episode of Social Media Examiner TV!
August
7th – 11th: Trip to Barcelona, Spain to speak to 250 ActionCOACH leaders. Fell in love with la Sagrada Família – the stunning church by famed architect Antonio Gaudí; the church has been under construction for over 120 years!
15th – 14th: Hosted my big sister for a lovely vacation at my home in San Diego.
September
3rd – 4th: Lead my two-day training event Social Marketing Mastery Immersion with attendees live and virtually from around the world. (I first began this training in 2007 as a webinar series and it has evolved over the years into a 2.5 day live event that I also livestream through a private webinar. Next dates are March 31-April 2).
10th – 11th: Presented at Hispanic Business Showcase, San Diego, CA.
October
November
5th: Attended Ray Blanchard's Super Seminar III and a power women's luncheon for a dozen wonderful girlfriends!
December
4th: Saw preview of Discover The Gift (inspiring new movie due out Spring 2011) at Janet and Chris Attwood's Discover Your Destiny Program in San Diego.
9th: Signed my next book contract with John Wiley & Sons for my first solo authored book!! Current working title is The New Relationship Marketing: How To Build a Powerful, Profitable Network in the New Media Age. Publication is set for August 2011 – very exciting!!
22nd – 31st: Hosted my mum and step-dad for the Holidays in San Diego. They drove down from BC, Canada on a lovely sightseeing journey!
Along with celebrating and anchoring the wins, while reviewing the past year we can also look to see what didn't work out quite the way we'd hoped and reflect on the lessons learned. In 2010, I only had one major "learning experience" when I chose to dissolve a business venture/partnership. I'm a great believer in everything happens for a reason – sometimes the reason is not apparent when we're in the midst of the situation. But proper reflection can certainly help us grow stronger and make more empowering choices in the future.
How about you? What were the highlights of your year? What would you do over again in a heartbeat? Did you have any "learning experiences?" I'd love to hear from you – please do share in the comments below:
P.S. Each year I choose a one-word theme that governs many of my decisions and my course throughout the year. 2011 is my year for "Commitment" – and I'm stepping up my game in several areas, one of which is publishing more blog posts! My initial goal is two per week; alas I'm behind this week as I had a setback… recovering from getting sick over the holidays. 😐 I should be back on track next week and will aim to publish many Facebook marketing tutorial posts!! 🙂