Facebook Marketing: How To Balance Personal and Professional
Ever since I landed on "Planet Facebook" in spring of 2007, I've been a raving evangelist for the platform and all it can help society to accomplish both from a personal and business standpoint. As much flack as he gets, I have tremendous admiration for CEO, Mark Zucerkberg, and his vision to make a profound impact on the world by helping us communicate and connect more effectively. even, dare we say, to actually solve world problems by having a more connected world.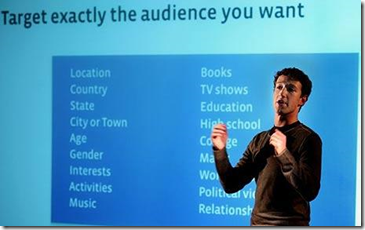 As much as Facebook tends to be geared towards the millions of members who use the site for personal reasons (the average user has just 130 friends), I've always chosen to approach my activity on Facebook from a strategic business standpoint. I never got into all the games or "frivolous" apps. I'm not one for any kind of violence; no Mafia Wars, Vampire Bites or WereWolves for me.
I don't play FarmVille, FishVille or whateverville (with all due respect to the millions of folks who do play those games; and, of course, huge props to the geniuses behind Zynga!).
Actually, I have heard of a few people who swear by these giant game apps as a way to strategically network. Hm. (Do share in the comments below if you've gotten business from playing games on Facebook; I'd love to know!)
Oh, and Poke? Sheesh, I have a "zero poke policy." Always have! Lol. 🙂 If you want to connect with me, come write on my wall!
Strategic fun!
Now, don't get me wrong – I have a ton of FUN on Facebook. But, it's strategic fun. I interact with friends and share as much of my life as I choose to. Every action I take on Facebook is mindful, with a strategic intent; it has to be. Every action is being saved, documented, archived away.
As I wrote about here back in 2008, we can think of our lives in three categories: Personal, Professional and Private. The line between Personal and Professional has become very blurry, particularly since the prevalence of social networking sites. Our online social communities have come to expect us to share nuggets of our personal lives. However, we can still have a PRIVATE life,.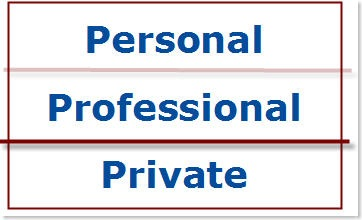 My rule of thumb is this: Anything I wouldn't be comfortable appearing on the front cover of the New York Times (okay, soon to be web page), found in a Google search, and/or proud of my parents to read/see simply does *not* get shared. Period.
Differentiate between Profile and Page?
One of the questions I get asked a lot on my fan Page, is how to differentiate between our Facebook personal Profile and our business/fan Page. Essentially, it's a personal choice! How I choose to approach marketing on Facebook may be different from your approach. There's no "one size fits all."
However, one of the most effective approaches I've found is to grow your friends over time and segregate different sets of people into Friend Lists as I wrote about here.
Or, you may choose to edit your privacy settings so your personal Profile is practically invisible, and you only communicate with a select number of close friends and family members. Then, focus all your business efforts on a fan Page.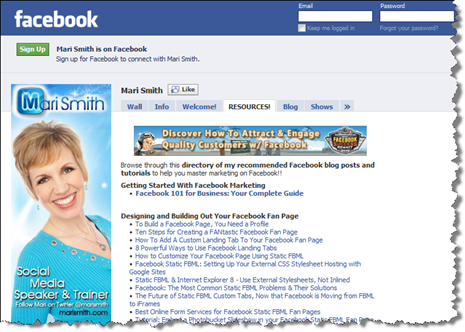 I see my Facebook personal Profile as a place to nurture key relationships with specific friends + reach a wider audience of acquaintances + keep up to date with close personal friends and family members. I stay just under the 5,000 max friends and I publish a mix of personal and professional content.
I tend to leave my privacy settings fairly wide open with just about everything viewable by everyone. That way, I don't have to think/worry about who's seeing what. However, for most people, I highly recommend you adjust your own Privacy Settings using Friend Lists to select who sees what.
Whereas, my fan Page is really an extension of my business network at large – an outpost, if you will, of my blog subscribers, Twitter followers, email subscribers, etc… so I publish almost all business and more from the position of education mixed with strategic promotions.
Read more about my Facebook profile vs. page approach here.
Understand Facebook's TOS
Here are a few key points about what you can and can't do with your personal Profile and business Page.
You can only have one personal Profile.
Your personal Profile MUST be in your real first/last name; it cannot be in the name of a/your business.
You need a personal Profile in order to create a business/fan Page.
Your privacy is fully protected as it's impossible for users to determine who the Admin is of any fan Page.

There is an alternative: if you do not have a personal Profile and don't want one, you can use a Business Account to create a business Page. and buy Ads.

You can create/administer an unlimited number of fan pages – so long as you're the/an official representative of the business.
The originating Admin can add additional Admins (I recommend adding one more trusted person at minimum).
Any Admin can add/remove other Admins.
Click here to get started with an official Business Page for your business; browse the directory of existing Pages here. Be sure to also review the Facebook Page Guidelines and Facebook Page Terms. And, clear up confusion around Community Pages here.
There's SO much to learn on Facebook!
In the 3+ years I've been an active member of the Facebook community, I've seen massive evolution. (I can only imagine that those former college students, who first joined the site back in 2004, scarcely recognize Facebook nowadays!)
My internet marketing consulting + relationship coaching career merged into the world of social media in 2007, and I chose to specialize in Facebook marketing in particular. During those 3+ years, I've never seen an educational event dedicated to Facebook for businesses. There are always plenty events on social media in general. And, several conferences just about Twitter. There are Facebook developer conferences and events for the games industry. But, this is the first time I've seen a social media training event dedicated to Facebook for business.
I'm very excited and honored to team up with one of my favorite professionals, Mike Stelzner (founder of SocialMediaExaminer.com), to bring you the first ever Facebook Success Summit. It's been a long time coming and I wish there had been an event like this back in 2007, 2008 and 2009!!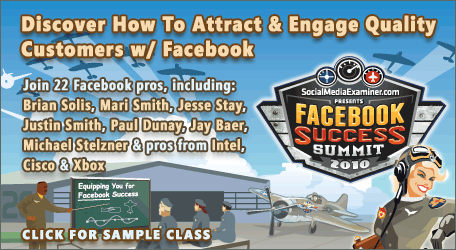 What I've talked about in this post here about differentiating between personal and professional is a teensy, tiny tip of the iceberg when it comes to using Facebook as a marketing tool.
Virtual event to help you begin to master Facebook
If you want to discover how to use Facebook to attract and engage quality customers – as I've been doing for over three years now – and quickly grow your business, this event is for you. The Facebook Success Summit 2010 is the web's largest online Facebook marketing conference! Exciting times!
Twenty-two Facebook/social media experts will lead sessions designed to cover a vast array of all you need to know to master Facebook as a business tool. The opening keynote will be lead by one of my own personal favorites in the industry: Brian Solis, author of ENGAGE.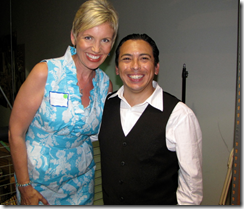 @MariSmith & @BrianSolis at the LinkedOC event, August 2010.
[Yes, I'm uber tall: 6′ plus heels. lol!]
The online event starts October 5th and runs all the way through October 26th in a nice paced fashion of webinars.
The all-star lineup of presenters includes Brian Solis (author, Engage!), Justin Smith (Inside Facebook), Jesse Stay (author, I'm On Facebook, Now What?), Paul Dunay (author, Facebook Marketing for Dummies), Darren Rowse (Author, Problogger), Jay Baer (Co-author, The Now Revolution), Michael Stelzner (Social Media Examiner), yours truly, Mari Smith (co-author, Facebook Marketing: An Hour a Day), and more. Plus, experts from Intel, Microsoft Xbox, Cisco, the Washington Redskins and SAP; )–just to mention a few. Check the bios on these folks here.
Attendees already signed up include key representatives from the likes of Radisson Hotels, Microsoft, AAA, Cisco, Universal Studios Orlando, Ikea, California Travel & Tourism Commission, Philips, Kellogg, MetLife, CNN, HP, Henkel, Autodesk, Country Music TV, AARP, HealthNet, Tropicana Atlantic City, Long John Silver's, Cutco, Ben & Jerry's, Mary Kay, Warner Bros. Entertainment, Otis Spunkmeyer, Wyndham Hotels, University of Tennessee, Brueggers, Herbalife and hundreds of smaller businesses. Amazing!
With your ticket, you get all live webinars + the replays + transcripts; Plus, an array of bonus material, an active forum and access to a very vibrant, invitation-only LinkedIn Group.
Here are some of the topics the sessions will cover:
The best ways to market your business with Facebook!
How to create a Facebook marketing strategy.
Creative ways to grow a loyal Facebook following.
Proven ways to optimize Facebook ads (the most targeted traffic your money can buy!).
How to integrate Facebook with your website, blog and other marketing programs and much more!
Go here to see all the sessions.
Learn Facebook marketing at your own pace
The cool thing about this Summit is it does not require any travel. You simply attend sessions, meet the experts and network with peers from the comfort of your home or office!! For any sessions you can't make live, the replay videos are always loaded up promptly and you get unlimited access for a year. (Plus, if your more of a visual/written learner, you'll be happy to know all slides + transcripts are included too!)
By the way, there is a superb half-price special on the tickets which ends at midnight (Pacific Time) on Thursday, September 16th so I'd recommend registering straight away! Here's a short video message about the Summit:
If this is a fit for you, I look forward to meeting you in the "virtual classroom," and the forum. and the LinkedIn Group! There's an enormous amount of support!
Meantime, do add your thoughts in the comments below about how you approach the delineation between sharing your personal life and promoting your business on Facebook. I'd love to hear your ideas!