Open Networking vs. Strategic Networking – Which Is More Effective?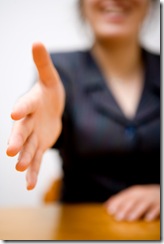 Do you accept all friend requests on Facebook? And all contact requests on LinkedIn? Do you follow anyone on Twitter?
Or, are you more strategic in who you befriend?
Those people who tend to accept everyone into their network are typically referred to as "wide-open networkers." Those who are more particular about who they let into their circle of friends may be called "strategic networkers." (Then, there are those who use LinkedIn for professional purposes and Facebook for close personal friends and family, for example.)
Whether you're a wide-open networker, like Viveka, or a strategic networker, like Peggy, or a bit of both like me, you've probably had to spend a little time deciding who to befriend and who to ignore on your various social networks.
[Blog jointly written by Viveka Von Rosen, Mari Smith and Peggy Dolane.]
Viveka Von Rosen is the CSMO (Chief Social Media Officer) of Integrated Alliances, and the Social Media and Marketing Director for The Executive Center.  A victim of expensive and ineffective traditional marketing, Viveka was able to double TEC's business through social and F2F (face to face) networking.  It is now her passion in life to help others build their businesses through social media strategies.
I am what you might call a promiscuous networker.  In fact, I never say no to anyone (on LinkedIn that is!)  Folks like me are known in LinkedIn as LIONS (LinkedIn Open Networkers).  And to be completely transparent, LinkedIn doesn't like us much.
Since I am in the field of social media strategy and marketing, I feel I need a giant network as a service to my clients.  In numbers this means I have 4200+ direct connections and 17+ million in my LinkedIn Network (and growing).  Both my Twitter and Facebook networks are significantly smaller only because I am a late-comer to both.
In my experience, the larger the network the bigger the portal into the LinkedIn world, and the more likely I am to find the diamond amongst the gravel that my clients are looking for.  It's true I might not be able to give the warmest introduction to someone I don't know well, (unless I do) but I am at least able to give an introduction.  A large network is most useful for Job Seekers and people in Sales and Recruiting where it is a numbers game.
"C" level folks will probably want to remain "LaMBs" ("Look at My Buds") LaMBs (like Peggy) know everyone in their network, and if you are lucky enough to connect with one, you will find their network much more useful than a LION network.  LIONs love LaMBs. I can contact Peggy and I know she knows everyone in her network and could – should she choose – give me a very warm written, perhaps even verbal recommendation.
Peggy Dolane,  principal at Provient Marketing, designs  affordable marketing programs and writes engaging copy that turns your audience into customers.
My strategic network isn't huge – it's somewhere around 300 people.  That includes about 100 people I follow closely on Twitter, about 100 LinkedIn contacts (all of whom I have worked with or know personally), about 100 Outlook contacts, and perhaps 50 friends on Facebook.  I'm not counting the hundreds of families I know through my kid's school, church or community service projects I've been involved in – but I probably should!
What it doesn't have in numbers, it makes up in relationships.  I define my strategic network as my community – people I know well enough to ask for a favor.  My goal is to build relationships, not numbers of contacts.  I don't accept every invitation I get on LinkedIn, for example, because every one of my LinkedIn contacts are people I'd feel confident in recommending their work and having it reflect back on me.  But that doesn't mean that I don't actively mine LinkedIn via participating in groups and answering questions as opportunities to connect to new people.
I'm an open networker on StumbleUpon, Digg, and BizNik.  I use these networks to reach out to new and broader audiences.  Frankly, I'm still growing into my open network strategy.  I believe open networking has great value, but I'm still cautiously opening my network doors.  I'm fairly open on Twitter – following back nearly anyone who looks like I have something in common with and who isn't just amassing followers.
Mari Smith is a Relationship Marketing Specialist and Social Media Business Coach.  Dubbed the Pied Piper of Facebook by Fast Company, Mari helps entrepreneurs grow their business profits using an integrated social marketing strategy with particular focus on Facebook and Twitter.
For Facebook, I would call myself a strategic networker more than an open networker. Unlike LinkedIn or Twitter where there are no limitations to the size of your network, Facebook caps your friends at 5,000. (Which is why I strongly recommend setting up a Facebook Fan Page – where you can have unlimited fans). I reached the 5,000 friend limit after about 16 months of strategic networking on Facebook.
My strategy from the beginning of my Facebook journey (July 2007) was to reach out to many well-known influential people in my industry: authors, speakers, trainers, internet marketers, even celebrity actors. (Leonardo Di Caprio was one of my first Facebook friends!)
If certain people were not yet on Facebook, I would find a way to contact them and help them understand the power of Facebook (which is why Fast Company calls me "The Pied Piper of Facebook!")
Then, what I endeavor to do consistently is what I call "Radical Strategic Visibility" – that is, to be seen in all the right places at the right time by the right people.  Because of the News Feed feature of Facebook, by deliberately and strategically choosing all my activities, I can consistently appear in the Feeds of these highly influential friends and – over time – position myself as the industry expert.
I like to say "it's not what you know, it's who you know… and, more importantly, *who knows you.*" Facebook provides an unprecedented opportunity to position yourself consistently as THE go-to person in your niche/industry.
I'm also a huge advocate of the micro-blogging site, Twitter and tweet heartily in conjunction with being active on Facebook.
People to Follow
One of the great aspects of networking is meeting new people. With that in mind, here are a few recommended peeps to follow:
See also Twitter follow recommendations by Viveka and Peggy.
Twitter:
LinkedIn:
Digg:
Mike Witt,

http://digg.com/users/wittmc

— Mike's passion is helping people grow their at-home businesses.  He has a network of 750+ friends on Digg that he uses judiciously, without spamming.
Facebook:
Chris Brogan – President, New Marketing Labs, a social media agency and education company.  Facebook Fan Page.
Jeremiah Owyang – Senior Analyst at Forrester Research and popular web strategist. Web Strategy Facebook Group.
Ali Brown – Founder & CEO of Alexandria Brown International, leading women worldwide to create amazing lives for themselves via entrepreneurship.  Facebook Profile.
Kevin Nations – Specialist in Big Ticket profits. Kevin's Blog.

Join Viveka, Peggy and Mari LIVE on Twitter on Wednesday, January 14, 2009, 5pm PT / 8pm ET to explore more about the pros and cons of open vs. strategic networking.
HERE'S HOW: To read and participate in the live networking tweet-in, log in with your Twitter username at http://tweetchat.com and enter the room for #lion.

[Or, watch the tweets at this search string and chip in with your own #lion tweets from your favorite Twitter app.]
What type of networker are you?  Open ("lion"), Strategic ("lamb"), or your own hybrid style? Write your comment below about your networking style.