How to Increase Facebook Engagement, Amplify Brand Reach with Live Streaming & More: The Social Scoop 10/28/2016
Greetings from Louisville, Kentucky!
I'm in KY for the US launch of my beauty company clients this weekend. Wow, what a whirlwind couple of weeks it's been. (I confess, we missed last Friday's issue of The Social Scoop due to my being MIA last week!) My family reunion in Scotland was amazing; what a treat to stay in a castle and enjoy a professional photoshoot with my three sisters!
Then I flew over to New York City and spoke at Animoto's Social Video Marketing Summit live from their offices, alongside award-winning photographer Sue Bryce.
The two-hour event was very well received and you can catch the entire replay below or on Animoto's Facebook Page.
As usual, Facebook continues to roll out new features, updates and integrations. PayPal is deepening its relationship with Facebook and will now become one of the payment options within Messenger. See this article on TechCrunch for the full scoop. Plus, Facebook has said it's working with others in the industry, including Stripe, Visa, MasterCard, and American Express, not just PayPal and PayPal-owned Braintree.
Amazing. If you want to catch a glimpse of where Facebook is building out Messenger and WhatsApp, just take a look at this video post about how China is changing your internet by The New York Times with my added thoughts.
Next up, please enjoy this week's top 3 articles we've selected for you:
1. 10 Ways to Increase Your Facebook Engagement by Mari Smith via SocialMediaExaminer.com
The Facebook News Feed ranking algorithm is designed to show people stories that they are most likely to enjoy. The more a person interacts with a business page, the more Facebook sees it as interesting to them and the more that page will appear in their news feed. So, if engagement breeds engagement, how do we get the ball rolling? Read on for ideas!
2. 10 Ways to Amplify Your Brand Reach with Live Streaming via MarketingZen.com
Every day Facebook Live becomes more mainstream and it remains one of the best ways to increase the reach of your business page. This article contains good ideas, tips and reminders for live videos. If you haven't started using Facebook Live, perhaps now is the time.
3. Five New Content Forms Rocking the Marketing Airwaves  via BusinessGrow.com
As more and more content is created on existing platforms, we eventually reach Content Shock. And in order to maintain organic reach we need to find new ways to reach consumers. There are five new and interesting new formats mentioned in this post.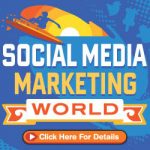 Join me at Social Media Marketing World!
Discover social media insights from over 180 subject-matter experts at the largest in-person social media marketing conference. Meet me and my team in glorious sunny San Diego, California on March 22nd to 24th, 2017 and learn about the best ways to build your business using Facebook, Instagram, YouTube, Twitter, LinkedIn, and much more! Find out more.
That's all for this week's issue of The Social Scoop. Have an awesome weekend and week ahead.
On a personal note, I've had an amazing time being on the road for the past two weeks. I must share, though, it's actually been rather challenging to make myself really be off the grid… not that I intended to fully. But, still. It's a fine balance when you run your own business… taking much needed time away, and being able to set up systems where you can be away. Fortunately, today I finally have some breathing space to catch up as well as a bit of pampering before my big event on Saturday! 
Cheers,