Do You Limit What You Share About Yourself On Facebook, Twitter, LinkedIn?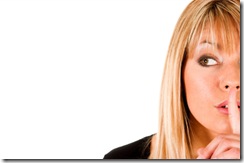 Last week on Twitter, Viveka von Rosen [@linkedinexpert], Peggy Dolane [@freerangemom] and I [@marismith] hosted the first "#lion" Twitter discussion: a tweet-in that asked the question: How open a networker are you on LinkedIn, Facebook and Twitter?.
[#lion = LinkedIn Open Networker – a person who grows their network as broadly as possible.]
This week we're continuing the #lion conversation with this question:
Do you limit what you share about yourself on Twitter, Facebook and LinkedIn?
To get the conversation started, here's some food for thought:
Lisa Nova poked fun at the over-tweeters among us in her YouTube satire Twitter Whore (viewed by over 730,000 to date.) None of us want to be that person, do we?
Smart businesses know that a real person tweeting will win you more loyal followers. Just ask Scott Monty at Ford, @Zappos' CEO, Tony Hsieh, or @TypeAMom, Kelby Carr who wrote a great post about this issue last summer.
On a more serious note, Canadian child protection authorities were contacted by Twitter recently when a mother made comments about how she might get her children to go to sleep.
There are many aspects of my life I choose not to Tweet about. Everything I do online and offline is with deliberate and strategic intent. "Mindful" you might call it. My underlying questions when sharing are "Would I be comfortable with this information being on the front page of the New York Times? (or found in a Google Search!)" and/or "Would I be proud for my grandchildren to read this information in 20-30 years' time?"
Here's the thing, I don't believe you need to live in a glass house. Sure, many business owners and independent professionals have personal lives very much merged with their personal lives; the lines are blurred between personal and professional. BUT, you must still have a private life as I wrote about here last year.
Does your tweeting have any limits? [Did you know every single tweet is an individual web page indexed by Google?!] Or do you share every minute detail of your life online? Or, perhaps you save more personal information for Facebook and Twitter and keep LinkedIn strictly business?

Join Viveka, Peggy and Mari LIVE on Twitter on Wednesday, January 21, 2009, 5pm PT / 8pm ET to explore more about the pros and cons of open vs. strategic networking.
HERE'S HOW: To read and participate in the live networking tweet-in, log in with your Twitter username at http://tweetchat.com and enter the room for #lion.

[Or, watch the tweets at this search string and chip in with your own #lion tweets from your favorite Twitter app.]
Related posts:
[Blog jointly written by Peggy Dolane and Mari Smith.]

Peggy Dolane, @freerangemom:
Peggy Dolane,  principal at Provient Marketing, designs  affordable marketing programs and writes engaging copy that turns your audience into customers.

Viveka von Rosen, @linkedinexpert:
Viveka Von Rosen is the CSMO (Chief Social Media Officer) of Integrated Alliances, and the Social Media and Marketing Director for The Executive Center.  A victim of expensive and ineffective traditional marketing, Viveka was able to double TEC's business through social and F2F (face to face) networking.  It is now her passion in life to help others build their businesses through social media strategies. 

Mari Smith, @marismith:  
Mari Smith is a Relationship Marketing Specialist and Social Media Business Coach.  Dubbed the Pied Piper of Facebook by Fast Company, Mari helps entrepreneurs grow their business profits using an integrated social marketing strategy with particular focus on Facebook and Twitter.
If you're reading this post after the #lion Twitter discussion [quite possible as I'm posting it at DFW airport just as the discussion is starting, lol!] – you can still view the tweetstream here or here.