As Facebook continues to evolve, many marketers are finding it more elusive than ever to generate consistent results on the platform. Organic reach has totally plummeted over the past few months and Facebook is now officially a "pay-to-play" platform for businesses.
Watch this special message from Mari:
Facebook is pay-to-play… but you need to invest wisely!
If you want to have your content seen in the News Feed of your (hard-earned!) fans, you have to dig into your wallet and pay. Often, marketers have already paid to build their fanbase and are now being forced to pay again to have those same fans see even a fraction of content. It's just not fair, right?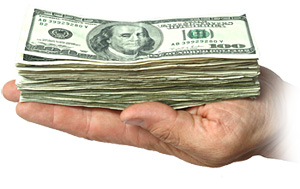 Well, here's the thing – lack of measurable results on Facebook is not because of lack of organic reach. It's not because of the News Feed algorithms, or any conspiracy theories that folks might have. Bottom line:
Lack of measurable results on Facebook stems from lack of a proper, fully integrated approach that includes—and also goes far beyond—marketing on Facebook. @MariSmith

You cannot silo Facebook and hope to yield results purely from content and engagement on the site. You must also include content marketing, blogging, email marketing, video — as well as possibly podcasting, webinars, live events, public speaking and other offline marketing — in your overall approach. And then you need to ensure you have a proven sales funnel + implement conversion tactics regularly… but still maintain a relationship-marketing approach.

In terms of Facebook ad relevancy, Mark Zuckerberg says:
Last quarter I talked about our efforts to grow our business through improving the quality of our ads rather than just increasing the quantity. Our goal is to reach a point where the ads are as relevant and timely as the content your friends share with you. ~Mark Zuckerberg (Source: InsideFacebook.com)
Wow, imagine that?! How do you create ads that are not interruptive and don't feel like marketing messages – yet still compel your target audience to take ACTION? How exactly do you place promotions in the Facebook News Feed that have the same feel as posts from friends?! Well, it can be done!
But, all this can get very unwieldy, confusing and overwhelming for most small to medium sized businesses! Keep reading, though – help is at hand!
Perhaps you'll recognize some of these Facebook Page challenges:

These are the kinds of issues I hear almost on a daily basis from my community…
Your fan growth has reached a plateau.
You're unable to reach more of the fans you do have.
Your engagement level (and PTAT: people talking about this) has plummeted.
You've increased your content frequency and experiment with content type – all to no avail.
Fewer people are liking, sharing and commenting on your posts.
You're not sure if paying to promote (boost) your Page posts actually works.
When you do pay to boost posts, your organic reach goes down.
You're afraid of wasting money.
You've tried ads before and didn't get good results (read: a solid ROI, return on investment).
You're not really sure what to advertise.
You don't understand Facebook's ad terminology.
You check your Insights daily but it doesn't help you get ahead.
You don't know who to turn to when you get stuck….
If you can relate to any of those statements, stop stressing and take action today! I'm here to help you. Facebook absolutely CAN work to bring in significantly more business, success and PROFITS – no matter what industry you're in, no matter what niche, or country.
With 1.2 BILLION active users on the site from all corners of the globe, you should be seeing consistent, measurable results from your Facebook activity… and, if not, you're doing something wrong! Let me be your Guide to success on Facebook!
Introducing: Facebook Marketing MASTERCLASS with Mari - brand new online training course!
I'd love to help you! Come join me for this dynamic new online course and get ready to finally generate serious ROI from your Facebook marketing!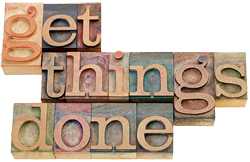 This is not a bunch of fluffy stuff that just skims the surface. Nor is this course one where I just give you a ton of information and you're on your own.
I'm actually going to be in the trenches with you, building a BRAND NEW Facebook Page from the ground up!
Plus, I've created an innovative way of leading this course that has MAXIMUM built-in accountability for you. So, there's no excuses – you absolutely will get results… or your money back, no questions asked.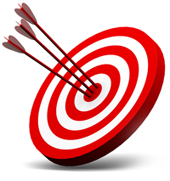 We'll be taking a deep dive into the mechanics of marketing on Facebook, specifically how to effectively integrate free and paid promotions that help you grow your fanbase, attract more qualified leads and convert them into top paying clients… all without breaking the bank!
Facebook Marketing MASTERCLASS with Mari is an 8-week online course with hands-on help to help you create REAL, measurable results.
What's included:
This Masterclass comprises a minimum of 12 self-study mini-lessons. Each lesson contains specific action steps, plus homework assignments. You get a variety of video tutorials from 15-30 minutes each, along with special guides, checklists and templates for you to use in your own business.
The lessons are released each week. Your goal is to review the lesson, then APPLY the teachings! Action-takers get the prizes…and the BIG BUCKS!

Then, each lesson is followed by a webinar for a coaching and masterminding session.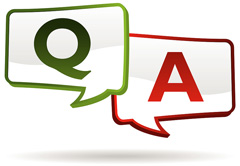 PLUS, you get to be a member of the very active private Facebook Group. Questions that were answered are archived in our Group and can easily be searched when you need them.
What you'll learn:
Here's an overview of what we'll be covering during our content-rich sessions together with you:
A systematic step-by-step approach to creating measurable social media results.
Which platforms to be active daily on and which ones you can almost "set and forget."
Creative ways to overcome the ever-declining organic Facebook reach.
Organic Facebook reach vs. paid Facebook reach and how to generate leads using both.
The exact process that my clients and I use to regularly generate significant profits using Facebook.
Creative tactics to reach the EXACT targets you want (includes many "outside the box" ideas that will significantly set you apart from others).
Demystify the many components of Facebook's News Feed ranking algorithm, advertising products, and Insights – what to focus on and what to ignore.
Proven ways to use Facebook to build a large and loyal fanbase.
How to generate more quality leads and easily convert to paying clients.
Unique time-saving tips for yielding maximum results on a daily basis.
Templates, checklists and systems that I use in my own business – no holds barred, I'm sharing everything with you!
Proven relationship-marketing techniques that work on every online social network … and offline, too!
Exactly what actions you should be doing yourself every day and everything that you should be delegating/outsourcing.
How to find and hire the right support to dramatically improve your social media marketing results!
What to do in a PR emergency.
What to do when a national or international disaster happens.
How to maximize real-time events.
…and much, much more!
The regular price is $497.
For a limited time only, I'm offering you a special low price of just $225. INSTANT ACCESS!!

Or two payments of $122. One now and one in 30 days' time.
Just click the big ADD TO CART button below and make your selection on the next page for full pay or two-pay.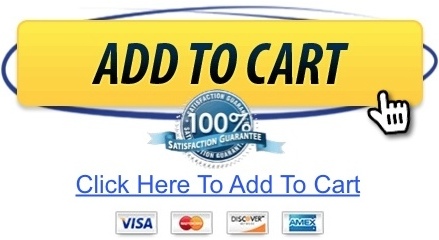 Your credit card or PayPal payment is SECURE! We use the secure shopping cart services of Infusionsoft.
You will notice in your browser the little padlock symbol and the https:// ("s" stands for "secure!")
All major credit cards accepted. We use Infusionsoft – the secure, trusted ecommerce cart.
Overcome social media overwhelm
I recently surveyed my database and received 1,700 responses from business owners, entrepreneurs and independent professionals from around the world. I asked what their #1 social media challenge was. And the runaway winner was… TIME!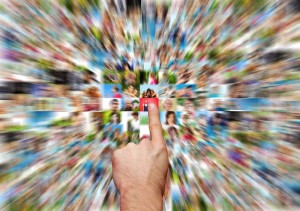 Everyone is feeling stretched and struggling to fit everything in…
Time to create original content
Time to learn new apps, tools, platforms, shortcuts
Time to implement everything
You want to retain your own authentic voice, yet you need to delegate… yet you're not sure what to delegate
You don't know who to hire, what role, full-time vs. part-time, what to look for, where to find the help, what training to provide, how to measure success, what to pay the person, etc.
If you can relate to these challenges, you're not alone. The feedback from my recent social media survey was intense – so many people need support.
90% of data in the world today has been created within the last two years. Source: IBM
Marketing Technology Landscape
Just check out this infographic below – is it any wonder people are feeling overwhelmed and pushed for time?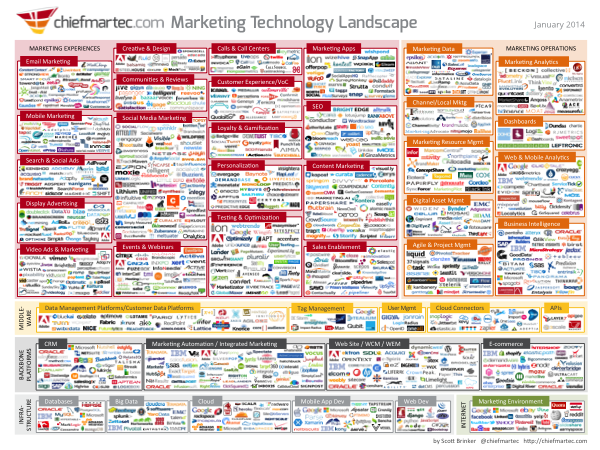 This is certainly a fabulous, well-organized graphic… but it does illustrate the critical need for a proper, systematic approach to social media success no matter what size your business. Of course, if you're a relatively small business, there's just no way you'd have time to handle everything. You must pick and choose – you must prioritize. And, that's one of the main things I want to help you with in this new course.
A systematic approach to Social Media Success
Creating success with your social media activity takes a systematic approach. You cannot afford to have "bright shiny object syndrome" where you keep jumping from one platform to another, one strategy to another, never quite hitting the mark. In the Facebook Marketing MASTERCLASS with Mari,I will be walking you through a thorough system of ONLINE MARKETING that includes social media.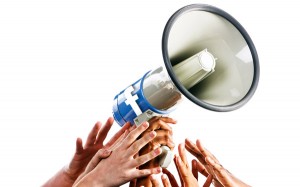 See, social media is primarily an AMPLIFIER. You can use social networks to get the word out about you, your brand, your products and services… but it's crucial that you also have solid lead-capture and lead-nurturing systems in place, as well as time-saving processes and an entire support team (whether on staff or sub-contractors).
I've been a successful Internet marketer since 1999, creating and selling a variety of information products, e-books, video courses, live webinars, coaching programs, masterminds and more. As well as speaking at major events around the world on how to create success with Facebook + social media + online marketing. And, I've written several books on the subject – most notably The New Relationship Marketing: How To Build A Large, Loyal, Profitable Network Using The Social Web and co-author of Facebook Marketing: An Hour A Day- both published by Wiley/Sybex.
I've distilled my 15+ years of experience as an online marketer and business owner into a fairly simplified, step-by-step success process that I will walk you through during our time together in Facebook Marketing MASTERCLASS with Mari brand new online training course!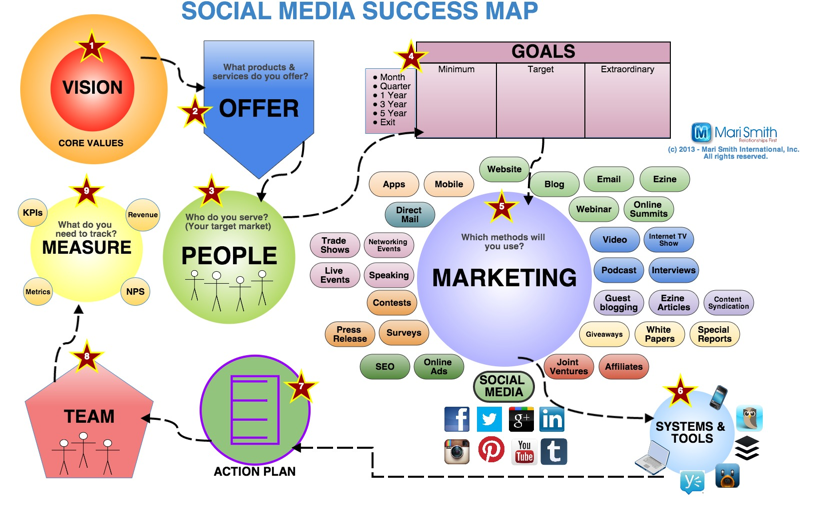 And, remember, there is massive built-in ACCOUNTABILITY in this dynamic new course — nobody gets left behind. You either get measurable results that you're happy with, or your money back. Simple as that.
PLUS! Watch as Mari launched a brand NEW Facebook Page from scratch… and find out how your business can benefit!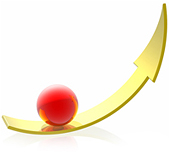 You'll be able to peek over Mari's shoulder as she walks you through her own exact process for launching a brand-spanking new Facebook Page. Mari's proven process includes how to create and implement the following steps:
Defining the vision and mapping out a plan to achieve it
How to build a raving fanbase, including both organic methods and paid methods
Developing a foolproof content strategy – never be stuck for what to say or post
Knowing what and how to delegate effectively – what tasks you simply must do yourself and what you can outsource… including the type of person to hire, where to find them, what to pay them, how to work with them
Daily engagement strategy – how to keep your fans hanging on your every word and clicking wherever you want them to
Promotion – how to continually build your audience and naturally market to them using proven relationship-marketing tactics
Conversion – proven ways to get your fans to opt into your email list and how to convert your audience into paying customers, time and again
Exactly what you should track and measure, how to spot KPIs that need fixing and what to ignore
You'll be in the trenches, "peeking over my shoulder," getting insider tips and making the exact same improvements to your own Facebook marketing as I roll out this brand new Page.
It's VERY exciting! The concept for the Page is something I've been wanting to do for a long time. Finally, this is the perfect opportunity and I get to share the experience and exact process with you!
Perfect blend of self-study video lessons, *plus* ongoing support!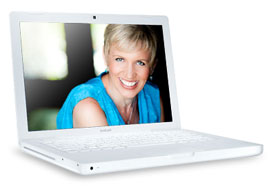 Instant Access to all modules that stats with the Orientation Session.
Next, you'll have access to the first batch of video lessons for you to study and IMPLEMENT throughout that week – or how ever long it takes you.
Each video lesson session is 20-30 minutes and is presented by Mari.
ALL video lessons come with a unique PDF guide.
Then, each masterclass session is 60-90 minutes where Mari reviews the content of the video lessons.
You have unlimited access to all materials for a full year.
PLUS, you'll get membership in the dynamic, active support group on Facebook. I love to share Facebook marketing knowledge and LOVE to answer questions!
Check out what Sonja Sandholm-Pound has to say about my Facebook Group interaction:
Ready to join Mari? Save 55% when you sign up today!
With the incredible breadth and depth of training you'll receive in this course, I could easily charge $997 or more for it. However, I'm extremely passionate about helping more and more small- to medium- sized business owners fully understand and tap into the massive power of Facebook. So, I wanted to make the price as reasonable as possible for you.
The regular price is $497.
For a limited time only, I'm offering you a special low price of just $225. INSTANT ACCESS!

Or two payments of $122. One now and one in 30 days' time.
Just click the big ADD TO CART button below and make your selection on the next page for full pay or two-pay.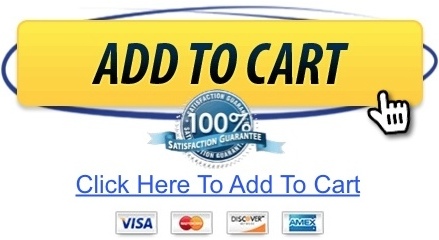 Your credit card or PayPal payment is SECURE! We use the secure shopping cart services of Infusionsoft.
You will notice in your browser the little padlock symbol and the https:// ("s" stands for "secure!")
All major credit cards accepted. We use Infusionsoft – the secure, trusted ecommerce cart.
You can use any credit card or PayPal to pay in full.
 There is a two-payment option offered for credit card only.
RISK-FREE GUARANTEE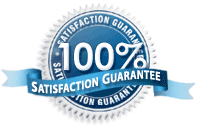 FACEBOOK MARKETING MASTERCLASS WITH MARI is packed with the latest and the best information I have to offer for your success with Facebook today. And I want you to be absolutely thrilled with the strategies you'll discover in this course. But you be the judge…
You can sign up today and attend the entire course totally RISK-FREE. If, after completing all sessions and applying the teachings from each lesson, you don't feel fully satisfied, or you didn't get massive value and see real results (an increase in your visibility, fanbase, engagement rates, conversions, etc.), simply contact my team and we'll happily refund 100% of your money in FULL. You have my promise.
PLUS – check out this radical promise to ALL attendees!

If you don't get the results you want by the end of the course, I will give you a one-on-one private consultation where we'll thoroughly review your Facebook activity, social media strategy and ad campaigns. Just keep showing up to each session, implement what you can… and if you're not 100% satisfied, I'll do what I can to personally help you until you are happy!
Now that's ZERO risk to you!!
Come on in and save your seat today – we'd love to have you.
Facebook has over one billion active users – are you reaching the right ones?
Isn't it time you learned how to reach the right audience for your business and turn them into awesome paying customers?
This brand new Facebook Marketing MASTERCLASS with Mari online course gives you a proven system for creating measurable results!
For a limited time, get into the Masterclass for just $225 (or two payments of $122).
Frequently Asked Questions:
Will sessions be recorded?
YES! All sessions are now instant access, on-demand videos that you'll find in your member area with unlimited access.
What format are the replays in?
Videos are in two players: .mov format for higher speed internet and .mp4 format for lower speed internet. Both formats are in players streamed from inside your membership area. We also make the actual video files available to download on to your computer hard drive and play at your leisure without using internet bandwidth.
What other materials do I get, besides the webinar replays?
There are a minimum of 12 video lessons that you can watch online and/or download the video file. These are self-study.
Plus, you get six webinars (view online and/or download the video file). Plus, each of the video lessons comes with a PDF guide.
PLUS, checklists, templates, guides, case studies and more!
How do I access the course materials?
We use CustomerHub with a secure login system so you can safely access all course materials. As soon as you register for the course, you'll get an email with your login access.
Is there homework?
Yes. We have recommended action steps for you to take after each session.
Can I download the modules?
Yes. You can download each video file (webinar replay) in either MOV or MP4 format as well as the slides and guidebooks in PDF format.
How long will I have access to the replays?
You'll have access for one full year via your CustomerHub login.
Is there a Facebook group for members?
Yes! We have a very active and dynamic, private Facebook group for both peer support and access to Mari. This is one of the most powerful components of the course. You'll never be stuck so long as you're willing to ask your questions in the group!
Will this course work for real estate professionals?
Absolutely. All businesses in all industries need to first produce quality content with a proven strategy – we teach you how to do this. You then create engagement around that content and AMPLIFY the engagement through Facebook ad products in order to reach more of your target audience and convert them into leads and paying clients.
Will this course work for the network marketing industry?
Yes! We have many distributors and coaches from a variety of networking marketing industries already attending the course. Network marketing companies are by their very nature relationship marketing oriented — you'll be learning proven techniques from Mari Smith, bestselling author of The New Relationship Marketing and Facebook Marketing: An Hour A Day. See also the answer above!
I don't have a Facebook page yet – will this course work for me?
Yes, though we encourage you to go ahead and set up your Facebook page as soon as possible. If you need help with this, come on in to the course anyway and we can help you to get a jump start!
I'm only just starting with my Facebook marketing – will this course work for me?
You're in the perfect place! The course modules are exponential and contain a proven and systematic approach for generating consistent, measurable results from your Facebook marketing activity.
Does this course go in-depth into Facebook ads?
We do cover all of Facebook's paid products – including promoted/boosted wall posts, news feed ads on desktop and mobile, and right hand column ads. Plus Custom Audiences, Lookalike Audiences, Website Custom Audiences, Partner Categories, Power Editor.
However, if you would prefer access to a thorough, in-depth Facebook ads course, we highly recommend FACEBOOK MARKETING SUCCESS SYSTEM co-presented with Master Facebook Ads Trainer, Dennis Yu. If you wish to purchase that course as well as the Facebook Marketing MASTERCLASS with Mari you'll be eligible for a special alumni discount! Just send an email to customercare@marismith.com for how this works.
What if this course doesn't work for me?
If you don't get the results you want by the end of the course, I will give you a one-on-one private consultation where we'll thoroughly review your Facebook activity, social media strategy and ad campaigns. Just keep showing up to each session, implement what you can, ask for support… and if you're not 100% satisfied, I'll do what I can to personally help you!
Now that's zero risk to you!!
Come on in and save your seat today – we'd love to have you
What people are saying about Mari's Social Media Training Courses and Services:
My "People Talking About This" Multiplied by 600% + Decreased Cost per Sale by More Than Half!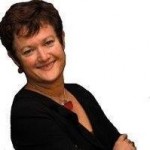 "Just want to say a big thank you to you and your wonderful partners for your brilliant Facebook training. I've only implemented a fraction of the training so far but the results are already exciting (and profitable). I implemented your "engage and amplify" strategy and within 1 week my PTAT (People Talking About This) multiplied by 600%! Then I set up advertising following your instructions. I created custom lists, split tested different ads and then optimized the winner for lead conversion to my webinar and sales funnel. The exciting news (a.k.a. profitable news)? My cost per sale of my $497 program is usually $149.10 using affiliate referrals. With this first campaign, my cost per sale from Facebook advertising is $69.84. Giving me an extra $79.26 profit per sale!! Plus the sales are consistently every day instead of floods and droughts as my lovely affiliates promote. And I haven't even implemented half the clever things you taught yet which I know will decrease my cost of sales even further. I'm really excited. Thank you so much for sharing a system that absolutely works."
~Janet Beckers – WonderfulWebWomen.com
More In-Depth and Educational Than Any Other Facebook Course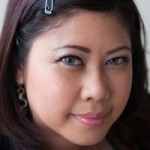 "Yay! Just got my certificate of completion of the course! Thanks Mari Smith, Dennis Yu & Alex Houg for all your guidance and support! This course was definitely far more in depth and educational than any other Facebook course I've taken so far. Also thanks to all friends in this group for sharing your experiences and continued support!!"
~Liz Ayan – Digital-Matchbox.com
2 Million Fans!

"Learning from Mari is always a treat. I have been able to build a fan base of over 2 Million for my clients using her techniques. She helps me stay ahead of the curve with great information and her ninja tactics have helped me explode my client's online presence."
~Kathryn Rose – SocialBuzzClub.com
A Multimillion Dollar Business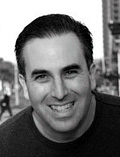 "If there's anyone on the planet who can help you build a business using Facebook, it's Mari Smith. Her early Facebook coaching was instrumental in helping Social Media Examiner become a multimillion dollar business. She studies the hidden gems of Facebook like no one else. She's also the first person I call if I need Facebook advice (and let me tell you we speak often!)."
~ Michael Stelzner – Founder and CEO, SocialMediaExaminer.com

More Than a Facebook Strategy
"Uber mentor Mari Smith. Coach, content curator and business sage. Mari delivers more than a Facebook strategy. Mari is one of the foremost social media thinkers on the planet. It is well worth joining her program."
~Lucy Miller – Perfumer, LucyMillerPure.com

Real Life Business Strategy
"I first discovered Mari Smith online and attended a few of her trainings; I gained very valuable information and amazing tips each time. But the biggest transformation in my business happened after I attended Mari's Social Media Intensive Training program. Not only did I learn valuable information that I implemented immediately in my business, but the connections I gained during that event helped me in ways that I couldn't imagine.
Mari's knowledge in the social media arena is second to none. She mixes her teachings will real life valuable business strategy — that is the true asset I have gained from my experience with Mari. Mari Smith is the real deal!!"
~Jacob Sapochnick – Immigration Attorney, h1b.biz
Engagement Rates Drastically Improved
"After attending Mari Smith's Social Media Intensive and VIP sessions I have been so much more focused on my business. I now have the tools I need to grow my business. Mari's insight, critiques and helpful tips were key to improving my Facebook presence. Since the event, my engagement rates have drastically improved. As a result of attending Mari's event, I feel I have found my "voice" in social media. I look forward to learning more and continually reaching more people via social media. Thank you Mari!"
~Sonja Sandholm-Pound, Fitness Coach — simplyactivesonja.com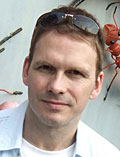 Save months of research, trial and error!
"Mari's Facebook courses are outstanding! The webinars are chock full of tips and insights for your Facebook success, the membership area is a gold mine of links, tools, and resources. What I love most is Mari's uplifting presentation style. You can't wait to get started once you watch these videos! Entertaining and easy to understand, yet profound and ready-to-use information. Mari's the go-to expert for Facebook, and it shows throughout the course. I signed up for "Facebook Money Mastery" the minute the sales link went online. You save months of research and trial and error!"
~Ralf Skirr, internetbusinessmastermind.com
Meet your Master Trainer – Mari Smith

Often referred to as "the Queen of Facebook", Mari Smith is considered one of the world's foremost experts on Facebook marketing and social media. She is author of The New Relationship Marketing and coauthor of Facebook Marketing: An Hour A Day. Fast Company describes Mari as, "A veritable engine of personal branding, a relationship marketing whiz and the Pied Piper of the Online World." Forbes named Mari one of the Top Social Media Power Influencers for the past three years in a row. Mari consults with businesses of all sizes around the world to help accelerate their profits by integrating proven social media marketing strategies. She travels and speaks at major events, sharing the stage with many celebrities and leaders. She also regularly appears in media locally and nationally in publications such as The New York Times, The Wall Street Journal, Inc., Forbes, Fortune, and Success Magazine.
Save 55% when you sign up today!
(or two payments of $122)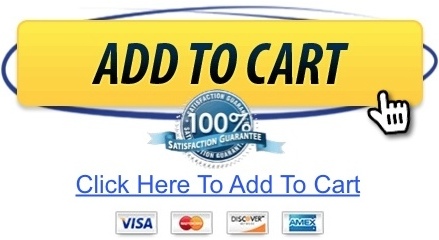 Your credit card or PayPal payment is SECURE! We use the secure shopping cart services of Infusionsoft. You will notice in your browser the little padlock symbol and the https:// ("s" stands for "secure!")
I look forward to supporting your Facebook marketing mastery!
With these content-packed sessions, you'll be totally set up for success with building your business using Facebook. You could easily boost your sales by the end of the course, and be a total rock star on Facebook.
Are you ready to get started MAXIMIZING your reach, results and revenue… and make huge strides to real, measurable returns with Facebook marketing for your business?
Then choose your preferred risk-free payment option above, and I'll see you very soon inside the FACEBOOK MARKETING MASTERCLASS with MARI online course. Let's do this!!