Ten Ways To Tweet The Social Media Success Summit
UPDATE 5/29/09: The summit is off to a flying start with Gary Vaynerchuk's rocket fuel launching us on Tuesday!! See the tweets from Gary's keynote here. And all #smss09 tweets here. Be sure to follow all the fabulous speakers of this social summit: @GaryVee @Problogger @MarketingProfs @Copyblogger @ChrisGarrett @DeniseWakeman @JasonAlba @Mike_Stelzner & yours truly, @MariSmith
—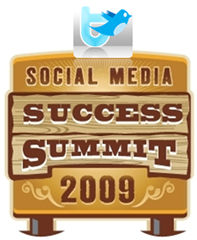 As a participant of the Social Media Success Summit 2009, you're invited and encouraged to tweet about the event, and to tweet nuggets from the event.
If you don't have your ticket yet, today Monday, May 24 is the LAST DAY to save $100; the event starts tomorrow with Gary Vaynerchuk.
[If you're not attending this virtual event, you can still observe tweets, retweet, favorite and tweet to the participants, presenters and of course your followers.]
Event Tweeting Tips To Maximize Your Participation
(These tips are just as relevant to any event – online or in person – that you attend).
1) Include the hashtag #smss09.
With every tweet about and from the Social Media Success Summit that you send, simply append the hashtag #smss09 – typically at the end of the tweet. That's it. That's all there is to hashtags! There's no great mystery; you just send a regular tweet and add the hashtag. [For an explanation of hashtags, see this video.]
2) Enclose in quotation marks.
When quoting something one of the Social Media Success Summit 2009 speakers says, I recommend enclosing the nugget in quotation marks.
3) Include attribution.
Also, when quoting someone, add the person's @ name to let your followers know who you are quoting.
4) Keep your tweets less than 120 characters.
To increase the chances of your tweet being retweeted, make it easier for your followers by keeping the character count to 120 or less.
Example tweet:
"When you have people paying attention to you, your biggest job is to listen to what they want." @garyvee #smss09
Total characters: 114, leaving 26 remaining. Of course, you can fill up all 140 characters; it just makes your tweet less likely to be retweeted if you'd like it to be. [For a great guide to retweeting, see this post on Mashable.com.]
Event Tweeting etiquette: Just something to keep in mind: while it's great to be able to share golden nuggets with your followers from an event that you've paid to attend, keep in mind it's probably best not to try and tweet every nugget to be fair to paid participants. (Of course, you'd probably have to type at 1000 words a minute to do so. LOL!) Everyone has their own tweeting style, but something you could say is: "Wow!! Just learned a dynamite LinkedIn tip from @JasonAlba – I'm going to implement right now!! #smss09"
Also, if you expect your tweeting volume to increase more than usual, you may want to (a) forewarn your followers your tweet volume is about to increase and (b) if they wish, they can temporarily pause their updates from you by using Twitter Snooze. http://twittersnooze.com/
Ten Ways To Enjoy The Live Event Interaction on Twitter
Here are instructions on the many ways you can enjoy the live interaction on Twitter during and in-between summit sessions:
#1 – TweetChat
TweetChat.com works very similarly to a typical chat room. You enter the room and interact with others in the same room. All this is still done via Twitter, so your tweets go out as regular tweets in your tweetstream and into the TweetChat room. No one knows you're in the room though; you could just use TweetChat to observe tweets if you wish. To enter a room:
Go to http://tweetchat.com.
Login with your Twitter username and password. On the next screen, where it says Room to enter: type in smss09
OR choose the beta link which will simply authenticate and connect to your Twitter account so you don't have to enter your password (I prefer this way). Then on the next screen where it says Hashtag to follow, type smss09.
TweetChat sits on your own Twitter page so you'll see your own custom background if you have one.

Once in the room, you can observe tweets streaming by, send your own regular tweets, reply to others' tweets, and favorite tweets. Unfortunately, TweetChat doesn't seem to have a retweet feature built in though.
However, unlike most all other choices (other than PeopleBrowsr), one of the advantages of using TweetChat is that the hashtag #smss09 gets automatically appended to all your tweets, so there's no need to remember to keep typing it in. (You do have to remember to leave room for it though!)
If you find the tweetstream moving too fast, press the pause button just underneath the tweet field. To resume the tweetstream, press play.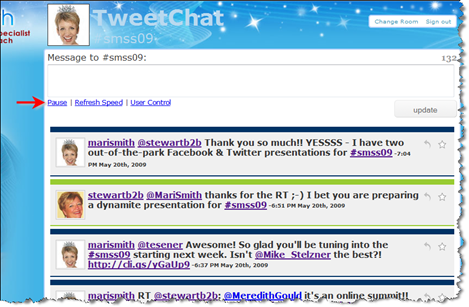 Tweets by you are colored with a thick dark blue line above. Tweets to you/with your @ name have a thick green line above.
#2 – Twitter Search
By simply doing a search for #smss09 at http://search.twitter.com you an observe all tweets with that hasthtag. Assuming you're logged into your Twitter account, you can then reply directly to specific tweets by clicking the Reply button.
This option may be your preferred choice as you may be used to using the Twitter Search feature more than a platform like TweetChat; the number of new tweets automatically goes up until you cl
ick Refresh; you can subscribe to the feed for the search string in your favorite RSS reader (though the volume may get a bit heavy!)
The downside is in order to reply to any tweets, a new window/tab opens up as opposed to staying on the same page and there's no easy way to retweet or favorite.
Go to http://search.twitter.com and type in #smss09 (or you could leave off the #). View and reply to tweets as you wish.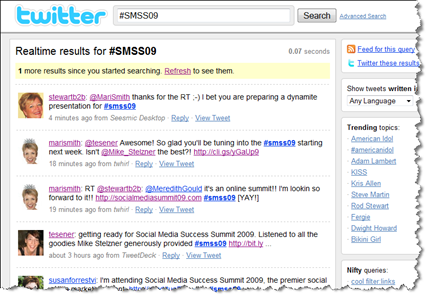 #3 – Your Twitter Profile
This option may work best for you if you're relatively new to Twitter and you prefer to tweet from the web. Since Twitter added this new feature right on your Twitter home page fairly recently, you just type in the smss09 tag in the search box and save, which makes it real easy to come back and click. And then you can reply or favorite directly from the web.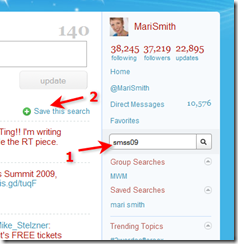 If you'd like to augment your Twitter web tweeting experience, I highly recommend @troynt's Greasemonkey script for FireFox which adds an RT (retweet) button under the reply arrow [along with the ability to see expanded links, add your followers into groups, save group searches (I have one in the screenshot below) and much, much more! The script is totally free to download and rocks!]
#4 – TweetDeck
TweetDeck is one of the most popular Twitter desktop clients, based on the Adobe Air platform like Twhirl and Seesmic Desktop. One of the primary advantages of using TweetDeck is you can set up saved searches in their own column. (TweetDeck also has a column with your Facebook friends' status updates!)
If you don't yet have TweetDeck installed, go to http://tweetdeck.com and download the app to your computer.
Once installed and configured the way you want it, to do a saved search, click the little magnifying glass icon at the top and type in smss09. A new column will be displayed showing tweets with that tag – which you can then reply, favorite and retweet. (You need to mouseover the tweet for the icons to show).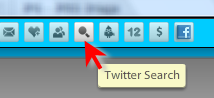 To tweet from TweetDeck, the text field is a toggle and is the first icon like a wee speech bubble:

Mouseover any tweet for the icons to show: Reply, DM, Retweet – then you can also see the little cog icon has a bunch more options: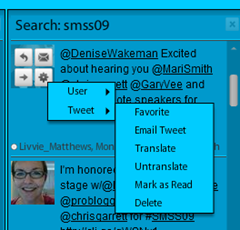 #5 – Seesmic Desktop
Seesmic Desktop is superb! It's rapidly gaining in popularity especially since its integration with Facebook too.
Go to http://desktop.seesmic.com/ and click on the button that looks like this: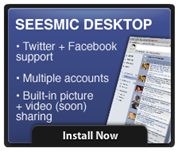 Once installed and configured the way you want it, just like TweetDeck, to create a column for the Social Media Success Summit, just type in smss09 in the search bar at the bottom left and that will save for you.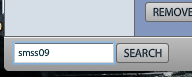 You'll see the tweetstream show up in its own column, just like TweetDeck. You can then reply, favorite and retweet. (You need to mouseover the tweet for the icons to show).
#6 – Twhirl
Twhirl has been my Twitter app of choice for some time. (Though Seesmic Desktop is a close second with the latest round of features! Both platforms are made by Seesmic; I understand Seesmic Desktop will eventually replace Twhirl.)
Go to http://twhirl.org (not .com) and click the big blue install now button. As with the other desktop clients (TweetDeck, Seesmic Desktop), you need to add your Twitter account.
Then, to add a saved search in Twhirl, click the last icon (magnifying  glass) at the foot > type smss09 in the search field > when the search shows up, click Activate > you'll then have a button as a saved search to come back to any time and can reply, favorite, retweet or DM (again, mouseover each tweet for your icon choices to show).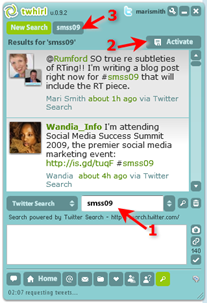 #7 – Twitterfall
Twitterfall is a fun app to test out! Go to http://twitterfall.com – then, to be able to tweet/retweet/favorite from the app, login to Twitter – look for this button down on the bottom left: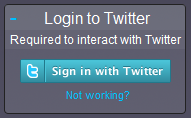 Once logged in, add the custom search for smss09: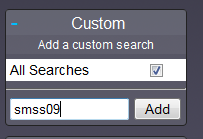 Now, as the tweets come in you have several options: mouseover any tweet and a set of six icons displays allowing you to Reply, DM, Retweet, Follow, Favorite and View in Twitter.

#8 – TweetGrid
TweetGrid may not be that obvious at first to newbies. Go to http://tweetgrid.com – to use this site, you have to first select your grid size, but it's real easy to just hit the back button and reselect if you want to change your grid.

Then just type smss09 as one of your search terms like so: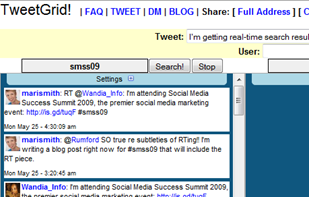 Just like TweetDeck and Seesmic Desktop, TweetGrid allows you to build your own saved search columns. And like most all apps, when you mouseover a tweet, you have several options.
#9 – PeopleBrowsr
This has to be one of the most fun, creative and advanced social media platforms on the web. I'd tested it out some time ago when it first came out and quickly got overwhelmed (I like simplicity!). Then, recently during a tweetchat event, my Twitter bud Lori Gama turned me on to a few of PeopleBrowsr's amazing features. You could spend weeks on PeopleBrowsr and still find new cool things it does!!
Just go to http://peoplebrowsr.com and log in with your Twitter or Facebook credentials. [Note, this isn't a typo; just like Flickr, PeopleBrowsr has no "e"!]
Then, to set up a search column, type in smss09 at the top right (when you click in the field the text that's there disappears allowing you to type your own search term), and hit enter.

[UPDATE: The nice thing about tweeting during a hashtagged event in PeopleBrowsr is your tweets are tagged with the appropriate hashtag, just like TweetChat (so long as you tweet from within the saved search column).]
As with TweetDeck, Seesmic Desktop, and TweetGrid, mouseover any tweet to see your options: Reply, Retweet, Direct Message and further actions (follow, favorite, add tags):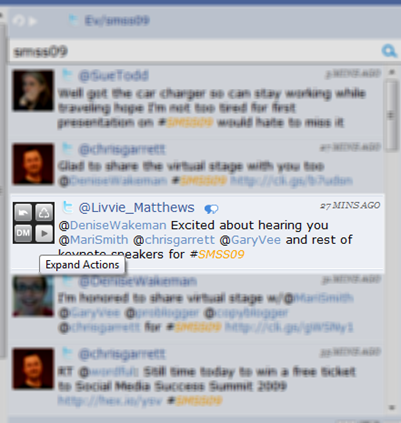 Note: the more columns you add, in order to navigate, use the horizontal scroll bar at the foot. Same with TweetDeck and Seesmic Desktop. I hope you enjoy PeopleBrowsr – let me know of your experience in the comments below!! You can also follow @PeopleBrowsr on Twitter.
#10 – Follow @SMSS09
This Twitter account is specifically for the Social Media Success Summit 2009. It's registered with GroupTweet. How that works is anyone this account follows back can then tweet through the @smss09 tweetstream by sending a direct message.
At present, we are just following back the nine presenters. Each tweet is preceded with "via @name," showing who sent that tweet.
We encourage you to follow @smss09 for information, updates and nuggets from the Social Media Success Summit. We may add a feed using TwitterFeed to pull in all tweets with the hashtag #smss09 making it easy for you to see those tweets from one account.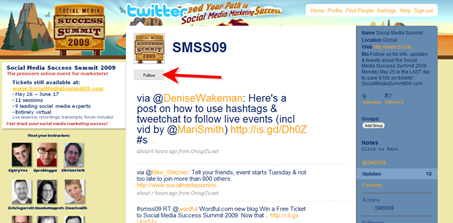 GroupTweet is a fairly new tool and doesn't seem that widely used yet. I highly recommend you check it out for your own groups. As an example, I have a protected account for my 40 students in my mentorship program at @MentorWithMari – all students can tweet through the same account and with protected udpates we can share information among ourselves.
…so there you have it. A whopping TEN options to observe, interact and participate in the Social Media Success Summit using Twitter.
Ann Handley, chief content creator at MarketingProfs is leading "Five Reasons You Need to Be on Twitter (and Tools to Help You Manage Your Experience)" on May 27th. And I'm leading this session "How to Grow and Engage an Audience on Twitter" on June 10th (as well as a humdinger session on Facebook too!) I hope to meet you online at the summit!!
Of course, this entire post is equally applicable to other events and your own events. I trust you find it valuable – do let me know your feedback, questions and comments below. And if I missed any platform/app you feel should be included in this list, let me know!