Online Social Networking vs. In-Person Networking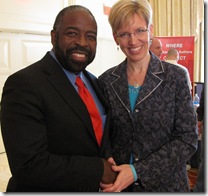 Online social networking giants like Facebook, Twitter, MySpace, LinkedIn and YouTube allow us to expand our community exponentially… without ever leaving the comfort of our home offices.
However, to heighten and accelerate your success, attending live events is equally important. You get to see and be seen. You'll have meaningful conversations in person. You take photographs and upload them to Facebook, Flickr, Twitpic. Of course, you get to learn valuable tools, strategies and secrets to success.
And, you get to meet some of the most amazing people you may never have been able to connect with otherwise… in person. [Pic R: Les Brown & Mari Smith. I had the honor of sharing the stage with Les Brown at SANG] [Pic below: Stacey Hylen, Dorcy Russell, Yanik Silver, Mari Smith – all dressed up for Yanik's Underground5 Bond night!]
By first connecting with new people via online social networks, it's easy to create what I call "virtual rapport." Oftentimes, you may feel like you have an incredibly close relationship with a social networking friend… all that remains is to meet them in person and it's like you've known each other for years!
Or, conversely, what's happened to me a few times too is I have a certain picture in my mind's eye of how I think someone is like in real life. Then I meet them face to face and there's this instant chemistry. I suddenly morph the image of who I thought the person was into who they really are, and I'm pleasantly and warmly surprised.
This anchors my point that you simply cannot afford not to attend live events. All the online social networking in the world (even including video conferencing) will never replace face-to-face networking. Everyone has an energy field and you cannot get a true sense of that without physically being in their presence.
I absolutely love to attend, support and speak at live events; personal and professional growth seminars have been a passion of mine for decades. See my calendar of upcoming public events here.
Just in the past couple months, I've attended and/or spoken at these amazing events:
Affiliate Summit West 2009
David Neagle's Million Dollar Achievement Award Ceremony
SANG: Speakers and Authors Networking Group [link goes to my blog post with Twitter ID's of attendees!]
Alex Mandossian's TeleSeminar Secrets Reunion [page to follow with Twitter ID's of attendees]
I can honestly say attending a variety of events and speaking at events about Facebook/Twitter/social media this past year or so has lead to more and more consulting, training and speaking contracts! Love that.
What events will you be attending this year? What has been your most enjoyable event to date? Do you attend Tweetups in your area? If not, would you consider organizing/hosting one?! Do you think online social networking can ever replace live events? I'd love to hear your thoughts below!