Does Facebook Really Own Your Data? NO! It's About Openness
BREAKING: UPDATE: February 17, 2009, 11:20 PM Pacific
I just logged into Facebook and they have this update posted right there on the Home Page announcing they've decided to revert back to the previous Terms of Use while they "resolve the issues that people have raised":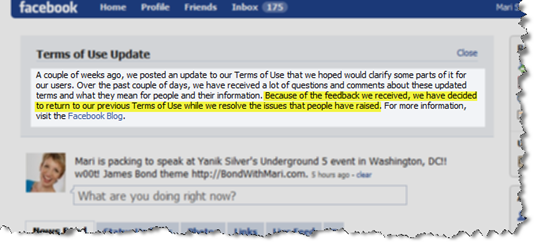 Way to go Facebook members for speaking out and being heard. Hopefully we'll see more clearly worded TOS.
[Original post follows]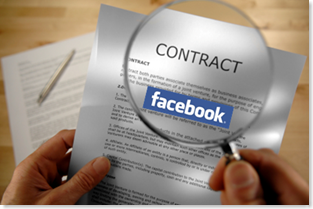 I've been watching the hoopla and panic on the web and in the Twitterverse today regards Facebook's recently (slightly) revised Terms of Use.
The main change folks are reacting to is the perception that everything you load to Facebook suddenly belongs to Facebook. Not so.
The moment you sign up for an account on Facebook, you ARE agreeing to their Terms of Use, which includes a clause that you grant Facebook a license to use your content.
Yes, the license is "irrevocable, perpetual, non-exclusive, transferable, fully paid, worldwide (with the right to sublicense)." Phew, we can see why so many members are upset because of all the implications and permutations this clause could mean.
And, yes, it does seem unfair to have members sign up for a service under one set of Terms and then to change them sitewide, even if moderately. As Facebook's Corporate Counsel for Commercial Transactions, Suzie White, explained Facebook are working on consolidating their Terms.
Interestingly enough, I raised this very issue last month when I attended the Affiliate Summit West in Las Vegas where one of the panels addressed legal matters in social media. Slides included screenshots of the TOS of giants like Facebook, MySpace, YouTube etc.
At Q&A time, I got up to ask a question on the mic, posed to one of the attorneys, specifically about Facebook's Terms of Use – I asked if we are to interpret the TOS literally, Facebook are at complete liberty to do as they please with all users' content.
Indeed, the attorney confirmed this to be the case. BUT, he quickly added words to the effect of: Facebook would be HIGHLY unlikely to ever utilize member content in any way inappropriate such that it would jeopardize the member experience of trust, safety and privacy. (Otherwise, they might just have a class action on their hands, yes?!)
See Facebook CEO and Founder, Mark Zuckerberg response to the outcry today: On Facebook, People Own and Control Their Information.
Excerpts:



Here's the way I look at it:
1.   Much as I'm one of Facebook's biggest evangelists and I believe they're here for the long haul, we have to remember there was life before Facebook. Sure it's great to share a ton of stuff with friends, family, clients, peers around the world. But caveat emptor. Don't be sharing anything anywhere online that you wouldn't want exposed publicly in some way. My rule of thumb on Facebook, Twitter and beyond is: "Would I be cool with this showing up on the front page of the New York Times, found in a Google search or seen by my grandchildren in a couple decades' time??" If ever the answer is no, the data simply does not go online.
2.   With all due respect to many of my artist and creative friends in the Facebook community, I really feel photos of your artwork is safe on Facebook. It's highly unlikely you'd walk into someone's house one day and see a big coffee table book with your artwork published by Facebook. Believe it or not, Facebook really do care about their members and wouldn't intentionally do something to upset or provoke their users. Adding a watermark to each image may help you feel safer. DISCLAIMER: I'm not an attorney, I'm not giving legal advice here at all – it's important always to do your own due diligence.
3.   For me, all the content I load to Facebook is for public display anyway: I love it that my photos are propagated around the platform in the feeds. I take photos and load them to Facebook on purpose for more visibility. I love it that my blog posts import as Notes and can be shared around Facebook and commented on. And, all my public videos are on YouTube and imported into Facebook. My status updates, wall posts and comments are all strategically written. I *want* droves of people to be looking at my content – and I invite anyone using Facebook for business networking to consider this strategy too.
4.   Another thing, though I share a ton of content online for free, I'm also monetizing my intellectual property with my consulting services, products and training. I believe it is simply not possible to give away all your knowledge. And I highly doubt a third party giant like Facebook would be trying to profit from your IP. Though I don't doubt they'll use our data for market research purposes. Again, I'm cool with that as I'm sharing my data on Facebook of my own volition.
Bottom line, I really
encourage the Facebook TOS naysayers to put things in perspective. Facebook are listening. Mark Zuckerberg responded today. He's had flack before (Beacon!) and has publicly apologized and put steps in place to rectify sticky situations in the past.
Facebook actually consider themselves still a startup! (Even at five years old and 165 million+ active users!) Just shows how much further they plan to go – I do know their #1 focus is growth.
What are your thoughts? Are you more reticent now about using Facebook? Do you think the revised TOS are harsh? How so? Add your comments below.
Related Posts: