8 Top Tools To Optimize Your Social Media Conversion Strategy
Social media is an amazing source of traffic, leads, and engagement. But, how do you make the most out of your social media marketing results? What happens when people visit your website? How do you get visitors to convert to leads and customers?
In this post, I share some of the best tools to use in conjunction with your social media strategy.
What kinds of tools do you need?
Internet tools and software are designed to help businesses save time and get better results. However, there are a lot of different types of tools available and it's very easy to feel overwhelmed.
That said, there are a few types of tools that are essential to an online business:
1. SEO tools
Social media sites and search engines are the biggest traffic generators. And the higher you rank in search results, the bigger the impact on your traffic stats. Use keyword research tools to understand how your audience searches online and what keywords to target with your web copy and your content. Plus, use SEO tools that tell you what areas of your website need work and what you need to optimize.
So you've got people on your website. What next?
In order to get the most out of your traffic, use lead capture tools to turn visitors into leads and conversion optimization tools to help you build better browsing experiences that result in more conversions, consistently.
3. Leads and sales prospecting tools for B2B companies
In order to grow your business, you need to not only generate leads on a consistent basis, but you also need to find prospects. Sales prospecting tools help you save time and find more quality prospects.
So, without further ado, here are some of the best tools to use in conjunction with your social media marketing strategy:
SEO Tools
Ubersuggest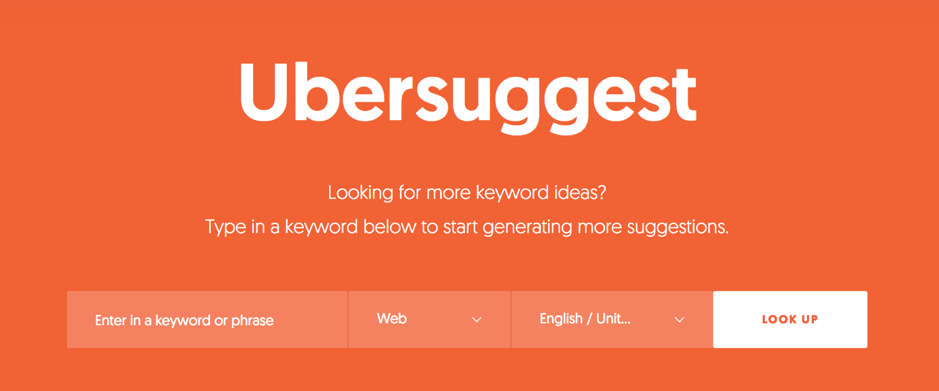 Ubersuggest is a free keyword research tool that can be used both for SEO and for PPC purposes. Not only is it free, but you don't have to login, unlike Google's keyword tool. There are quite a few tools that can do this, but what makes Ubersuggest stand out is a) it's very fast, b) it gives you a lot of suggestions – pulled from Google Keyword Planner and from Google Suggest, and c) it shows you both search volume and CPC competition for each keyword.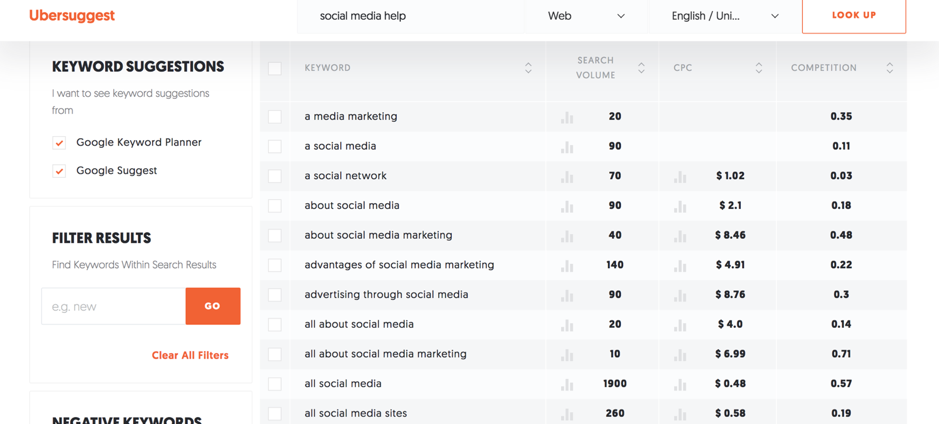 But what's really great is that Ubersuggest gives you exact numbers – not just a range, like some other similar tools.
Plus, you can search within the results as well as add negative keywords to be excluded from your search so that you can find the best possible keyword ideas.
Use this tool to help you optimize your website's copy and content: find out what keywords your audience is using to search for products, services, or content like yours, and use this knowledge to optimize your own content. 
SEMRush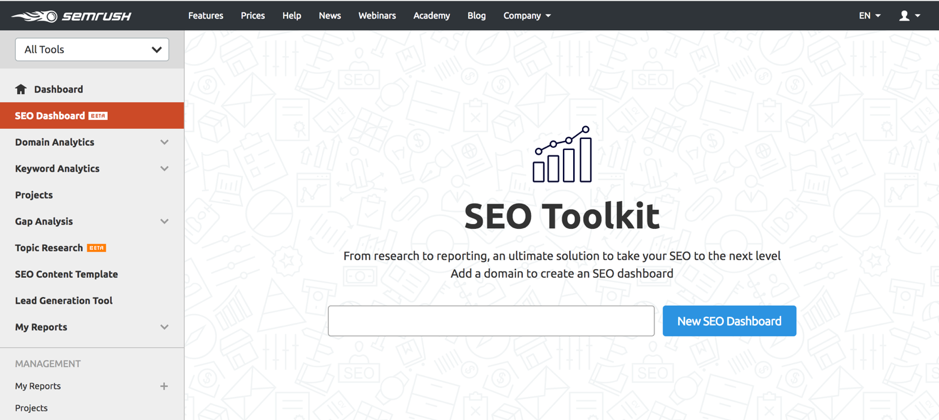 SEMRush is an all-in-one marketing toolkit with tools for SEO, online ads, social media marketing, and content and PR.
In terms of SEO though, there is a wide variety of useful tools to help improve your ranking:
SEO analysis tool that allows you to audit your website and find what SEO issues you have and start working on solving them, as well as optimization tracking so you can see how your efforts are paying off

Keyword research tool for SEO and PPC

Position tracking for any keywords you're ranking for on search engines

Comparison tools for websites to see what your competitors' SEO strategy looks like and what keywords they're using

Backlink audit tool for checking all of your backlinks and removing any potentially damaging links
Conversion optimization tools
A/B Tasty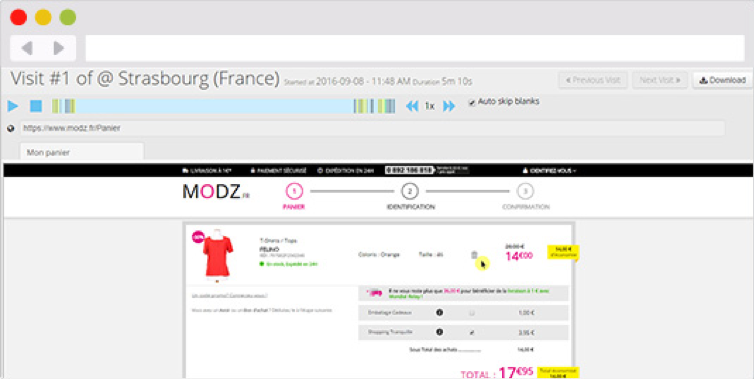 It's not enough to get people to your website if the website isn't built to convert. That's where A/B Tasty comes in. This full suite platform for conversion optimization helps you gain a better understanding of your website visitors as well as helps you build a better website and better marketing campaigns.
There are several ways that you can use this tool to your advantage; for example:
To understand what your visitors are up to on your website. See session recordings of visits to understand how your visitors browse your website, including every movement of their mouse and any click they make to see what bugs or navigation issues you might have. And, see heatmaps of al your pages to understand what exactly attracts visitors' attention
To test different page versions. You can set up pretty much any kind of test you want, including A/B/n testing, split testing, multivariate testing, and funnel testing. This way, you can create different versions of the same pages to see which ones perform better and drive the most conversions overall
To build personalized experiences. The more you know about your audience, the better you can personalize their browsing experience in order to generate more conversions. You can use A/B Tasty to target specific behaviors (time spent on a page, pages viewed in total, etc.) and to target based on context (such as the visitors' location and even the current state of the weather)
Sumo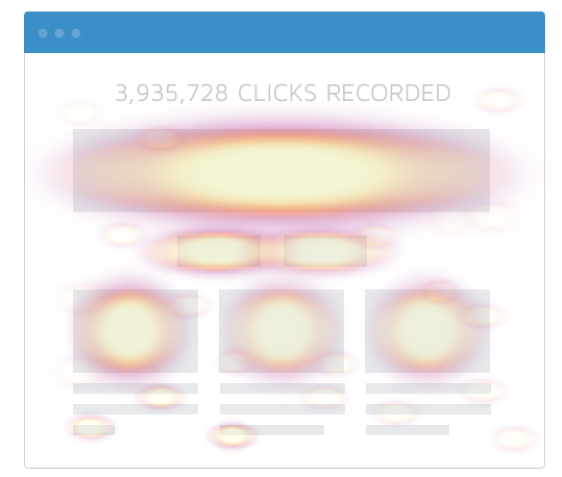 Sumo offers a wide selection of tools to help you generate more customers and traffic, as well as to track your success and to understand visitor behavior in order to optimize your website.
In terms of conversion optimization, Sumo has several tools for tracking your success:
Heatmaps that tell you where people are clicking on your website to help you position your calls to action and most important information in the best place. Plus, you can track all clicks on each of your website pages and get feedback in real time
Content analytics for understanding how much people are actually reading on your blog. This way, you can better place your calls to action on each of your blog posts or other content pages in order to generate more leads and conversions
Apart from all of these features, Sumo also integrates with Google Analytics so you can see all of your website stats directly in the dashboard, as well as tools for creating pop-ups, welcome mats, and contact forms.
Leads and sales prospecting tools
Lusha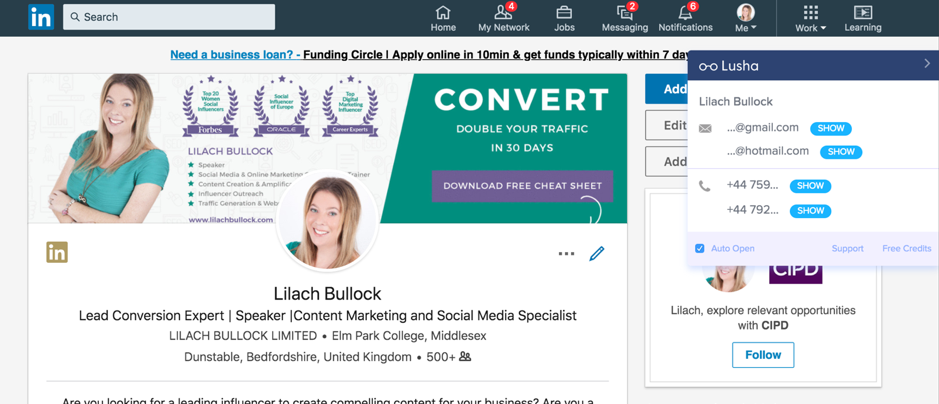 If you discover any potential leads or prospects on social media, you can use Lusha to quickly get their contact information so that you can reach out to them directly, rather than via social media (or an old email address that they're not even checking anymore).
Lusha is a browser extension that works with LinkedIn and Twitter and quickly pulls up their direct contact information – and not just their email address like with most similar tools, but also their direct phone number.
This will allow you to reach out to your sales prospects directly and thus increasing your chances of getting a positive response.
If you want to get someone's contact information, simply visit their Twitter or LinkedIn accounts and click on the Lusha icon to see their info.
LinkedIn Sales Navigator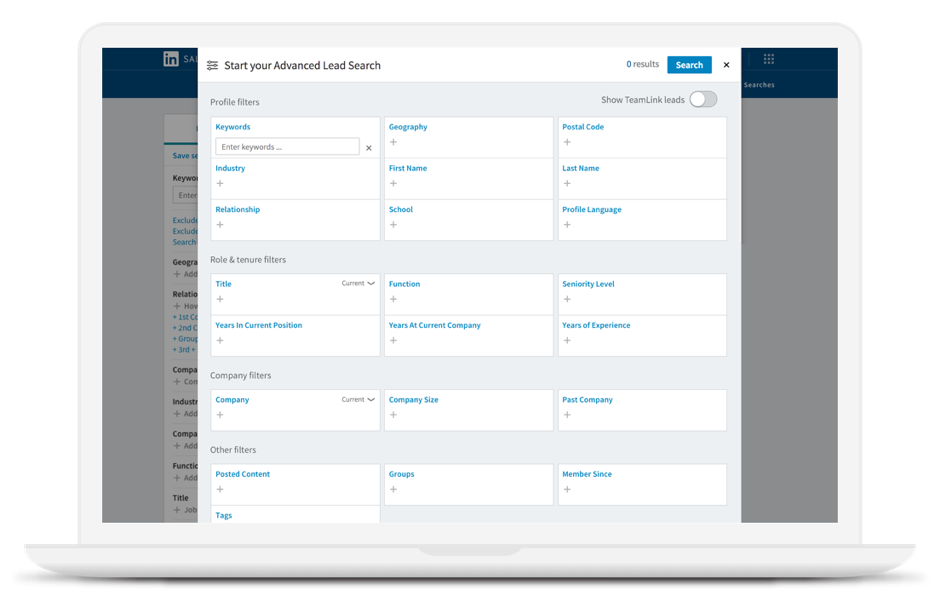 Are you using LinkedIn to find potential prospects? If so, LinkedIn's Sales Navigator can help you find more prospects and at a much faster rate than usual. Not to mention, if you search for sales prospects regularly, the free LinkedIn profile only allows for a few searches a month.
One of its main features is the advanced lead and company search.
As you can see above, you can use a plethora of criteria to narrow down your search in order to find the best possible candidates, including location (even postal/zip code), industry, position, years at current company, and company size.
Plus, the tool will also give you regular lead recommendations based on your needs to help you save even more time.
Any lead or prospect you find can be easily logged into your CRM tool through the CRM integration feature.
Lead capture tools
Wishpond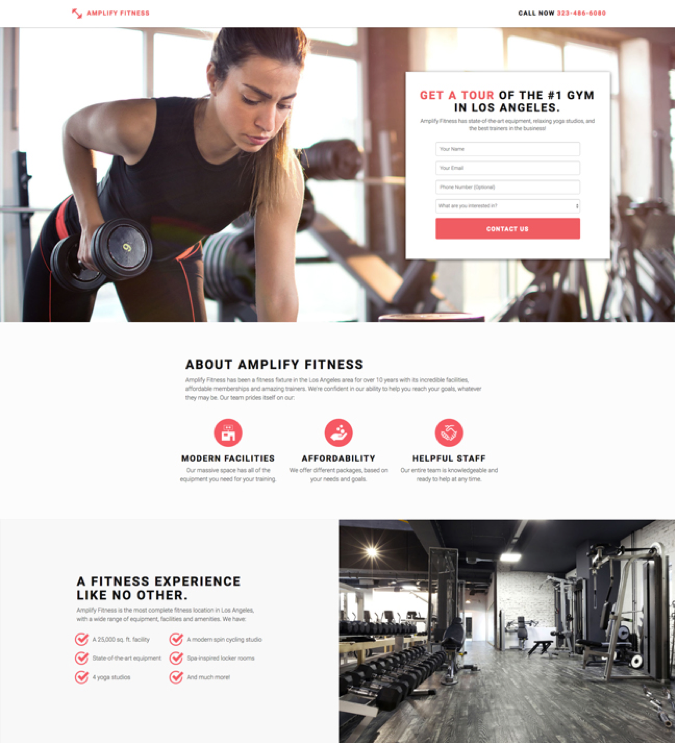 Wishpond is a complex marketing tool that offers quite a few different lead capture tools – most of which are essential to a growing business.
You can use it to build landing pages, contests and other types of promotions, pop-ups and online forms, as well as email marketing and marketing automation campaigns.
The builder is very easy and intuitive to use. It doesn't require any coding knowledge and all you need to do is drag and drop the elements you want to add to your landing page, online form, or contest.
Plus, you have access to numerous templates for any lead capture page or element you want to create and you can easily set up A/B testing to find out which variations work best.
Once you generate leads, you can also use Wishpond to nurture them along the sales funnel into becoming paying customers with email marketing and marketing automation campaigns.
Hello Bar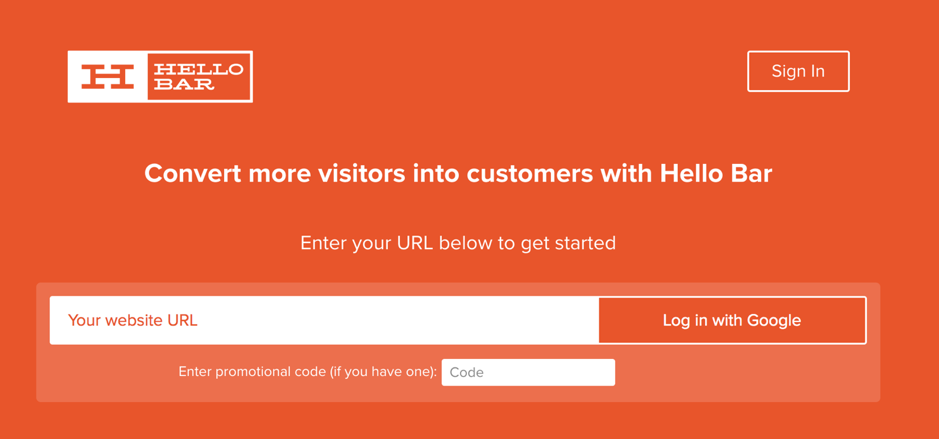 Hello Bar is a simple, yet highly effective lead capture tool that will not only help you generate more subscribers for your email list, but will also help you generate more social media shares and more followers.
To get started, simply enter your website URL and you will then be able to select the goal you want to achieve: to encourage your visitors to call you, to promote a sale or discount, to grow your email list, or to get more social media shares, followers, and likes.
Once you've set up your Hello Bar, it will be clearly visible on every page of your website so that more of your visitors take action, whether it's signing up, giving you a call, or any other action you want them to take.
Conclusion
Social media can be a highly effective way of growing your business online, generating more awareness and interest, as well as more leads for your business. However, in order to have a truly successful strategy, you need to make sure that each of your other channels is conversion-ready too. 
What other tools are you using to improve your website and your businesses' results?