How PASSIONATE Are You About Your Work?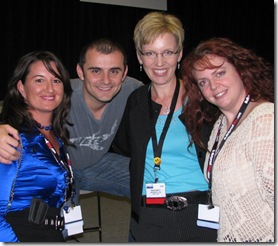 I'm a huge believer in "do what you love and the money will follow." BUT, there is a caveat: you have to have a viable business model. You can't just goof around with a hobby and hope and pray the money will flood in. You need to work, and work hard!
A huge source of inspiration for me is WineLibraryTV creator, Gary Vaynerchuk. Gary totally tells it like it is. No BS. No hype. Just straight plain truths spoken with complete authority, given all his success.
I got to see Gary speak at the recent Blog World Expo in Las Vegas. He was one of my TOP picks of all 270 speakers. [See pic right: @CoachDeb @GaryVee @MariSmith @DonnaFox.]
I sat on the edge of my seat and tweeted about Gary more than any other speaker! Here's a Twitter search string to read some of the tweets from that talk and a few faves:
Plus, my fave, check out this incredibly motivating 15-minute video of Gary speaking at the Web 2.0 Expo NY. I've already watched this vid many times and it's fast becoming my daily morning motivation. (Well, not that I need much – I'm already very motivated! lol)
What is YOUR passion? Are you doing it every day all day? If not, what's stopping you?