How To Create A World Class Brand Identity – Free Webinar
FREE Webinar featuring branding specialist, David Tyreman – Creating A World Class Brand Identity!
Greetings!! I'm super excited to bring you my fab friend and world famous brand identity specialist, David Tyreman, on our power-packed free webinar coming up on Wednesday, July 27th at 2pm EST.
David and I will be LIVE on webcam – I will interview him as he shares the fundamentals of building your brand identity. David has helped brand and differentiate some of the best known companies on the planet including Polo Ralph Lauren, Nike, Banana Republic, Tommy Hilfiger, and Disney. He and I met a couple years ago through a mutual friend and since then I have benefited tremendously from David's unique insights on building a solid brand, differentiating, and exactly how a brand identity differs from branding.
On this dynamite free webinar, David will cover:
Why there has never been a more important time to create a brand.
How he discovered the importance of Brand Building – and Your Own brand story.
The vital distinction between Branding and Brand Identity that 85% of businesses don't know.
Busting Branding myths and Brand Touch points.
The opportunity a brand brings to your business and You.
The World Famous Brand Launcher Program.
Come join us LIVE for this dynamic and interactive session:
Wednesday, July 27th, 2011
11:00am Pacific | 1:00pm Central | 2:00pm Eastern | 7:00pm UK (For other time zones around the world, click here.)
Allow 60 minutes.
Format: webinar, including live interaction with David and Mari on webcam!
Just enter your first name and primary email address in the fields below to save your seat. We have a limited number of web seats available, so be sure to register! The webinar IS being recorded and a replay made available for free.

DAVID TYREMAN is the author of Business Book of the Year Award Winner – WORLD FAMOUS: How to Give Your Business a Kick-Ass Brand Identity. He is a top branding expert who has been featured on CNN the Wall Street Journal, Los Angeles Times and many other TV shows, magazines and newspapers. World Famous brings David's experience and expertise to your business, and shows that you don't need to be one of the big guys to reap big rewards.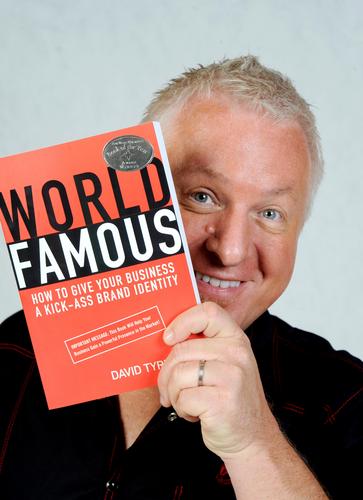 I look forward to seeing you on the webinar! Get ready to take lots of notes and enjoy a great session – David is really fun and is a dynamic presenter. Remember, if you can't make the webinar live on Wednesday, I'll send you the replay link shortly after the live session! Be sure to fill out the form above.
"Exhilarating, easy to understand
and even easier to execute. David
Tyreman's formula for building an
iconic brand is the genius of this
powerful speaker."
—Hap Klopp
Founder of The North Face
"Whether you want to be World
Famous or you merely want a
stronger foothold in your current
marketplace, David Tyreman
provides a road map to creating
your brand identity through being
authentic, paying attention to your
market and creating meaningful
experiences. If you want to
improve your brand identity in
today's market, David will provide
the framework to get you there."
—Garrett B. Gunderson
New York Times Bestselling author of Killing Sacred Cows