FREE Facebook Ads Webinar with Mari Smith
Welcome! Here is the replay of this very popular webinar:
Plus, access the slides here.
NEW!
Facebook Marketing Success System
Online training course with Mari Smith featuring Dennis Yu

There's still time to join us! Come learn the absolute magic of how to make Facebook ads work for your business! NEW Facebook marketing online course, featuring ads "ninja" Dennis Yu and yours truly! Boost your Holiday sales and get ready for an epic 2014!
8-part series runs through December 11th, 2013. All sessions will be recorded so you can easily catch up and participate on your own time. Includes private Facebook Group, too! Sign up today for the best price. (2-pay option and PayPal available). 100% money back guarantee – you either LOVE the course or you get a full refund. So there. hehee 😀
Click here to find out more (opens in a new window): www.marismith.com/facebook-marketing-success-system/
Btw, did you know that 75% of Facebook's 1.19 Billion active users access the platform via their mobile devices?! (They're also typically twice as active as desktop users – all us folks who constantly check our phones. Lol!)
SO, remember, there is no right hand side for ads on mobile. The *only* way to get in front of more of your target audience is by promoting posts in the News Feed. BUT, as I explain in this video, if you get the messaging wrong and it feels pushy and non-personal or non-human (!) you could get a lot more negative feedback (hides, spam reports) which can lower your reach for other posts.
Also, if you're using the BOOST option on your Page, you are *not* properly optimizing your reach. There are much more effective ways to amplify your reach using the Ads Manager or better yet, the Power Editor. Come find out the best relationship marketing techniques + Facebook marketing/ads techniques in this power combo yin/yang course with Dennis and moi!! 😉
Any questions, just let me know. (Of course, if you're already registered – high five, smart peep!! Please do share this with your friends and fans!).
Connect with Mari on Facebook:
Come join my community of over 500,000 Friends, Fans and Followers!
Just click the Follow and Like buttons below to connect with me on Facebook!


Meet Mari…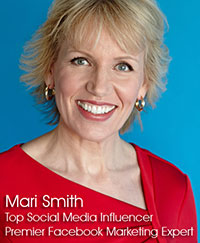 Often referred to as "the Queen of Facebook", Mari Smith is considered one of the world's foremost experts on Facebook marketing and social media. She is author of The New Relationship Marketing and coauthor of Facebook Marketing: An Hour A Day. Fast Company describes Mari as, "A veritable engine of personal branding, a relationship marketing whiz and the Pied Piper of the Online World." Forbes named Mari one of the Top Social Media Power Influencers for the past three years in a row. Mari consults with businesses of all sizes around the world to help accelerate their profits by integrating proven social media marketing strategies. She travels and speaks at major events, sharing the stage with many celebrities and leaders. She also regularly appears in media locally and nationally in publications such as The New York Times, The Wall Street Journal, Inc., Forbes, Fortune, and Success Magazine.
What people are saying about Mari's webinars:
@MariSmith Your presentations are always MOST useful! No fluff, solid strategies with the 'how to,' and no pat generalizations. — Debra Gould (@DebraGould) October 1, 2013
Catching up on #smss13 – thanks @MariSmith for such a GREAT Facebook session. Learned BUNCHES!!! — TONY Guidry (Unc T) (@iAmThaConnect) October 3, 2013
@MariSmith ur session alone was EASILY worth the entire fee!!! Thank you for sharing!! #smss13 — TONY Guidry (Unc T) (@iAmThaConnect) October 3, 2013
@MariSmith you are totally inspirational – my knowledge has grown ENORMOUSLY since hooking up for EFG 2.0. Can't thank you enough! — Andy Jones (@envisionmedia_) October 1, 2013
@MariSmith excellent session! You sure opened my eyes to some small subtle improvements that a company can make that will go along way. Thx! — Lori Burgher (@elbeydesign) October 1, 2013