How To Expand Your Facebook Engagement, Improve Content Quality and More: The Social Scoop 11/18/2016
Greetings!
This week's exciting updates from Facebook include the NEW Engagement Custom Audiences — allowing you to (re)target people who have engaged with your Page or posts or messaged you.
Take a look at my post with marked up screenshot. It's a popular feature; this post has well over 500 shares so far, and all organic. Love that!

In other news, Facebook and Instagram just unveiled a unified inbox – coming soon. Wow, this will be another welcome feature for businesses, allowing you to better manage communications across both platforms.
Also, Facebook just announced a, uhm, bug in some metrics… organic daily page reach. See the full update here on Facebook's blog. And this article on Recode.com: Facebook says it miscalculated more metrics, but it's telling advertisers not to worry. Hm.
Next, let's look at this week's top 3 articles we've selected for you:
1. 12 Effective Ways To Expand Your Facebook Engagement via CoSchedule.com
If you consider the number of people on Facebook, it's easy to decide that it needs to be part of your marketing plan. But declining reach (and with it engagement) can be discouraging. (No to mention bugs in metrics!!) In this post you will find detailed suggestions to expand your engagement that go beyond the usual "use visuals" advice. Enjoy!
2. Surviving Content Shock: Why it's Quality Not Quantity that Counts via MySocialAgency.com
What is content shock? Mark Schaefer wrote about this back in 2014 and it refers to that point when there is so much content being created that it goes beyond our ability to consume it. The solution to this is not creating or sharing more, but rather more creative, interactive, and high quality content. YES! Amen.
3. 9 Facebook Marketing Features You Need To Know In 2017 via TheSocialMs.com
As the end of the year approaches, and we begin to plan for next year, it's important to take note of all of the new and improved features that Facebook has added. By knowing about these and how they can benefit your business, 2017 can be even more amazing!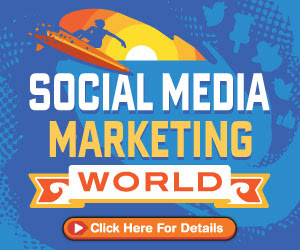 Meet me in San Diego?
Discover social media insights from over 180 subject-matter experts at the largest in-person social media marketing conference. Meet me and my team in glorious sunny San Diego, California on March 22nd to 24th, 2017 and learn about the best ways to build your business using Facebook, Instagram, YouTube, Twitter, LinkedIn, and much more! Click here for details.
That's all for this week's issue of The Social Scoop. Have an awesome weekend and week ahead.
Cheers,