Relationship Marketing – Free Webinar Miniseries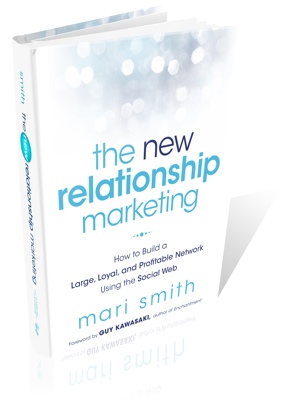 **THIS EVENT IS CLOSED**
When you purchase a copy of my brand new book The New Relationship Marketing, you'll get a ticket to attend my two-part webinar series absolutely FREE! All sessions will be recorded if you can't make them live or if you wish to go back and review anytime.
Here's how it works:
STEP 1: Purchase a copy of The New Relationship Marketing from any store or any online source. Hard copy, Kindle, or Nook versions all count for your free webinar ticket! Most popular sources for the book are Amazon.com, Amazon.co.uk, and BN.com. For all the options, see this page (opens in a new window so you can come back here to register below).
STEP 2: Once you've ordered your book, just scroll below to fill out your name and email address and your seat will be saved for the FREE four-part online workshop series.
That's it! No need to fax, scan, upload, email, or snail mail your proof of purchase. This is the honor system. I trust that you'll get a copy of the book and I look forward to meeting you on the webinars!
Webinar Series Details:
How To Build A Large, Loyal, and Profitable Network Using The Social Web
In her new book, social marketing thought leader Mari Smith outlines a proven nine-step program for building a sizable, loyal network comprised of quality relationships that garner leads, publicity, sales, and more. The pressure is on to shift your approach to using social media marketing, to better understand the new soft skills required for success on the social web, and to improve your own leadership skills through emotional and social intelligence. Mari will share proven tactics to develop and hone a solid marketing skill set for the digital age.
In this information-packed online workshop series, you'll learn:
The new business skills that everyone needs for success and steps to begin implementing today.
The common fears that prevent business owners from fully integrating relationship marketing and how to overcome those fears.
The unspoken rules of online etiquette–the common turnoffs that drive customers away.
How to become a significant "center of influence" for your customers and prospects.
Secrets to giving your customers the complete "WOW Factor" that makes them come back for more.
How to turn all those friends, fans, followers, and subscribers into profits!
The unique cultures of Facebook, Twitter, LinkedIn, and Google+ and how to adapt your approach to each platform.
Exactly what to automate and delegate to build your social media presence, yet still retain that unique, personal touch.
How to master social media marketing and get real results, without it becoming all-consuming or a waste of time.
Proven ways to blend your online marketing with offline marketing to really make your business stand out.
And much, much more!
Save the dates! [Note: due to the holidays, we have moved part 2 to January 2012]

Part 1: Click here for the replay
Part 2: Tuesday, January 24th, 2012
Time: Both sessions will be held at 11:00 am PT / 2:00 pm ET / 7:00pm UK time
Duration: Each session will run for sixty minutes each, including time for Q&A.
Register below to secure your seat: