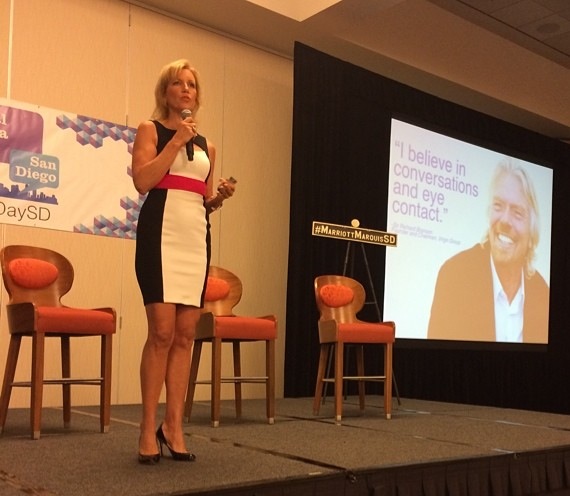 Greetings!
There are many ways I can be of support to you and your business. I'm a passionate social media speaker and trainer. I offer customized social media training programs for companies of all sizes, either virtually through webinars or onsite at your offices.
I also offer self-study online video training programs – see  more details below.
And, I am a professional speaker and travel the United States and internationally to deliver keynotes and workshops on social media marketing, with particular emphasis on Facebook marketing.
If you have any questions, please contact me with a note of your company's specific needs and my team and I will get back to you as quickly as possible.
I look forward to connecting with you soon!
Mari
Speaking Services
Mari Smith is an internationally renowned, seasoned public speaker with deep expertise on relationship marketing/social media marketing, with a particular focus on Facebook marketing. She has spoken to audiences from 30 to 15,000 around the world. With her six feet stature, Scottish-Canadian-Californian accent, sense of humor, and unique style of simplifying complex technical concepts, Mari is frequently one of the top rated speakers at major conferences both online and offline.
Find out more about Mari's speaking services here, view Mari's past events and calendar of upcoming events here.
To inquire about having Mari speak at your event and check availability, please fill out this form.
Customized Social Media Training
If you're interested in having Mari train you and/or your team – either virtually via webinar or live in person – we'd love to hear from you to discuss your needs and create a customized training program for you. Please contact Mari with a note of your company's specific needs and we'll get back to you as soon as possible.
NOTE: if you are seeking done-for-you social media services Mari's company does not offer this level of service. We recommend that you check out our suggested agencies listed at the top of this page.
Business Development Coaching
Ready to skyrocket your business to the next level? Mari is currently accepting applications for one-on-one, high-end Business Development Coaching clients, where we will work extensively on building your business using proven offline, online and social media marketing methodologies. Click here for more…
Monthly Social Media Support Program – INNER CIRCLE with Mari
If you often find yourself overwhelmed and feeling like you're getting left behind when it comes to building your business and fully integrating all the right social media tools, apps and platforms out there – here's a perfect solution. The INNER CIRCLE with Mari is a simple and affordable way to keep up to date with the rapidly changing social media landscape, learn proven social media strategies, and discover how to significantly increase your business through proven online and offline marketing techniques. Click here for more… [current SPECIAL: enter 'save25′ to save $25/mo on membership!]

Online Video Training Programs
Facebook Marketing MASTERCLASS – How To Increase Your Profits With Mari's Proven Social Media Success System
In this powerful 6-part online video training program, you'll discover Mari's exact steps to creating a successful online business that includes marketing through all social channels, particularly Facebook. We go deep into building a solid brand, generating quality leads, producing and curating quality content consistently, the best apps and tools for social media management and productivity. Plus, we cover Facebook ads in one of the six modules.
This Masterclass is Mari's most recent online course and the Facebook group is still very active. Join us here.
Facebook Marketing Success System – How to Master Facebook to Get the Maximum Reach, Results and Revenue!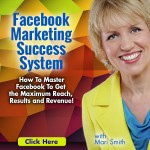 Mari teamed up with her friend, Facebook Ads expert, Dennis Yu, for this groundbreaking online course. What Dennis doesn't know about Facebook ads isn't worth knowing. He has years of experience working at the enterprise level and has managed ad campaigns worth multiple millions of dollars. While Dennis' agency, Blitzmetrics, continues to focus on enterprise level, Dennis is also very passionate about working with small- to medium- sized businesses to help them tap into the incredible power of Facebook.
This on-demand course is comprised of 8 modules and each session is lead by Dennis and/or Mari and is 60-90 minutes of pure, instantly-actionable content, plus homework assignments. ALL modules come with a unique slide deck. PLUS, all modules come with an additional comprehensive PDF e-guide. You have unlimited access to all materials for a full year. Click here for more details! $225
For more details about FACEBOOK MARKETING SUCCESS SYSTEM click here.
Extreme Fanbase GROWTH 2.0™ – 25 Facebook Marketing Tactics Designed to Explode Your Business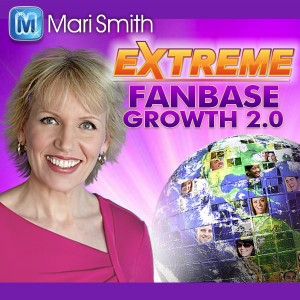 Created from Mari's proven, effective Facebook tips and strategies, this course has been designed from the ground up to help you grow a truly AUTHENTIC following — as quickly as possible. In this course, you'll discover everything you need to know to add thousands of GENUINE fans in 30 days or less. Yes, that's right – Mari will lead you by the hand and show you exactly how to get this result.
Mari will take you by the hand and show you, step-by-step the exact process for making SERIOUS money using every possible low and no-cost Facebook marketing method!
This groundbreaking course makes it so simple that even a complete beginner can learn – yet the course is powerful enough to generate leads, sales, and a positive return on your social media investment of time and resources. The insider information that Mari has poured into EXTREME FANBASE GROWTH 2.0™ is "required knowledge" that's critical to your success on Facebook.
For more details about EXTREME FANBASE GROWTH 2.0 click here.
Social Midas™ – 15 Golden Keys To Stellar Social Media Marketing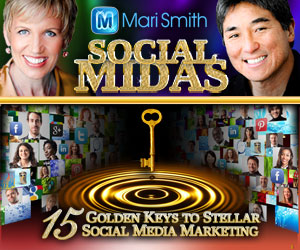 A Proven, Step-by-Step, Systematic Approach To Creating Social Media Success and Profits in Your Business Today! Mari joins forces with Guy Kawasaki to reveal the EXACT steps you need to take to make your business super-profitable through stellar social media marketing! This course covers Facebook, Google+, Twitter, and Pinterest.
This is an 8-part video course with Mari and Guy Kawasaki as your expert guides through the social media jungle! It's like sitting down with two of the most powerful social media leaders and looking over their shoulders as they show you the EXACT, step-by-step, systematic approaches they use in their own businesses every day to achieve outrageous success using social media to bring in the big bucks!
Face it … in the real world, you don't make money trying random little tips, scattered flavor-of-the-month stuff, or trying out the latest greatest app and another one and another one. You already know that doesn't get you measurable results. What you need is a complete, integrated approach to the money-making system that is SOCIAL MIDAS™.
Please note: This course was a huge hit in 2012 and is now no longer offered. Mari continues to create live online training courses and self-study video tutorials – stay tuned! Or submit your request for specific training – see our Contact page.
Facebook:
Feel free to post your questions about social media/Facebook marketing on my Facebook Page — my knowledgeable team will provide a response typically the same day.
You're also welcome to Follow my public updates on my Facebook personal profile.
Twitter:
Let's connect on Twitter! I publish several tweets every single day on social media marketing, business development, productivity, time management, inspiration and more.
Instagram:
I share mostly fun, personal photos and videos – let's connect on Instagram!
LinkedIn:
Add me as a contact on LinkedIn.
Google+:
Feel free to "circle" me over on Google+.