Social Media Thought Leader, Top Facebook Marketing Expert
Meet Mari in San Diego – Facebook Workshop April 20th

Are you coming to Social Media Marketing World on April 17th-19th? Why not stay one extra day and attend this deep-dive Facebook marketing workshop with me and my team of professionals. Find out more here.
If you don't yet have your ticket to Social Media Marketing World, come join 3,000 fellow business owners, professionals and marketers and learn from over 100 industry professionals!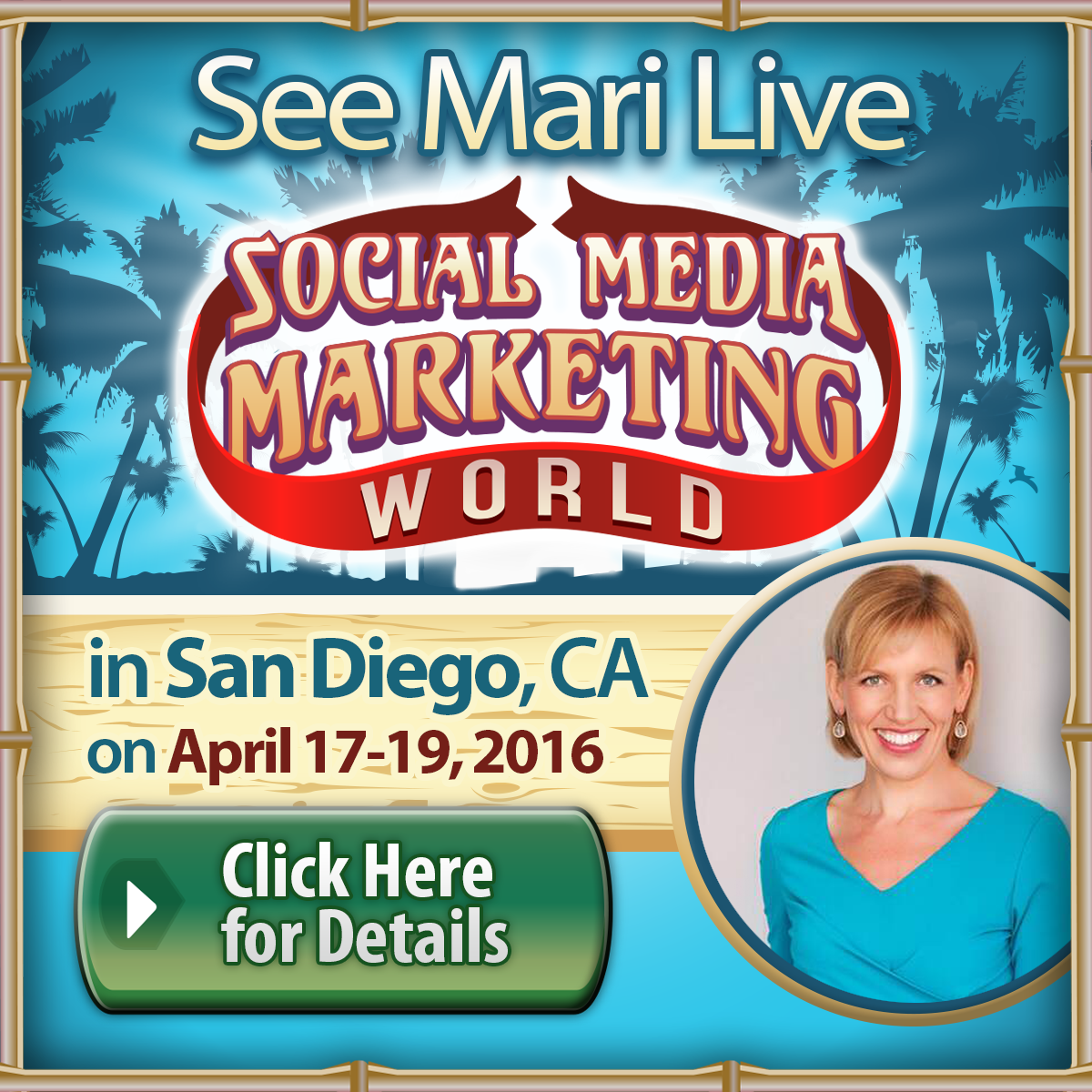 FREE Facebook Training: 7 Facebook Trends for 2016 
Learn how to grow your business by integrating these 7 Facebook trends. Watch this highly informative and helpful free online training.
NEW Online Training Program – 2016 Blast-Off Your Business
I'd love to help you dramatically improve your results on Facebook in 2016 and beyond! "How do I make money on Facebook (and Instagram)?" is one of the top questions I get asked everywhere I go…
Well, for the first time ever, I've put together a powerful combination package designed to support you for the entire year: 2016 'BLAST-OFF YOUR BUSINESS' PACKAGE DEAL!
This brand new program is designed to help you increase your reach, leads, sales and profits on Facebook… and take your business to the next level in 2016!
First, I'm leading my popular Facebook Business Breakthroughs online training course with all new updated content. It's a six-part live online training, starting on February 16th. PLUS, included in the package deal is a full ONE YEAR membership in my Inner Circle to make sure you get the ongoing support you need. I've never offered this before at such a low rate. The Inner Circle is an extremely affordable and effective way to ensure you stay current with your Facebook and social media marketing strategies and tactics.
Register today for this new 2016 Blast-Off Your Business combo deal and get these bonuses:
My 2016 Instant Social Media Content Planning Calendar
Mari's Master Checklist for Profitable Webinars
Step-by-step Email List Building Master Plan
Mari's Top Ten Time-Saving Social Media Tools
Mari's Top Ten Facebook Money-Generating Techniques
I'd love to help you grow your business throughout 2016 and beyond with proven Facebook marketing techniques and best practices for successful online relationship marketing.
NEWS UPDATE: Mari's Media Mentions
Mari is a prolific writer and highly sought after content creator for major blogs, events, webinars and corporations. As a thought leader in the industry, companies look to Mari for her insightful commentary and insider tips on creating success with social media marketing, particularly Facebook. With her personable leadership style and dynamic stage presence, Mari is frequently rated among the top speakers and trainers.
Mari creates in-depth Facebook and social media marketing content—in written, video and visual formats—for major companies such as SocialMediaExaminer.com, Adobe, Business.com, and Animoto.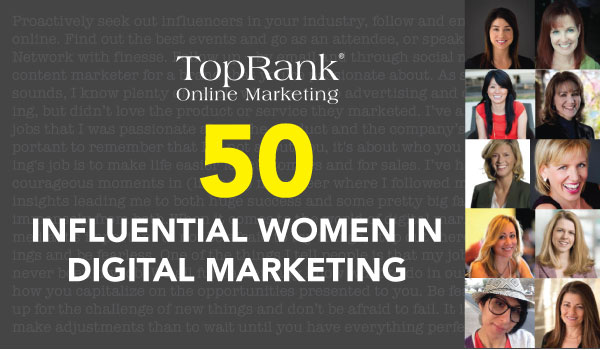 Mari says,
This wonderful roundup of women influencers by TopRank is one of my absolute favorite lists to be on. What an honor to be listed in spot #1 alongside some of the best marketing minds in the corporate world. There are so many fabulous major brands represented here, including Nike, Microsoft, Kodak, Dell, LinkedIn, Whole Foods Market, Qualcomm, 3M, Oracle, U.S. Bank, Xerox and many more.
Another excellent lineup, and Mari is honored to be included. Author Jayson Demers states:
Over the last several years, digital marketing has become an essential part of every successful business — regardless of that business' size. As a result, there are now thousands of industry experts who are more than willing to share their knowledge. But which experts stand out and have proven themselves to be leading authority figures?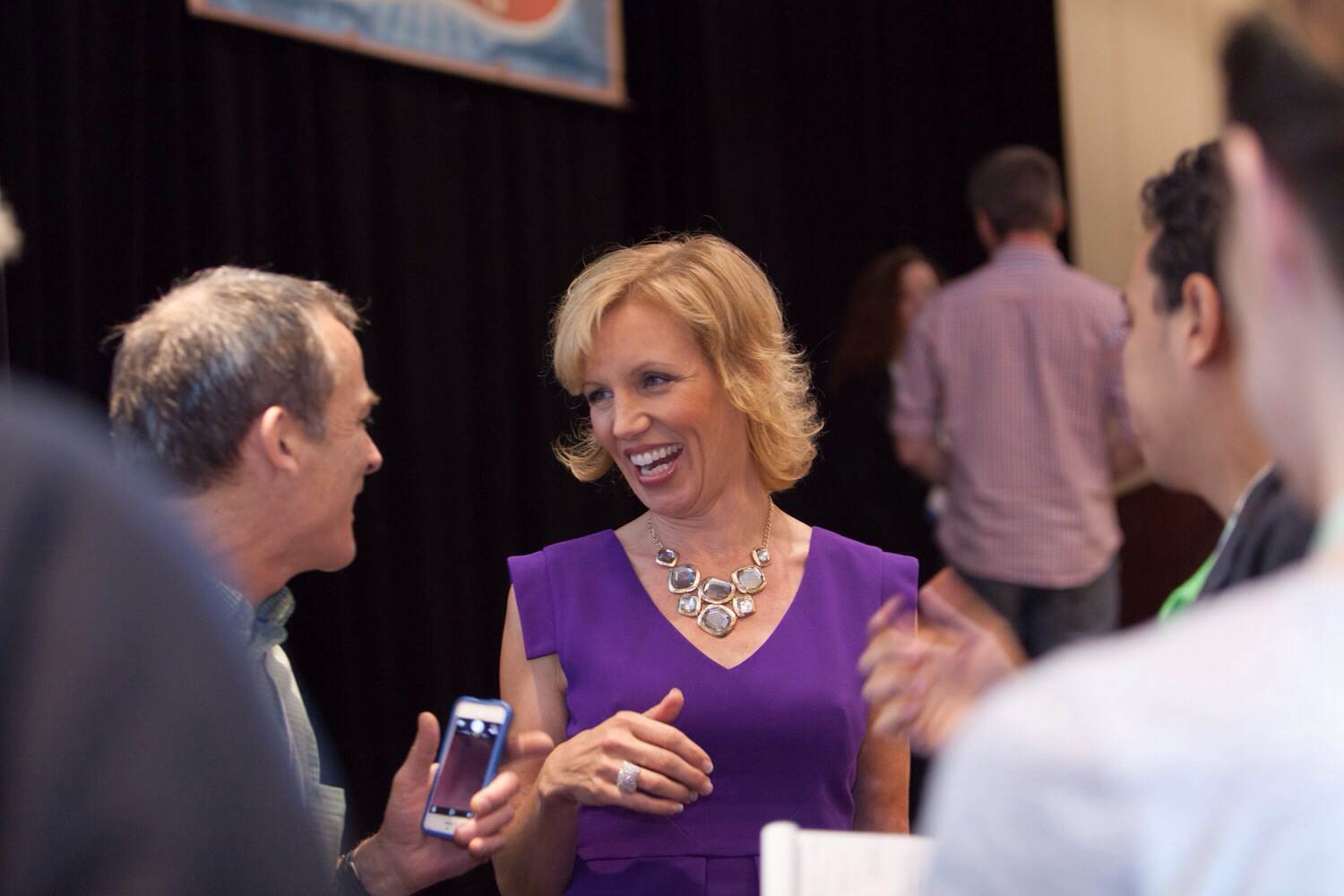 These are some of the variables Jayson considered for this list:
Usefulness and reliability of blog and social media posts
Advanced knowledge in one or more areas of online marketing
Size of audience
Level of engagement on their blog or social media
Ability to create and sustain a sense of community with their audience
Awards received
Books written
Facebook hires Mari to lead educational business events!
Often referred to as "the Queen of Facebook", Mari Smith is hailed as the premier Facebook marketing expert and one of the most influential and knowledgeable new media thought leaders in the world. In 2015, Facebook partnered with Mari to facilitate and teach at Facebook's Boost Your Business series of live half-day training events across the United States. 
Forbes named Mari as a Top Ten Social Media Power Influencer several years in a row; she is currently in the top five. Fast Company described Mari as "a veritable engine of personal branding, a relationship marketing whiz, and the Pied Piper of the Online World."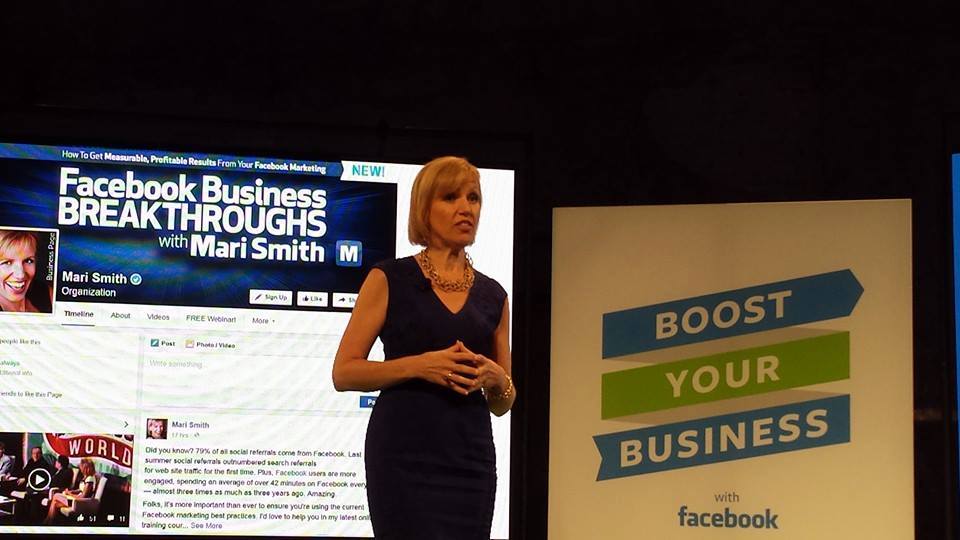 Recognizing The World's Top 40 Social Marketing Talent – from the article:
From among more than 500 social sales experts, these are the 40 most influential marketers who clearly understand how to use social media and the vast amount of available data to influence the buyer's decision making process.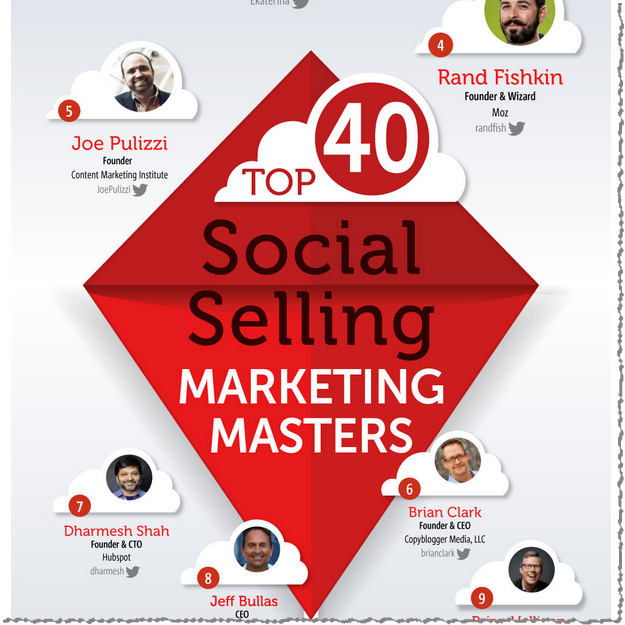 Mari is thrilled to be one of Business.com's top Marketing Experts, contributing regular Facebook marketing posts. We are also teaming up to produce a series of short video tips, answering the most pressing Facebook marketing questions from our online community. Stay tuned for Business.com "Mari Minute" video series coming early 2016.
As the top fire-starter that helped CEO Michael Stelzner to launch SocialMediaExaminer in 2009-10, Mari is delighted to continue writing comprehensive Facebook marketing blog posts for this top ten business blog! Recent articles include:
Meet Mari in San Diego, California at SOCIAL MEDIA MARKETING WORLD 2016! Mari is among the top speakers for the third year in a row at the world's largest social media conference. PLUS, attend Mari's Facebook Marketing Workshop the day following SMMW16… for free! Find out how.
Excellent tips here! Mari teamed up with course creation/marketing expert and founder of Create 6 Figure Courses®, Jeanine Blackwell to compile these practical tips for filling your next online course or live event. Come meet Mari and Jeanine in New Orleans, January 13th-14th, 2016 at FIND YOUR FREEDOM 2016.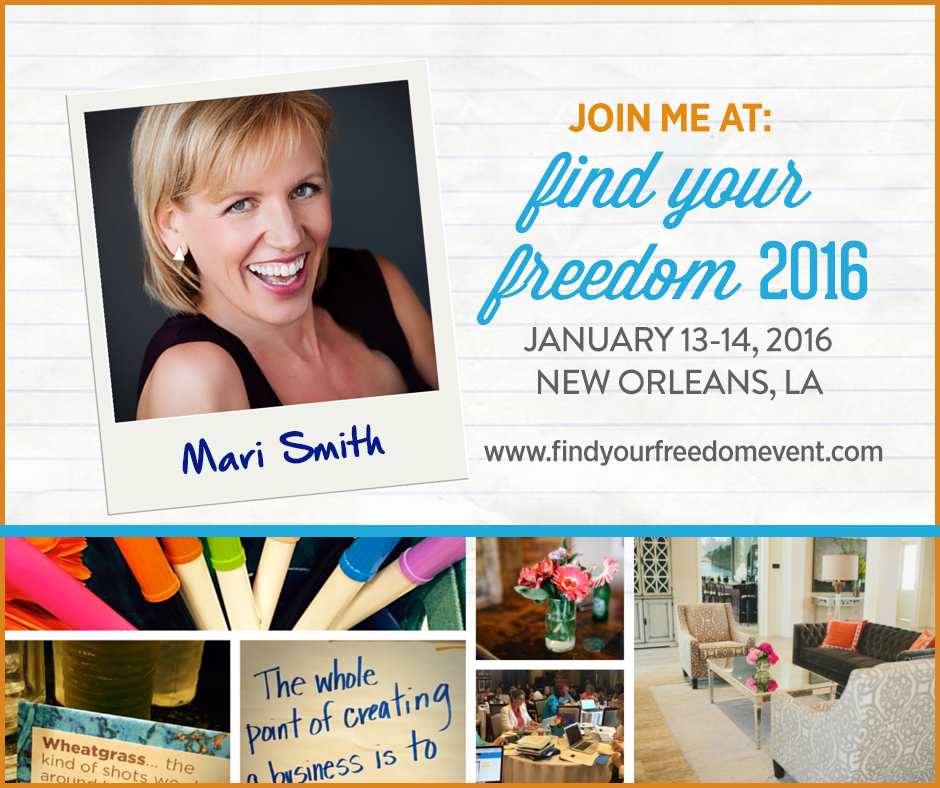 Work with Mari
Mari and her team work with forward-thinking, socially conscious companies of various sizes to help grow their businesses through the power of social media, integrated with all forms of digital and offline marketing. Mari travels and speaks at major events, often sharing the stage with notable celebrities and thought leaders. Mari also leads regular free Facebook marketing webinars and offers numerous online training courses. She is author of The New Relationship Marketing and coauthor of Facebook Marketing: An Hour A Day.  See Mari's speaking services, training programs, blog and media inquiries.
"Mari Smith is a tireless champion for building relationships between businesses and their customers. It comes down to people and value." Brian Solis
Mari Smith's featured magazine articles – free resources and downloads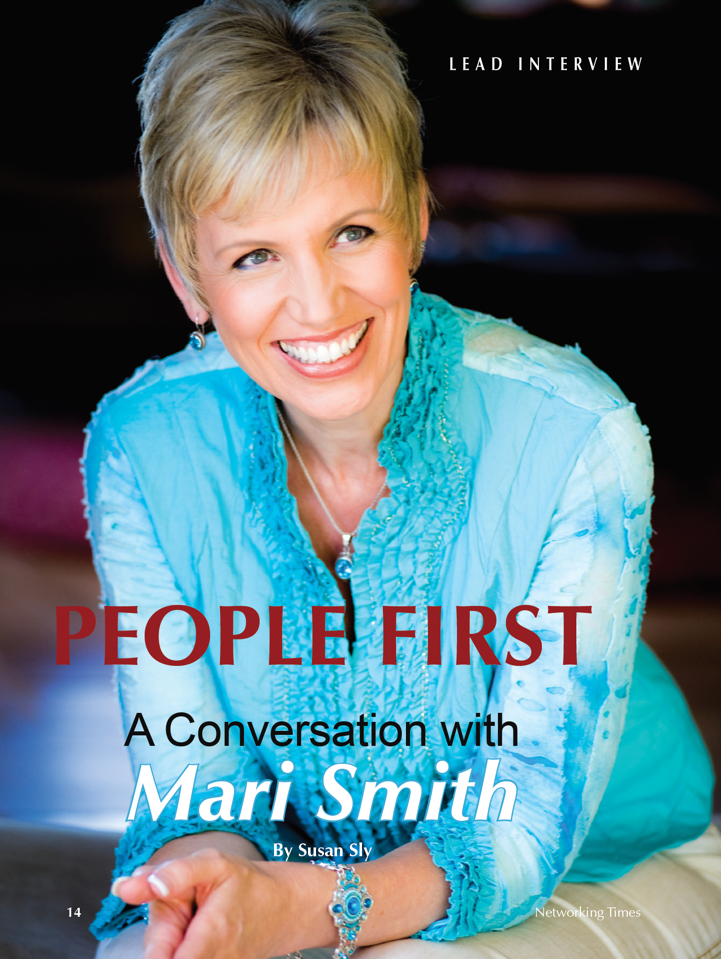 Cover feature in NETWORKING TIMES Magazine
People First: A Conversation With Mari Smith
Download the PDF of the full Networking Times Magazine feature article.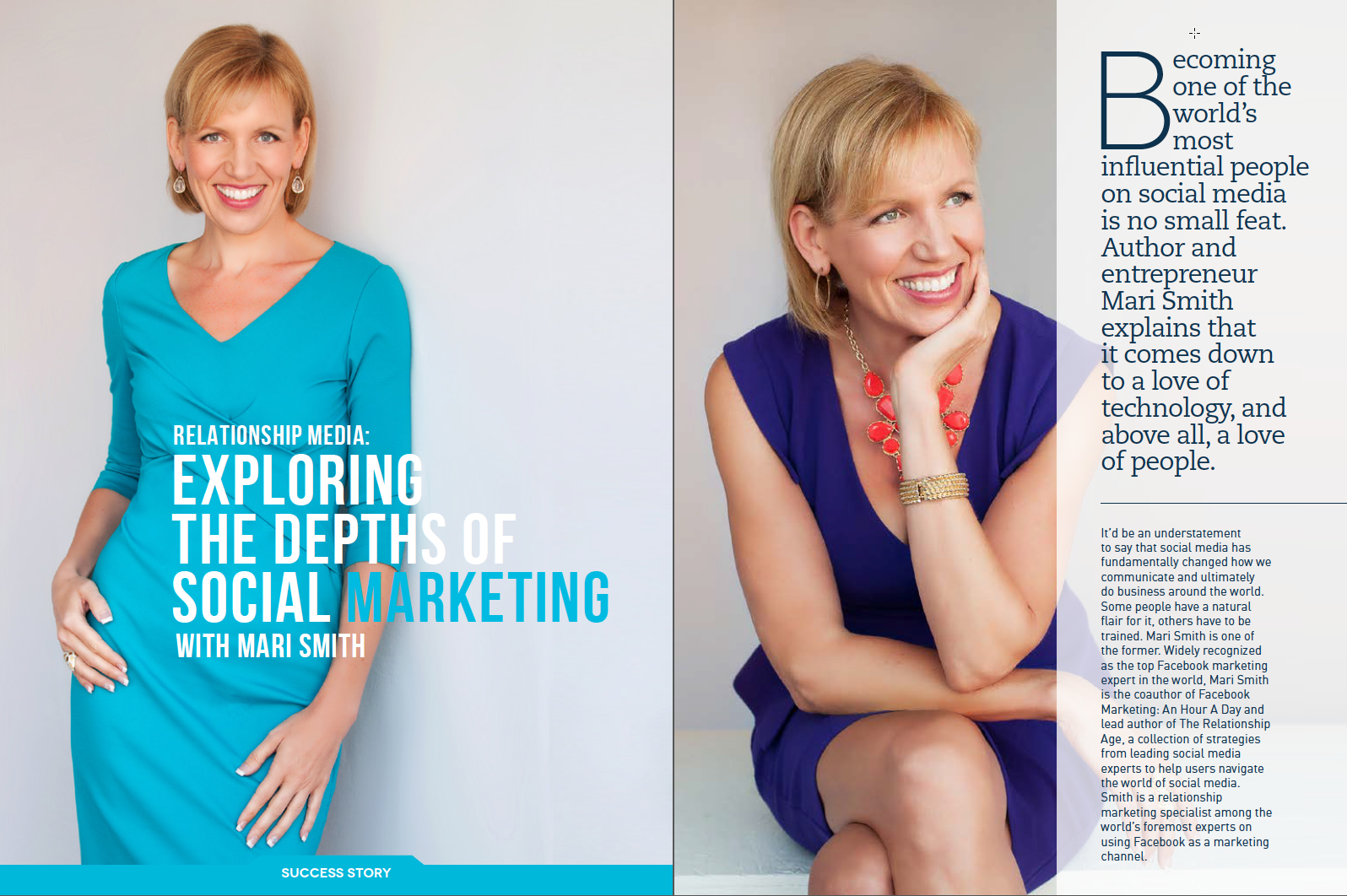 Cover feature in FOUNDR MAGAZINE
Relationship Media: Exploring The Depths of Social Marketing
Download the free PDF of the full article.
In-depth, personal interview on BUFFER.com's blog
The Rise of the Facebook Queen: How Mari Smith Went From $50 in Her Pocket to 500K Followers
NATIONAL SPEAKERS ASSOCIATION Magazine article
The 25 Most Influential People in Southern California – MyLife.com
From the featured article:
You don't have to be famous to exert great influence. What you do need is passion. These 25 passionate Southern Californians are changing the way residents live, learn and connect to their community. Whether it's providing an opportunity for the arts to thrive, an education for children in need or a calming voice in the storm, these influencers have improved their industry, their hometown and our world. Listed in no particular order, what these 25 individuals have in common is that they each make Southern California a better place to live and inspire us to do the same.
Mari says,
Woweeee, my life is complete. I'm on a top influencers list with the one-and-only +Adam Levine!! heheee! Thanks a mil to MyLife.com for the kind inclusion.