Follow These Amazing Speakers and Authors on Twitter
[UPDATE: June 21, 2010 — we're at SANG IV now in Los Angeles! Follow tweets for #thesang and follow everyone on this SANG Twitter List.]

I have the great honor and privilege of both attending and speaking at the esteemed SANGII event here in Las Vegas' stunning Encore Wynn hotel.
SANG is Speakers and Authors Networking Group, an exclusive, invite-only membership community, founded by Larry Benet, Chet Holmes and Stephen Pierce.
I attend and speak at a huge number of events; my schedule gets booked months in advance. And, I must say, the SANG audience is one of the highest caliber I've been in.
If we were to tally the annual revenue and the net worth of the one hundred plus speakers and authors here, the numbers would be in the billions. There are several billionaires here and everyone is a millionaire or multi-millionaire.
There's something profoundly powerful about networking and building relationships with successful business people who consistently generate millions of dollars. As Joe Vitale says, "Your income is the average of the five people you hang out with the most." Want to increase your wealth? Hang out with wealthier people.
Now, not that money is the be all and end all. I know you know that. But, here's the thing, the more money you generate, the bigger the difference you can make on the planet and the more you can give back.
Luxury Venue – The Encore Wynn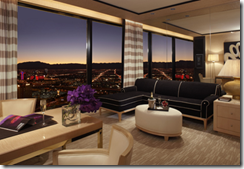 As I arrived at the stunning Encore Wynn hotel late Sunday night (directly from speaking at Yanik Silver's Underground Online Seminar 5 in Washington, DC!) – I walked into my suite and my jaw just dropped! I suddenly felt such gratitude for peeps on this planet who are such BIG thinkers and implementers.
The rooms here are simply stunning. Steve Wynn has thought of everything, from one-touch lighting, temperature, office equipment; heaps of luxury and comfort. The works. You walk in and immediately feel like moving in. Ha! And room service rocks! I feel so pampered…
Plus we all got to enjoy the spectacular Le Rêve show last night! Wow, the custom built set with water effects, acrobatics and dancers is a must-see!!
Follow These Amazing Leaders on Twitter!
Make sure you're following all these amazing leaders on Twitter and send them a tweet to say hi, start interacting with them, build relationships with them. You never know when they're looking for the exact product or service you offer or looking to joint venture with someone just like you! 😉 Linked names go to their Twitter page. Check back over the coming weeks – I'll add updates as those not yet on Twitter become Twitterized. hehe!
>> Click on the photos or links; those on Twitter will open in a new window. <<
(Thanks heaps to my buds Gary Goldstein, Bill Walsh and Larry Benet for sharing SANG with me!)