6 Resources From Mari Smith for Social Media Marketing World 2017 Attendees – #SMMW17
Greetings, SMMW17 attendee/speaker/sponsor!
My team and I would love to get to know you better and see if there are ways my company can support you in your goals.
Following are several special offers available at the moment + ways we could work together + free resources.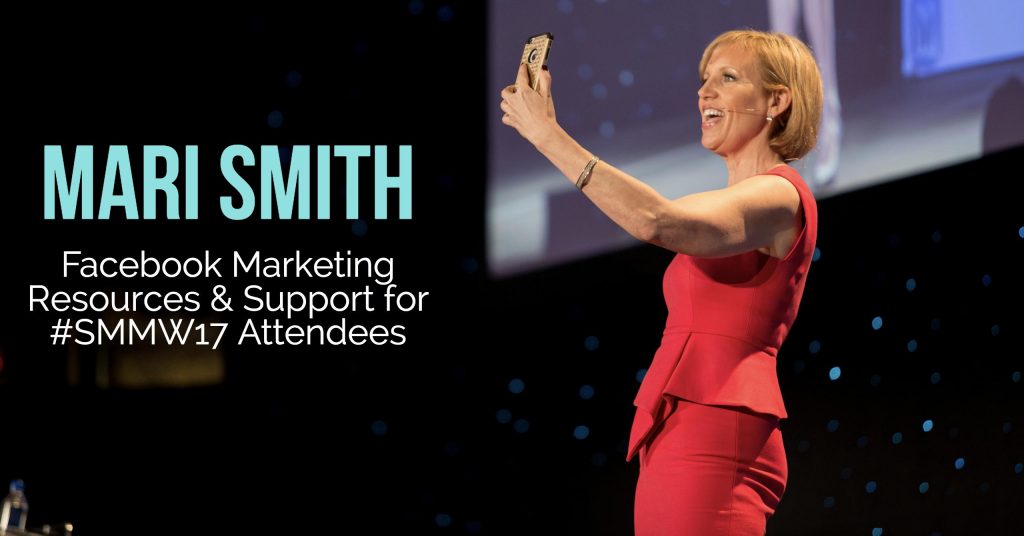 For: SMBs, entrepreneurs, right on up to big brands. If you're struggling to keep up with Facebook changes, to get real ROI and results, and you'd like someone to 'look over your shoulder,' conduct an assessment and make custom recommendations, this service is for you.
This is one of our most popular services, offered to entrepreneurs, business owners and C-suite marketing staff at brands:
Receive a 90-minute, one-on-one social media assessment and strategy session, customized just for you.
This is a powerful opportunity to get input on your own Facebook & other ad campaigns, marketing strategy, business development plans and more.
This 1:1 session could help you save thousands of dollars on wasted ad money and ineffective strategies.
Get the help you need to break through to the next level – this powerful 1:1 session could be just the jump start you need.
We conduct these sessions for many of our high-level clients and the feedback is always incredibly positive.
Regularly $1,250
Special savings: your investment today, limited-time pricing $750
2) Mari Smith's Inner Circle Social Media Mastermind
Join Mari Smith's INNER CIRCLE and get the ongoing support you need to keep on top of the constant Facebook changes, stay ahead of the social media curve, learn proven online marketing strategies from industry experts, and grow your business. Guaranteed! Mari has been leading this monthly membership program since 2009 and it's often referred to as the 'best kept secret' by her members!
SECRET CODE: enter 'save50' at checkout to get a half price monthly subscription! ($47)
Or, check out the Inner Circle first and then SAVE over $600 per year and take advantage of the special Annual Membership rate!
A Multimillion Dollar Business
"If there's anyone on the planet who can help you build a business using Facebook, it's Mari Smith. Her early Facebook coaching was instrumental in helping Social Media Examiner become a multimillion dollar business. She studies the hidden gems of Facebook like no one else. She's also the first person I call if I need Facebook advice (and let me tell you we speak often!)."
~Michael Stelzner
Founder and CEO, Social Media Examiner, San Diego, California
3) Facebook Live Success Secrets – NEW online training course
Due to popular demand, I will be launching my next online training program next month.
Ideal for SMBs, entrepreneurs and any business executives looking to maximize and monetize Facebook Live.
This will be my most EPIC training program so far and I can hardly wait to unveil what my team and I have been working on for the past several months for you!!
Facebook Live Success Secrets will include the following topics:
LIVE BEST PRACTICES: Facebook Live pre, during & post best practices to better optimize and monetize your efforts
TOOLS: The best (and most affordable!) software to use for your needs
GEAR: Exactly what camera, lighting, microphone, switching, editing the pros use and how you can set up your own simple studio on a budget
STUDIO SET: How to get a simple yet professional green screen set up. What is distracting and what adds to your set backdrop. How to create that lovely depth of field effect & look like a professional TV host (we're bringing in special guest expert trainers on this topic!)
ON-CAMERA TRAINING: Not everyone is a natural on camera, it takes practice. We're partnering with veterans in the news anchor arena to bring you the best secrets
STYLING: What to wear, what not to wear – what is flattering for your style and what is not for both men and women. Choosing the perfect accessories, camera angles and more
CONTENT: How to storyboard your video broadcast
SHOW: Top tips for creating your own regular TV show
MONETIZING: Proven ways to get your audience to take the action you want them to, generate highly qualified leads and turn them into paying customers
COMMUNITY: How to focus on relationship marketing methods and build an audience of raving fans who love you, and love to buy from you!
SPONSORS: How to find and work with sponsors to monetize your live video broadcasts
SELLING: New tools from Facebook and Shopify and other platforms to allow instant sales
…and much more!
PLUS, this program will also include a special bundled offer for my new 'FAST' Program – Facebook Ads Strategy Training!
END-TO-END STRATEGY: This piece is missing in 99% of the clients I work with when we first meet… so many businesses and marketers are missing the mark by too narrowly focusing on juts ads… it's time to rethink your approach and build a holistic strategy – I'll show you how!
ADS: Deep dive into the very best and proven methods for getting your Facebook & Instagram ads to work (bringing you more qualified leads and sales!)
REACH: How to maximize your organic and paid reach
TARGETING: The very best ways to deeply hone in on your perfect customers, whether B2B or B2C
RETARGETING: Best practices for warming up even your coldest audiences and converting to customers
CTAs: How to get your audience to take action without being 'salesy'
EXAMPLES: What's working and what's not
…and much more!
More details to follow… this program launches in April!
BE AMONG THE FIRST TO KNOW WHEN THIS COURSE LAUNCHES!
Get on the Early Bird Notification List here!
4) Brand Ambassador
I'm always looking for excellent potential ambassador opportunities. I work closely with Animoto and Adobe Spark and several other companies, plus a few more in the hopper! I LOVE doing ambassador work.
Please contact us at mari@marismith.com.
Here's a sample video for Adobe Spark:

And a recent sample video for Animoto!

5) Speaking Engagements &/or Onsite or Virtual Training
Mari leads onsite and virtual trainings for numerous top brands and businesses: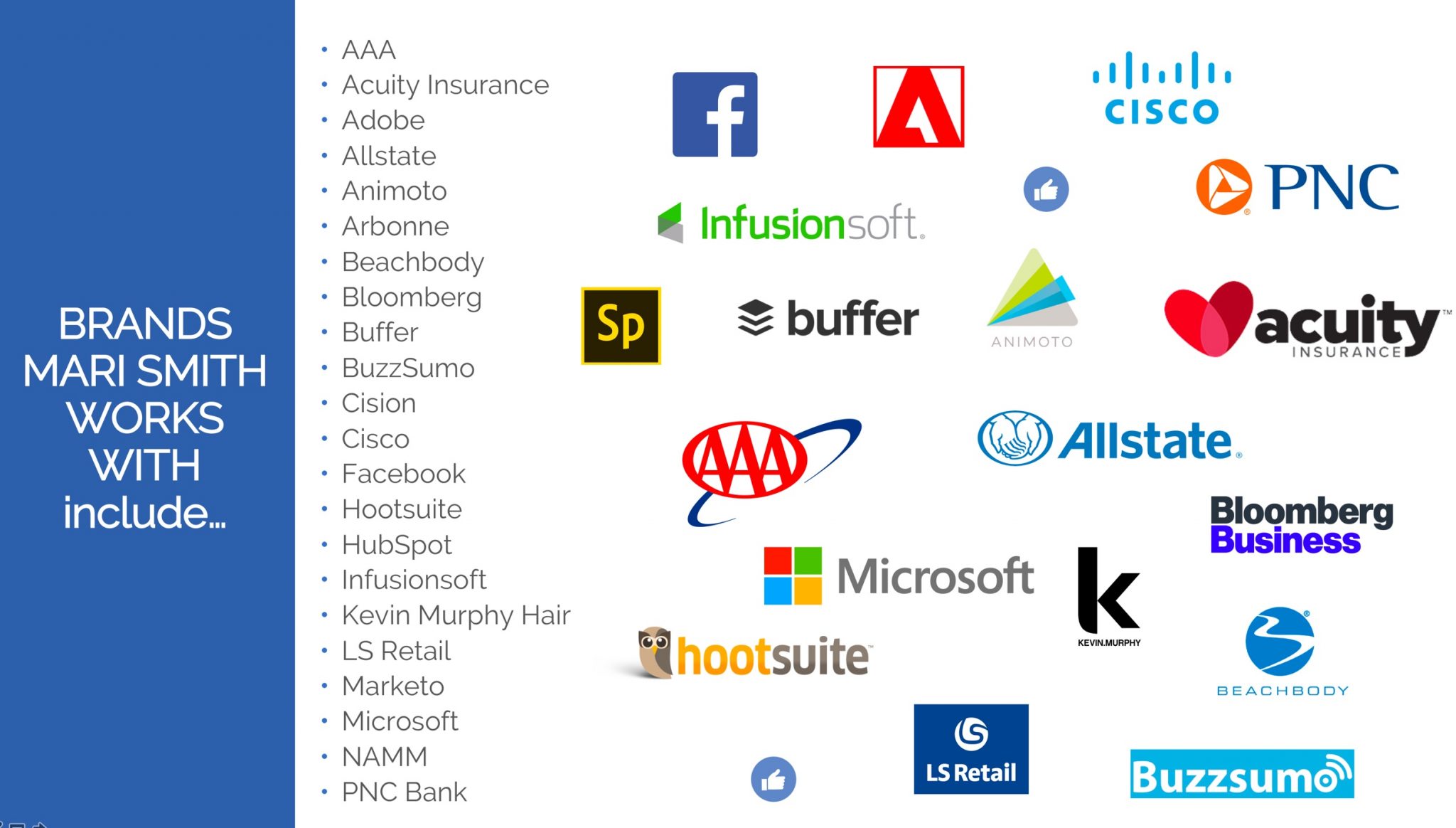 By way of example, see this webinar where PNC Bank hired Mari to lead a live social media training for over 7,000 attendees.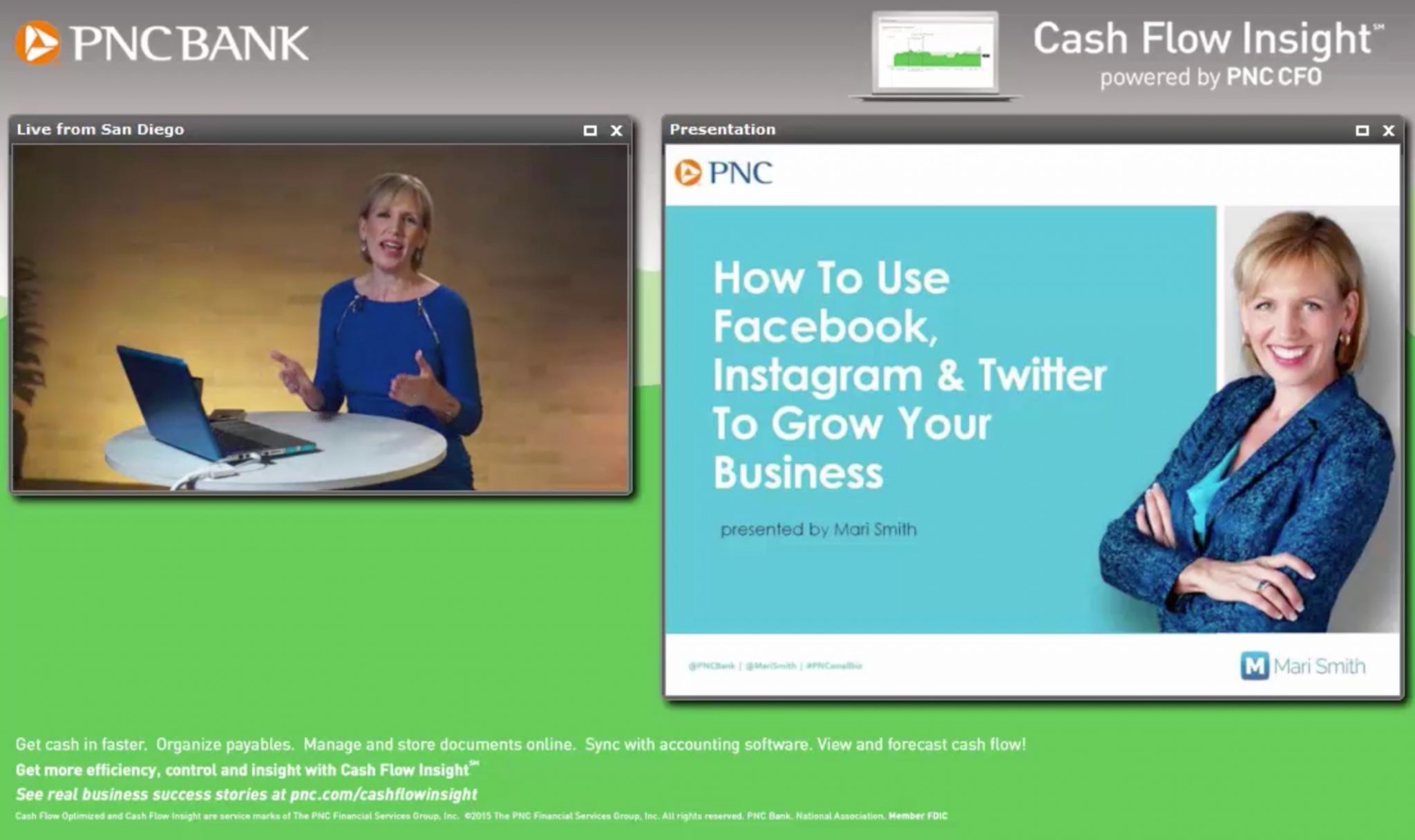 To find out more about hiring Mari to speaking at your next event, please visit this page. (Or, go straight to fill out this initial inquiry form!)
If you'd like to inquire about Mari's services for leading a custom webinar(s) (public or private) for your company, providing customized virtual training programs, and/or providing custom on-site training, please let us know here.
6) Free Resources
9 Tips for Better Facebook Video Ads
Ten Steps to Establishing Yourself as a Thought Leader Using Social Media and Beyond!
Got questions?
Send an email to mari@marismith.com.
Or contact us via Facebook Messenger – below or click m.me/marismith to open up Messenger now. 
Cheers!
Mari Smith & Christopher Dilts