How Do I Make Money On Facebook? – Is The Wrong Question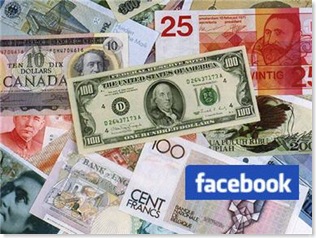 This is the question I get asked most often: How do I make money on Facebook. I can tell a lot right away about someone who asks me that question. Usually it tells me (a) they don't have much online business experience, (b) they're not a natural people person and (c) they don't understand social media.
Someone focused solely on searching where to find money on Facebook might be more likely to place links and large signature blocks on every wall post. (A major pet peeve of both myself and Michael Port, among others!)
The money-focused people are probably the ones sending bulk emails announcing their latest "get-rich" venture. (Facebook limits multiple-recipient emails to twenty friends at a time; many spammers have cottoned on to this feature). And, these people are most likely the ones adding friends with absolutely no discernment, e.g. going for quantity vs. quality. They're in a mode of gathering "friends" and pushing their wares.
See, Facebook is not a source of money per se – it's a medium through which you can reach out to let others know about your business. In fact, Facebook is one of many, many mediums you need to incorporate in concert with an overall marketing strategy. And you need to be patient – business growth doesn't happen overnight.
However, depending on how solid your business model and systems are, and if you know some of the most effective ways to use Facebook in conjunction with other media, you could certainly speed up the process of generating significantly more revenue.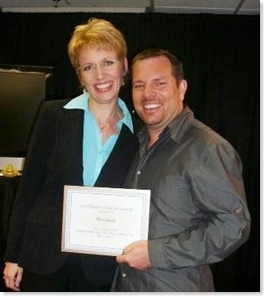 One of the most effective business models I've come across is the Big Ticket system developed by Kevin Nations, a member of my success team and my personal mentor. Kevin's system can be implemented by most professionals and augmented by capitalizing on Facebook as a marketing channel.
[Pic right: Kevin presenting me with a special certificate in Columbus, OH in May 2008]
I'll be interviewing Kevin this Tuesday, July 15 at 11:00 a.m. Pacific / 2:00 p.m. Eastern. Kevin has agreed to share details of his Step-by-Step Ultimate Profit system with my listeners.
I'm proud to let you know I've made significantly more PROFITS with Kevin's system than any other mentor, seminar, program or system. (And that's saying something 'cuz I'm a total seminar junkie and constant learner!) Reserve your place on this powerful conference call coming up on July 15 directly here.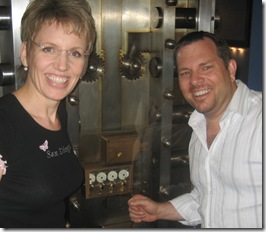 Plus, go to the Facebook Event for this call and help generate BUZZ for this event at the same time as creating valuable visibility for yourself!! Find out how with the video I loaded for you on the Facebook Event page.
[Pic right: Kevin and I standing in front of a mega safe – former bank turned hotel in Columbus, OH!]
Meantime, regards "making money on Facebook," let me suggest more effective questions to ask:
"How do I find a proven profit model that taps into the power of Facebook?"
"Who is a qualified mentor that can help me implement that model?"
"Were do I find a successful business mentor to help me increase my revenue using social media?"
Cheers,

Mari Smith
@marismith