Free Facebook Marketing Webinar with Mari Smith: Instant Access
Enter your name and email below or to the side, and you'll get instant access to this 90-minute jam-packed session. It was incredibly well-received and we've received a ton of great feedback so far!
---
Are you feeling overwhelmed by the constant changes and tweaks on Facebook? Do you often wonder how to get your posts into the News Feed of more of your fans? Do you struggle to measure a real monetary result from your Facebook marketing efforts?
If you answered yes to one or more of those questions, I can totally understand… and I have good news for you! It's time for me to offer another mega Facebook marketing webinar – it's totally FREE and I'd love for you to tune in
7 Steps To Facebook Success: How To Make Money on the World's #1 Social Network
Register today for instant access to the replay!!
I've created a 7-step Facebook Marketing Success Plan, packed with proven, money-making tips for you to turn the world's most popular social network into the TOP source of quality leads and paying customers for your business!
These tips are based on my own years of experience as the world's premier Facebook marketing expert. The 7 steps are the exact ones I use in my own business to consistently generate significant revenue year after year. And, the 7 steps are the same ones I teach my clients and students around the world. Now, I'd like to share them with you!
Enter your first name and email below to register for this mega Facebook online event!
Here's what you'll learn:
On this upbeat, content-rich session, you'll find out all this and more:
The #1 missing component in most all Facebook marketing efforts. Get this piece right and everything else falls into place like a well-oiled machine! (So many businesses take a random approach and hope for the best. Or, they try to emulate someone else's style and it falls flat. This one section alone will be worth the entire time you spend on the webinar!).
What types of content work best to get the biggest reach? How can you maximize your organic (free!) reach vs. your paid reach? Are there really best times of day to post for optimal results? (You'll find out the answers to all these questions and much more on the free webinar).
If you build it will they come? Many business owners put huge amounts of effort into building a gorgeous Facebook page, only to hear the sound of crickets! (In this section, you'll pick up many great tips for growing a highly engaged fanbase – using both organic and paid methods).
At least 50% of all Facebook page owners get this piece wrong… and they are leaving HUGE piles of money on the table as a result. There are several studies that prove this to be true! (I can hardly wait to share the startling stats of this magic piece with you. When you implement the antidote to this "Facebook fail," you'll be laughing all the way to the bank!)
Can you really sell directly on Facebook? Is it okay to ask directly for the sale? Do you risk losing fans when you "pitch?" (You'll learn exactly what works and what clearly does not. Some of this is basic human psychology and you may just have several "aha moments" when you find out!)
PLUS, along with tons of useful content (and prize giveaways, bonuses, special shoutouts and a live Q&A session!), I have some exciting news to share with you about my brand new, long-awaited Facebook marketing course. By popular demand, I'm releasing EXTREME FANBASE GROWTH 2.0™! My team and I are putting the final finishing touches on this new online course right now. I'll share all the latest details with you on the live webinar!
Get ready to take a ton of notes! You'll leave this 90-minute live webinar with actionable steps that you can put in place right away. It's time to start driving droves of raving fans to your business who love you and love to BUY from you.
Let's get you back up to speed with your Facebook Marketing results for the rest of 2013.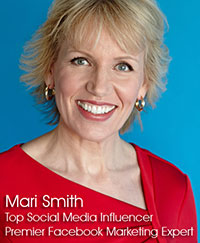 Meet Mari…
Often referred to as "the Queen of Facebook", Mari Smith is considered one of the world's foremost experts on Facebook marketing and social media. She is author of The New Relationship Marketing and coauthor of Facebook Marketing: An Hour A Day.
Fast Company describes Mari as, "A veritable engine of personal branding, a relationship marketing whiz and the Pied Piper of the Online World." Both Dun & Bradstreet Credibility and Forbes named Mari one of the Top Power Influencers in Social Media.
Mari consults with businesses of all sizes around the world to help accelerate their profits by integrating proven social media marketing strategies. She travels and speaks at major events, sharing the stage with many celebrities and leaders. She also regularly appears in media locally and nationally in publications such as The New York Times, The Wall Street Journal, Inc., Forbes, Fortune, and Success Magazine.
Have you signed up yet? 😉
Enter your first name and email below to get instant access to the replay of this MEGA Facebook online event!
I look forward to connecting with you soon! The replay video is on the next page for you in one handy place, once you sign up.
Cheers,

P.S. Be sure to watch the replay for the full 90 minutes! When you see what I've got to show you, it'll be easy for you to get REAL results from your Facebook marketing efforts — results such as more traffic to your website, a big boost in qualified leads, an increase in sales and, of course, more MONEY for you to enjoy!
P.P.S. Feel free to share this webinar recording with your friends and fans – use the social share buttons on this page. Plus, leave us a comment below… my team and I always love to hear from our peeps!