Greetings!
There are many ways  I can be of support to you and your business. I'm a passionate social media strategist and trainer. I offer customized social media training programs for companies of all sizes, either virtually through webinars or onsite at your offices. I also offer self-study online video training programs – details below. And, I am a professional speaker and travel the United States and internationally to deliver keynotes and workshops.
If you have any questions, please contact me with a note of your company's specific needs and my team and I will get back to you as quickly as possible.
Social Media Marketing Consulting
If you'd like to inquire about hiring my company for social media strategy consulting, training and community management services, please fill out the form here. In addition to my own consulting services, I have a cadre of high-caliber, professional social media speakers, consultants, trainers, strategists, assistants, and managers that work with me to service all levels of social media needs.
Customized Social Media Training
If you're interested in having me train you and/or your team – either virtually via webinar or live in person – I'd love to discuss your needs and create a customized training program for you. Please contact me with a note of your company's specific needs and I'll get back to you promptly.
Done-for-you Social Media Services
My company has limited space for a few more clients where we hand curate content for your Twitter, Facebook and other social profiles; we proactively grow your fans/followers; and we proactively engage with your audience on your behalf. We can create a fully customized package that comprises some done-for-you, some training of your own staff and some consulting. Please contact us with a note of your company's specific needs and my team will get back to you promptly.
Monthly Social Media Support Program – INNER CIRCLE with Mari

If you often find yourself overwhelmed and feeling like you're getting left behind when it comes to building your business and fully integrating all the right social media tools, apps and platforms out there – here's a perfect solution. The INNER CIRCLE with Mari is a simple and affordable way to keep up to date with the rapidly changing social media landscape, learn proven social media strategies, and discover how to significantly increase your business through proven online and offline marketing techniques. Click here for more… [current SPECIAL: enter 'save30' to save $30/mo on membership!]
Online Video Training Programs
Extreme Fanbase GROWTH 2.0™ – 25 Facebook Marketing Tactics Designed to Explode Your Business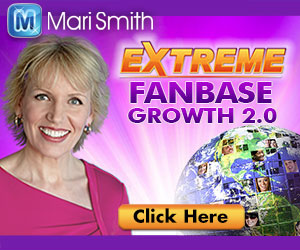 Created from Mari's proven, effective Facebook tips and strategies, this course has been designed from the ground up to help you grow a truly AUTHENTIC following — as quickly as possible. In this course, you'll discover everything you need to know to add thousands of GENUINE fans in 30 days or less. Yes, that's right – Mari will lead you by the hand and show you exactly how to get this result.
Mari will take you by the hand and show you, step-by-step the exact process for making SERIOUS money using every possible low and no-cost Facebook marketing method!
This groundbreaking course makes it so simple that even a complete beginner can learn – yet the course is powerful enough to generate leads, sales, and a positive return on your social media investment of time and resources. The insider information that Mari has poured into EXTREME FANBASE GROWTH 2.0™ is "required knowledge" that's critical to your success on Facebook.
For more details about EXTREME FANBASE GROWTH 2.0 click here.
Social Midas™ – 15 Golden Keys To Stellar Social Media Marketing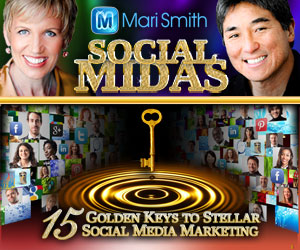 A Proven, Step-by-Step, Systematic Approach To Creating Social Media Success and Profits in Your Business Today! Mari joins forces with Guy Kawasaki to reveal the EXACT steps you need to take to make your business super-profitable through stellar social media marketing! This course covers Facebook, Google+, Twitter, and Pinterest.
This is an 8-part video course with Mari and Guy Kawasaki as your expert guides through the social media jungle! It's like sitting down with two of the most powerful social media leaders and looking over their shoulders as they show you the EXACT, step-by-step, systematic approaches they use in their own businesses every day to achieve outrageous success using social media to bring in the big bucks!
Face it … in the real world, you don't make money trying random little tips, scattered flavor-of-the-month stuff, or trying out the latest greatest app and another one and another one. You already know that doesn't get you measurable results. What you need is a complete, integrated approach to the money-making system that is SOCIAL MIDAS™.
For more details about SOCIAL MIDAS please click here.
Facebook Money Mastery – How To Turn Your Fans Into Fortunes!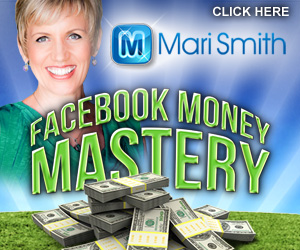 Every day, real-world businesses are raking in HUGE profits on Facebook. Now, it's time you claimed your share of this money! Mari is on a crusade to boost your bottom-line profits using the incredible tools that the world's biggest online social network provides.
Of course more likes, fans, friends, subscribers, comments, and shares all add up and are incredibly important. But all this activity MUST create a significant increase in your profits over time … otherwise you're just frittering away your precious time. And, time is money.
For this up-to-the-minute online training course, Mari located prime examples of companies who are solving real-world business problems … overcoming challenges that were smothering their growth… and breaking through barriers that were limiting their reach in the hyper-sensitive social media circles they were running in (or maybe running around in circles is more like it!)
For more details about FACEBOOK MONEY MASTERY click here.
Business & Beyond Club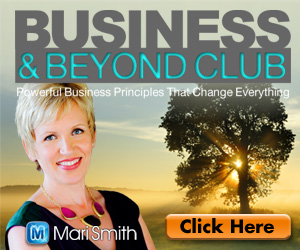 Mari's innovative new business coaching club The Business and Beyond Club includes a powerful combination of business building strategies PLUS proven social media marketing methodologies PLUS Mari Smith's favorite personal and spiritual growth principles and habits woven throughout that have profoundly impacted her life and that she knows will help others.
There's nothing at all like this out there! Mari didn't want to do "just" a social media club. Or "just" a business building program. She wanted the perfect blend of teachings that will make the biggest difference in members' lives.
There are currently 50 amazing entrepreneurs going through the 12-month curriculum. **2013 Membership Soldout**
Mentorship
Social Media Professionals Training Program – a rigorous training program for designed for committed professionals. This is an intense program to help you build your own profitable and sustainable social media based business and to dramatically improve the quality of your life and business. We do not currently have a program underway. However, if you are interested in my next program, please fill out your name and email here and we will keep you informed when the next program officially opens for registration. Stay tuned!
Facebook:
Feel free to post your questions about social media/Facebook marketing on my Facebook Page — my knowledgeable team will provide a response typically the same day.
You're also welcome to Follow my public updates on my Facebook personal profile.
Twitter:
Let's connect on Twitter! I frequently tweet Facebook, Twitter, social media and relationship marketing tips.
LinkedIn:
Add me as a contact on LinkedIn. I'd be happy to connect.
Google+:
Feel free to "circle" me over on Google+.