Thank you – we received your responses!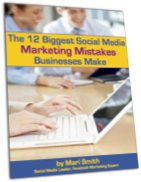 I appreciate the time you took to complete my survey. As promised, here is your special gift as a token of my appreciation! Please click here to download your free ebook: The 12 Biggest Social Media Marketing Mistakes Businesses Make.
Please RETURN to the survey page to share with your friends and followers. 🙂
NOTE: If you landed on this page but didn't yet take the survey, please do so here. Thanks!